Found December 21, 2012 on StraitPinkie.com:
PLAYERS:
Peyton Manning
,
Tom Brady
,
Adrian Peterson
,
Calvin Johnson
,
Matthew Stafford
,
Jason Hanson
,
Aldon Smith
,
J.J. Watt
,
Andrew Luck
,
Harrison Smith
,
Aaron Rodgers
,
Dallas Clark
TEAMS:
Denver Broncos
,
New England Patriots
,
Minnesota Vikings
,
Detroit Lions
,
San Francisco 49ers
,
Houston Texans
,
Indianapolis Colts
,
Green Bay Packers
,
Tampa Bay Buccaneers
The NFL regular season is coming to a close and I wanted to post who I think deserves to win some the awards this year in the NFL. I would love to hear your thoughts and see who you think should take home some of the NFL trophies for the 2012 season. MVP: Peyton Manning – Denver Broncos Tom Brady, Aaron Rogers, and Adrian Peterson are all quality candidates, but Manning proved his worth this year. He came back from neck surgery and went to a new team that was treating him like a god which put a lot of pressure on him to help the Broncos have a winning season. Manning was learning a new playbook and also incorporated some of his plays into the offense and had to make sure the team got in sync. It started off a bit rocky, but Manning, the offense, and the Broncos tenacious defense have clinched the AFC West and are looking to have a first round bye in the playoffs. Not bad for a guy who is coming off an injury and started playing for a new team. Offensive Player of the Year:  Calvin Johnson – Detroit Lions Before Matthew Stafford came to the Lions, Calvin Johnson was the only threat in Detroit. The memory of Barry Sanders was a close second threat in that offense. All points came from Johnson….and the Lions kicker Jason Hanson. This year Stafford did not have a great year. (I should know he was my QB in this year's fantasy league.) Even with the QB's struggle Johnson is looking to break Jerry "The G.O.A.T." Rice's single-season record for receiving yards. He is 182 yards away from that record. Outside of Detroit fans can anyone else name me a potential offensive threat for the Lions? I didn't think so. Plus might I add that it looks (please don't let me jinx it) he is the only player not to fall victim to the "Madden Curse." I think that deserves an award all by itself, it would be the Breaking the Madden Curse Award. Defensive Player of the Year: Aldon Smith – San Francisco 49ers Smith is a huge ingredient of what makes the 49ers defense so tough and intimidating. So far this year Smith has forced three fumbles, got one interception, and has 19.5 sacks. Aldon needs 3.5 sacks to break the all time season sack record. Many offenses game plan around Aldon Smith and make sure they know where he is at all times on the field. JJ Watt deserves a mention in award talk for defensive player of the year, but for me when the Texans and 49ers played the Patriots and both teams did give up some points, but the 9ers held their ground and beat the Patriots, so Smith gets the award in my opinion. Offensive Rookie of the Year: Andrew Luck – Indianapolis Colts "The next Elway", the number one overall draft pick, and playing in Peyton Manning's shadow are all things that could have spelled doom for Andrew, but he proved why he was taken first in this year's draft. Andrew Luck saw his head coach, Chuck Pagano start his battle with leukemia and he and the Colts persevered and they are looking to make the playoffs. Luck has thrown for 3,978 yards with 20 touchdowns. Yes he has thrown 18 interceptions, but he was able to get passed those mistakes and lead the Colts to a 9-5 record and has earned the respect of the team and looks to be a force to be reckoned with for some time in the NFL. Defensive Rookie of the Year:  Harrison Smith – Minnesota Vikings There are many great candidates for this award, but to me it should go to Harrison Smith. As a free safety, he pulled his weight on defense. He ran two of his three interceptions back for touchdowns, plus he has one recovered fumble. He also ties the team for passes defended as well as interceptions. He is fourth on the team for tackles. The Vikings have to contend with scoring threats such as Aaron Rodgers, Calvin Johnson, Brandon Marshall, and Jordy Nelson. Smith was an anchor for the Vikings defense and looks to have a promising career in the NFL. Comeback Player of the Year: Adrian Peterson – Minnesota Vikings Yea, I know Peyton Manning came back as well, but I have Manning as MVP so I want to give another player this award. For a running back to overcome the injury Peterson sustained is great in itself, but with the results that Adrian produced this year is amazing. He is on the verge to beat Eric Dickerson's single season rushing record. He has scored 11 touchdowns and ran for 1,812 yards. To me he is the epitome of what the NFL looks to for the Comeback Player of the Year Award. NFL Head Coach of the Year: Bruce Arians – Indianapolis Colts Where should I begin? How about taking over for your boss, Chuck Pagano, who was diagnosed with leukemia is tough in itself, but when it is your friend and colleague battling a form of cancer it makes it much harder. Next the face of the franchise, Peyton Manning left and you are coming off one of the worst seasons in Colts history. The hype around Andrew Luck and making sure you coach him the right way to feel at ease while playing the toughest position in football. To have some of the key players and veterans leaving like Pierre Garcon and Dallas Clark to other teams and still stay perform at the level they have so far this year shows his strong leadership. With all these hurdles the Colts faced, they are looking to make the playoffs and you have to hand it to Bruce and the team for playing hard and winning some games that looked like it was a sure loss for them. To me Arians is a strong candidate for Coach of
Original Story:
http://www.straitpinkie.com/sports/wh...
THE BACKYARD
BEST OF MAXIM
RELATED ARTICLES
Denver Broncos quarterback Peyton Manning has received the most Pro Bowl votes from fans on NFL.com, the league announced Thursday. Manning, who has 31 touchdown passes and has thrown for 4,016 yards for the AFC West champions, collected 993,045 votes. Fan balloting ended Dec. 17. Players and coaches, who will combine with fan voting to determine the Pro Bowl teams, will cast ballots...
Let me be the first one to tell you that as much as I try and keep up, I'm not usually a trendy person.  If you took a look at my CD collection, you wouldn't notice many new artists.  In fact, me saying I have a CD collection already proves just how untrendy I am.  Get with the digital world, Sky!  Well, there are certain trends I do pay attention to and it's how players...
The Vegas oddsmakers have spoken and a 49ers-Patriots Super Bowl seems to be the most likely scenario for XLVII.
Fan voting for the Pro Bowl has ended and the results are in. Peyton Manning leads all players with 993,045 votes. Manning beat out Patriots quarterback Tom Brady (908,099), who was followed by Texansrunning back Arian Foster (829,591), Vikings running back Adrian Peterson (828,225) andPackers quarterback Aaron Rodgers (777,827). Rounding out the top 10 are Redskins quarterback R...
What do Kevin Kolb, Brandon Weeden, Charlie Batch, Nick Foles, and Ryan Lindley have in common?  They are all signs that the apocalypse is coming. I kid, I kid.  They have all sent me defeats in the 2012 NFL season.  Just goes to show you that this game we call American Football is one wild and wacky creation.  I have yet to start my Christmas shopping, so to avoid buying everyone...
Peyton Manning once ripped his 'idiot kicker' on national television and I don't recall him apologizing to the Colts' organization over it. He also ripped his offensive line a couple of times following tough losses and while he apologized to them privately, he did not do so publicly to them or his organization. Broncos' legend John Elway used to tear into his receivers...
Atlanta Falcons (12-2) Detroit Lions (4-10) Normally I like going against huge line movements because I hate week to week overreactions. This line was Atlanta -1 last week and now it's at -4.5, skipping over two key numbers of 3 and 4. At first glance, this appears warranted. The Lions got blown out by the crappy Cardinals in Arizona, losing 38-10, while the Falcons got a huge...
BEREA, Ohio (AP) -- Preparing to play Peyton Manning was challenging enough for the Cleveland Browns even before losing three more starters. Coach Pat Shurmur said Friday that wide receiver Mohamed Massaquoi, tight end Jordan Cameron and defensive back Tashaun Gipson will not travel to Denver to play the Broncos (11-3). With playoff hopes dashed and a losing season assured, the Browns...
Peyton Manning against starting safeties Eric Hagg and Usama Young. Brandon Weeden against a Broncos pass rush led by Von Miller and Elvis Dumervil. The Cleveland Browns are in Denver and altitude sickness is the prognosis. This is your game day open thread for Week 16. Hopefully you're with family and special holiday-sized bottles today. Tweet
The Browns travel to Mile High face the Broncos, looking to finish their season strong and bounce back from their disappointing loss to the Redskins. It's Browns vs Broncos! Brandon Weeden vs Peyton Manning! Joe Banner vs John Elway? Stick around for updates and commentary in the comments. Consider this your open thread. Go Browns!
(Eds: APNewsNow. Will be updated.) By ARNIE STAPLETON AP Pro Football Writer The best spies in the NFL these days aren't behind enemy lines but on the quarterback's own side of the ball. Every game, two of his interior offensive linemen are miked up for network TV, bringing the sounds of the game to millions of viewers - and future opponents - who hear the quarterback'...
NFL News

Delivered to your inbox

You'll also receive Yardbarker's daily Top 10, featuring the best sports stories from around the web. Customize your newsletter to get articles on your favorite sports and teams. And the best part? It's free!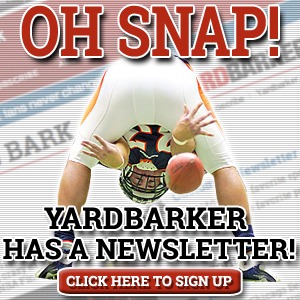 Latest Rumors
The Backyard

Today's Best Stuff

For Bloggers

Join the Yardbarker Network for more promotion, traffic, and money.

Company Info

Help

What is Yardbarker?

Yardbarker is the largest network of sports blogs and pro athlete blogs on the web. This site is the hub of the Yardbarker Network, where our editors and algorithms curate the best sports content from our network and beyond.