Found June 08, 2013 on Ravens Football Machine:
Up and coming outside linebacker Courtney Upshaw is an embarrassment to the Ravens' nutritionist right now--- because the guy refuses to eat the right diet to perfect his physique. This is a big problem, no pun intended... If Ray Lewis caught you eating a bag of potato chips in the Ravens lockerroom, I guarantee he would rip the bag away from you and throw it in the trash. Sadly there is no more Ray Lewis for the Ravens... but there is a ton of potato chips waiting to be had! That's the dilemma Courtney Upshaw now faces.             Courtney Upshaw didn't attend the Ravens' visit to the White House so he could get in extra hours of cardio. After Thursday's practice, he immediately hopped on the stair master, then had a meeting with the team nutritionist, and finally chatted with a member of the strength and conditioning staff to outline his weight-loss plan. Upshaw's got some pounds to shed, as both he and now Head Coach John Harbaugh have noted. He is up to 285 pounds after being listed at 272 last season. But Upshaw is putting in the work to lose it. "I'm working, man. I'm working real hard," Upshaw said Thursday. "It's anything to try to get me down. It's frustrating to not see my weight go down knowing I'm putting in all that work." Harbaugh addressed the issue for the first time following Thursday's Organized Team Activity (OTA) practice. He first pointed out that Upshaw is "playing very well." He said the second-year outside linebacker understands the defense exceptionally well and is working really hard. Then Harbaugh dove into the weight. "Courtney's weight issue – which he does need some pounds – is that he doesn't eat right," Harbaugh said. "Courtney eats too much and he doesn't eat all the right foods. "He knows that and that's something he's going to have to get a handle on, or he's not going to be the best he can be. But he's aware of it. Everybody in our building is involved with it. He'll be in fighting shape, I promise you that." Upshaw had a similar struggle with his weight last season and eventually worked it off. He responded with a strong season with 16 games played, nine starts, 60 tackles and 1.5 sacks. "It's frustrating because I had to go through the same thing last year. But I did it," Upshaw said. "This offseason I didn't really train the way I should have because of those personal situations I had to deal with back in Alabama. So when I was in Baltimore I was training, but when I was in Alabama I didn't really do too much. But I'm working every day." Man, you got like 20 minutes of a lifetime to excel in the NFL. Don't blow it on junk food.  
Original Story:
http://www.ravensfootballmachine.com/...
THE BACKYARD
BEST OF MAXIM
RELATED ARTICLES
Now that the traditional visit to the White House is out of the way, the one last bit of business in dealing with winning it all is the yearly oversized gaudy Super Bowl ring distribution. In a private ceremony, the Baltimore Ravens received their prized finger bling, which seems to be getting bigger and bigger by the season. The photo here is of Ray Lewis comparing his new...
Check out what the Baltimore Ravens Super Bowl ring looks like thanks to Adam Schefter of ESPN. Need NFL Tickets? The post Photo of the Ravens Super Bowl ring appeared first on Pro Football Zone.
The Baltimore Ravens celebrated the receiving of their Super Bowl rings in style. Game MVP Joe Flacco even rocked a fat stogie for the camera.
Several former Baltimore Ravens missed the Super Bowl champions trip to the White House to meet with President Obama. Some like Anquan Boldin, Bernard Pollard,  and Cary Williams were busy with their new teams.  One retired player missed the ceremony for political reasons. Matt Birk played center in the NFL for 15 years and is a Harvard graduate.  Birk pays attention to the things...
It's a great week of celebration for the Baltimore Ravens. The team visited the White House on Thursday to be congratulated for winning the Super Bowl, and they are scheduled to have a ceremony to receive their championship rings on Friday. Torrey Smith had the best quote of all: "I might act like a woman [...]
The rings arrived at Owings Mills in a Brinks truck... Each ring has 243 diamonds and is made of white and yellow gold. Estimated street value is $65,000 per ring...                 Former Baltimore Ravens linebacker Ray Lewis wears his Super Bowl XLVII championship ring, right, along with his Super Bowl XXXV ring. (Photo: Patrick...
Photo: Chris Graythen/Getty Images While Organized Team Activity, or the "OTA's", are not mandatory for professional football players, the coaching staff and personnel find it to be a great time to evaluate the players as well as the upcoming season.  The Baltimore Ravens, who are just a few months fresh off of a Super Bowl victory, began OTA's on May 21st, which last for...
The prize possession of Super Bowl Rings are always something that sports fans are interested in.  Now that everyone in the organization (even the janitor in the admin office) gets a ring, you may be able to buy one….  Here is a picture of the Baltimore Ravens 2012-2013 Super Bowl Champions Ring.
The Ravens paid a visit to the White House on Wednesday to celebrate their Super Bowl title with President Barack Obama. But a few players didn't make the trip. Linebacker Paul Kruger decided not to attend because of his commitment to his new team, the Cleveland Browns, who were holding a session of organized team activities on Wednesday. But, now retired, center Matt Birk was...
Pittsburgh Steelers quarterback Ben Roethlisberger was forced to miss both games against the Baltimore Ravens last season due to injuries and Ravens outside linebacker Terrell Suggs said Thursday he hopes Roethlisberger recovers quickly from his recent knee surgery. "You know; it just isn't the same game when the two teams don't have all their parts playing," Suggs...
Ravens News

Delivered to your inbox

You'll also receive Yardbarker's daily Top 10, featuring the best sports stories from around the web. Customize your newsletter to get articles on your favorite sports and teams. And the best part? It's free!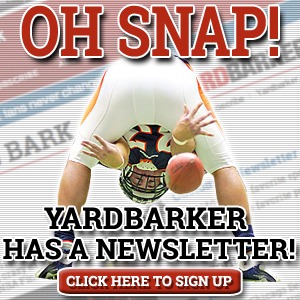 Latest Rumors
Best of Yardbarker

Today's Best Stuff

For Bloggers

Join the Yardbarker Network for more promotion, traffic, and money.

Company Info

Help

What is Yardbarker?

Yardbarker is the largest network of sports blogs and pro athlete blogs on the web. This site is the hub of the Yardbarker Network, where our editors and algorithms curate the best sports content from our network and beyond.