Found October 24, 2012 on Next Impulse Sports:
Running Tebow into the line is dumb. There's no Tebometer this week, Tim Tebow didn't throw a pass in the Jets 29-26 OT loss to New England on Sunday.  He did get to run the ball four times though, for a grand total of 12 yards.  Even though I don't think he's much of an asset, I assumed the Jets would at least try to use him creatively.  Pretty much all he did was take direct snaps and run straight ahead for a few yards each time.  Currently the Jets are getting basically no value out of their much over-hyped backup QB.  So here's my idea that will at least allow them to get something useful from Tebow: Make him the placekick holder. Trailing 16-10 early in the 3rd quarter on Sunday, the Jets had a 4th and 2 at the Patriots 3 yard line.  My train of thought (being a Pats fan) as they trotted Nick Folk onto the field went something like this: "Oh nice, their kicking… Wait, what if they fake it?  What if they put in Tebow as the holder?  There's no way they don't get a TD if the
Original Story:
http://cosbysweaters.com/2012/10/24/w...
THE BACKYARD
BEST OF MAXIM
RELATED ARTICLES
Tim Tebow was voted the most overrated player in the National Football League based on a Sports Illustrated poll released earlier this week. Of the 180 players who participated in the survey 34 percent found Tebow to be the most overrated. Ironically Tebow's teammate, the Jets starting quarterback, Mark Sanchez finished tied for second in the poll with 8 percent of the vote. Dallas...
New York Jets QB Tim Tebow's move to trademark "Tebowing" was the big topic this week.  The trademark would allow Tebow to control the use of the term for hats ,t-shirt sales, clothing, pencil sharpeners and holiday ornaments, and even "toy guns and pantyhose." Tebow has long been very public about his Christian faith. In college, he sported Bible verses on his eye...
Tim Tebow was voted as the NFL's most "overrated" player by a group of his peers. Adding further insult, Tebow absolutely ran away with the title by a crushing margin.  I know... it's absolutely shocking that a guy who's most important role is on punt team yet he garners more media hype than anyone in the NFL would be considered overrated by other NFL players...
Tim Tebow might be one of the biggest names in the NFL, but his fellow players don't believe he deserves that status. In a Sports Illustrated survey of 180 players, the New York Jets' backup quarterback was the runaway winner as the league's most overrated player. According to multiple media reports, Tebow received 34 percent of the votes. The man Tebow understudies...
Sports Illustrated recently polled 180 NFL players to ask them who they thought were some of the most overrated players in the league. New York Jets quarterback Tim Tebow was the unanimous choice after tallying over four times as many votes as the next-closest player.No real surprises here other than the fact that Baltimore Ravens linebacker and future Hall of Famer Ray Lewis cracked...
Tim Tebow to take his show elsewhere next season? Manish Mehta of the New York Daily News joined the NFL Network's 'Around the League' today and was asked about the possibility that Jets quarterback Tim Tebow will be wearing something other than green next season. Tebow is under contract for next year, and Mehta thinks a trade in the offseason is definitely a possibility...
Since the New York Jets were preparing for their eventual overtime loss to the New England Patriots at the hands of Mark Sanchez, all-world back up QB, Tim Tebow, was unable to attend a ceremony at Nease High School in Ponte Vedra, FL which honored him with a jersey retirement. Tebow was too busy emulating [...]
Most people did not understand the New York Jets' motivation behind trading for Tim Tebow this past offseason, and it sounds like a number of NFL players agree with those people. In a recent survey conducted by Sports Illustrated, Tebow was voted the most overrated player in the league by his NFL peers, receiving 34% of the vote. If it's any consolation for Tebow, his teammate...
With a ravenous contingent of media types constantly tracking their every move, Tim Tebow and Mark Sanchez are lexicons of popularity in New York City. According to their peers, however, it doesn't translate on the gridiron. On Wednesday, Sports Illustrated released a new poll in which they asked 180 NFL players to name the league's most overrated player. Not surprisingly...
From the department of 'Things you just cannot make up'; New York Jets backup QB, Tim Tebow, was voted the most overrated player in the NFL for the second straight year by his peers in an SI.com poll. His percentage … Continue reading →
NFL Players Vote For Most Overrated Player - In a Sports Illustrated poll that asked 180 NFL players to identify the most overrated player in the league, two New York Jets quarterbacks came out on top — or bottom, depending on how you look at it. Tim Tebow was named the most overrated, for the second year in a row, by a whopping 34 percent of players. And the man he backs up, Mark...
Rex Ryan is a talker. It's what he does. So there aren't many things that will leave him at a loss for words. Maybe a nice foot, but not much else. Well today, we found another thing that leaves Ryan at a loss for words. While meeting with reporters on Thursday, Ryan what he had to say about NFL players voting his two quarterbacks the most overrated players in the league. And...
Jets News

Delivered to your inbox

You'll also receive Yardbarker's daily Top 10, featuring the best sports stories from around the web. Customize your newsletter to get articles on your favorite sports and teams. And the best part? It's free!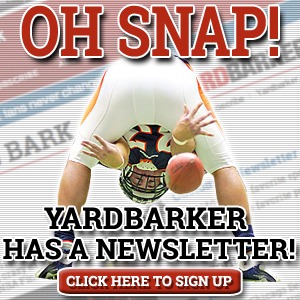 Latest Rumors
The Backyard

Today's Best Stuff

For Bloggers

Join the Yardbarker Network for more promotion, traffic, and money.

Company Info

Help

What is Yardbarker?

Yardbarker is the largest network of sports blogs and pro athlete blogs on the web. This site is the hub of the Yardbarker Network, where our editors and algorithms curate the best sports content from our network and beyond.