Found August 13, 2012 on Denver Sports Chat:
New York, N.Y. The New York Giants have mastered one thing over the course of the last few years. They know how to squeak into the playoffs, somehow remain under the radar, and roll off enough post-season wins to bring home two Super Bowl trophies. The New York Giants have also figured out how to knock off the best franchise in the NFL over the last ten years, on two different occasions to win it all. As we are just weeks away from the 2012 season beginning, New York is once again in a familiar position….as underdogs to a certain extent. Ever since Eli Manning has been the starting QB, the team has rarely looked flashy and hardly ever puts up gaudy numbers. The other team in New York seems to get most of the attention, as their coach is the polar opposite of Tom Coughlin. So what should New York Giants fans expect in 2012? Although plenty of talent is still on the roster, all signs point to a disappointing year for the defending Super Bowl champions.




Let's not forget, there was a point during last year when the Giants lost five out of six, and were sitting with a 7-7 record. It took two gutsy performances in the final two weeks of the season for them to even make the playoffs. At 9-7, they outlasted Dallas and Philadelphia to win the NFC East. This scenario is eerily similar to what happened a few years ago, when they had to win tough road playoff games to make it to the Super Bowl. Last season was the same situation, as road wins at Green Bay and at San Francisco were necessary to continue their championship path. As they enter the 2012 season, a few key players are no longer around, however. Gone are Mario Manningham and Brandon Jacobs, who were critical cogs at times last year. Younger, more inexperienced players will fill their roles this year, and relying on young guys to come through has to be concerning. The NFL's toughest schedule on paper is another roadblock for the Giants. Very few easy opponents are on the docket this season. The lack of hunger will be challenging for Coach Coughlin to get his team to overcome as well. It happens to so many champions in all sorts of sports. A team wins it all, and they unfortunately fall into the "fat cat" syndrome, where the drive to get it done just isn't there. Another factor which won't help them will be that their main rivals, the Eagles and Cowboys, are both under immense pressure to get it done this year. Pressure means both teams are under the gun to win, and win now. The Giants have proven to be a very resilient team in the past, but only when it seems that Tom Coughlin's job has been on the line. 2012 is not this situation. He has now won two Super Bowls, and his job security is about as good as can be. For all of the reasons mentioned, a year for New York at or under .500 seems like it will be in the cards.
The early prediction here is that the New York Giants will finish 3rd in the NFC East. A season of 8-8 or 7-9 seems about right, as Philadelphia and Dallas should finish with better records. This is probably a good thing for the "G-Men" long-term, as in a few years they will somehow barely make the playoffs, win a few games on the road, and once again win the Lombardi trophy. This the only way the New York Giants seem to know how to get the job done.
Denver Sports by J Simp

New 2012 NFL Nike Jerseys Available Now!
The post Why the New York Giants will not make the playoffs appeared first on Denver Sports Chat.
Original Story:
http://feedproxy.google.com/~r/Denver...
THE BACKYARD
BEST OF MAXIM
RELATED ARTICLES
It's amazing seeing how delusional New York Giants fans are. Kicker Lawrence Tynes had an opportunity to win the game last night with a 54-yard field goal. By no means is that kick a chip shot, even for the best kickers, and as you know Tynes came up a few yards short. Countless Giants fans have ignored the horrible Ramses Barden pass interference call and put the full blame on...
The Eagles gave the Giants a second chance to win "Sunday Night Football" when they called timeout prior to Lawrence Tynes' first field goal attempt in the final minute of the game — a kick that he missed. Luckily for them, Tynes also missed his second field goal after being given a shot at redemption, allowing the Eagles to win the game 19-17. After the contest, Eagles quarterback...
Wide receiver Domenik Hixon is starting for the Giants in place of the injured Hakeem Nicks for Sunday Night Football vs. the Eagles. Fantasy Spin: While we still feel Ramses Barden is the better bet for fantasy production, keep expectations tempered as their targets will depend on which formations New York is running.
It was typically wild New York Giants -Philadelphia Eagles battle for first place in the NFC East.  But — just when it looked like Eli Manning was ready to lead the Giants to his 24th come-from-behind-victory of his career — the magic of Eli vanished.  Make that more like 10 important yards disappeared. The Eagles (3-1) won 19-17 after the Giants (2-2) rally fell short with...
In what is starting to feel like a regular occurrence, this week an NFL head coach called a timeout as an opposing kicker was attempting an end of game field goal. With 15 ticks left on the clock Andy Reid stood stoic on the Eagles sideline, working hard to conceal a grin that was beginning [...]
Top 5 Fantasy Football Free Agents 1). Domenik Hixon NYG WR - 114 Receiving Yards With Hakeem Nicks' continued injury history, Domenik Hixon looks to have taken claim as Manning's go-to receiver. 2). Andre Roberts ARI WR -  118 Receiving Yards 1 TD Andre Roberts has staked claim as the Cardinals number 2 wide receiver. With Larry Fitzgerald getting most of the focus, Roberts...
Given a second chance, Lawrence Tynes couldn't make the Philadelphia Eagles pay for a tactical gamble that nearly backfired. Tynes missed two field-goal tries from 54 yards with 15 seconds left and Philadelphia held on for a 19-17 victory over the New York Giants on Sunday night. Tynes missed wide left on his first attempt, but the Eagles had called timeout to ice him. He was...
These Philadelphia Eagles are the NFL's latest version of the Cardiac Kids. Michael Vick led the Eagles (3-1) to their third comeback win Sunday night, a 19-17 victory over the New York Giants that wasn't sealed until Lawrence Tynes missed a 54-yard field goal try in the waning seconds. That made Philadelphia the first team in league history to have its first three wins...
The national conversation about the Philadelphia Eagles has changed following the team's 19-17 defeat of the New York Giants on Sunday. Funny how winning will do that. A headline that reflects a statement every Eagles fan has said in one way or another in the past day: "It hasn't been pretty, but Philly is 3-1." – ESPN.com Don Banks thinks that Sunday's win shows...
Go ahead and exhale, Andy Reid. You didn't cost the Eagles the game after all. Reid nearly became a big time goat on Sunday night after he called a timeout just before Giants kicker Lawrence Tynes attempted a 54-yard field goal in the closing seconds. Generally, icing the kicker like that wouldn't be that big of a deal, but Tynes missed the lengthy first attempt, meaning...
Giants News

Delivered to your inbox

You'll also receive Yardbarker's daily Top 10, featuring the best sports stories from around the web. Customize your newsletter to get articles on your favorite sports and teams. And the best part? It's free!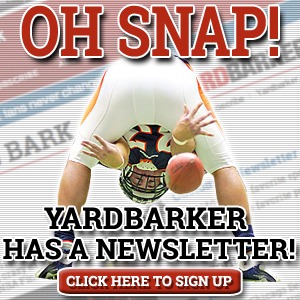 Latest Rumors
Best of Yardbarker

Today's Best Stuff

For Bloggers

Join the Yardbarker Network for more promotion, traffic, and money.

Company Info

Help

What is Yardbarker?

Yardbarker is the largest network of sports blogs and pro athlete blogs on the web. This site is the hub of the Yardbarker Network, where our editors and algorithms curate the best sports content from our network and beyond.