Found August 16, 2012 on CJ Sports NFL Talk:
PLAYERS:
Mark Sanchez
,
Tim Tebow
,
Santonio Holmes
,
Dustin Keller
,
Larry Fitzgerald
,
Calvin Johnson
,
Andre Johnson
TEAMS:
New York Jets
,
Cincinnati Bengals
,
Arizona Cardinals
,
Detroit Lions
,
Houston Texans
,
Pittsburgh Steelers
,
New England Patriots
The New York Jets are going to have an extremely tough upcoming season. From a quarterback battle, no receivers you can count on, a poor defense, and a tough schedule The Jets are in store for a long rough season. Now I know they only played one pre-season game so far against the Cincinnati Bengals, but they didn't really impress me at all in that game. Let's start off with the quarterbacks. Mark Sanchez and Tim Tebow. Two quarterbacks who are good, but not great and both aren't QB's that you can't truly count on in the clutch moments. Both struggle to complete passes and Sanchez struggles with pressure and throws interceptions. Last season, Tebow had a completion percentage of 46.5 and Sanchez with a 56.7. Which will make New York fans very judgmental and critical of every play. Now let's move to the New York Jets receivers. This team doesn't have any receivers that they can always count on, on 3rd downs or in the last minutes of the game. When I look at their roster, the only ones that stand out to me that are pretty good, are Santonio Holmes, and tight end, Dustin Keller….the rest are pretty young but average. If you look at the Cardinals, they have Larry Fitzgerald, if you look at the Lions, they have Calvin Johnson, when you look at the Texans, they have Andre Johnson, and the list goes on. This is a passing league, and you need great wide receivers to defeat great teams. Next up, the Jets poor defense. Last season, the Jets defense was very inconsistent, let up a lot of points on the board, and blew many games in the 4th quarter, including Tebow's game-winning touchdown run. New York is ranked 5th overall in opposing passing yards and 13th overall in opposing rushing yards. Now you may look at those stats and say, that's not too bad, but when you look at all they're wins and losses last season, they let up a lot of touchdowns and pretty much all of them were very high scoring games. The New York Jets just don't have a consistent, lock-down defense at the moment. Last up, the Jets have an extremely tough schedule, going up against very good defenses. They will be going up against teams that include, the Pittsburgh Steelers, the San Francisco 49ers, the Houston Texans, the New England Patriots, and many more. If you look at most of those teams, they have very good teams with some great, tough defenses, and when going up against and facing these kind of teams, they will be racking up several losses. These are just a few of several problems the New York Jets have right now. They are in for a very long, hard, and rough season.   Related articles
The New York Jets to sign Barnum and Bailey (110sportztalk.com)
Why Tebow Will Eventually Start For The Jets (110sportztalk.com)
QB Battle In New York: Mark Sanchez or Tim Tebow? (110sportztalk.com)
Original Story:
http://110sportztalk.com/why-the-jets...
THE BACKYARD
BEST OF MAXIM
RELATED ARTICLES
Anyone who has ever had any interactions with children is well aware of the fact that if a baby does not want to be held by a particular person, they most certainly will let you know just how unhappy they are about being put in an uncomfortable position. Still, it is shocking to see that [...]
Tim Tebow is on the cover of GQ Magazine for the September issue.  You can no longer call Mark Sanchez the GQ QB.  They both are, but there is a buzz about the article.  Read it here.  In the spread, there is a photo of Tim in the Jesus Pose and it's probably going to cause a stir.  GQ knows what they are doing, don't they?   Cha-Ching.  Craiq Carton, on his show this...
FLORHAM PARK, NJ—With competition heating up at practices, Jets coaches and players confirmed Thursday that the ground was quickly emerging as quarterback Tim Tebow's favorite target and had already... Full story at Bob's Blitz ~ http://www.bobsblitz.com
This week we are crushing on New York Jets Quarterback Tim Tebow, who flaunts his assets in GQ's 2012 NFL Kickoff issue.  The magazine hit stands on August 14th, which was also Tim's 25th birthday.  And apparently, this is his gift … Continue reading →
ESPN has a love affair with Tim Tebow and the New York Jets.  As a Jets fan, I should be really happy about all this coverage, but I'm going to tell you, I would IF the coverage was about football. What's the new cheer in CT these days?  E-S-P-N JETS JETS JETS!! Other than Jets fans, do you think the sports world cares about what movies the Jets saw on their off days, a...
AP Photo The teammates of Jets quarterback Mark Sanchez believe he's ready for a big season in 2012. Linebacker Bart Scott says Sanchez has handled himself differently this season. "I think everybody has seen a difference in how he walks, how he handles it if he throws a bad ball, how he carries himself," Scott said,  per The Associated Press via NFL.com. "Mark's always...
New York sports fans aren't exactly the most patient bunch in America. They want results and they want them fast. When the Jets traded up in the first round to get Mark Sanchez four years ago, the mindset became Super Bowl or bust. Sanchez led the team to two AFC Championships in his first two seasons as starting quarterback, but last year was a disappointment. Despite the slide...
For yet another season, Razzball will be interviewing local NFL beat writers for some in-depth actual football knowledge to sway some insight in our fantasy football knowledge.  Keep your eye out for an interview for every NFL team through the summer and check out each one on the "2012 Fantasy Football Team Previews" link.  This installment comes courtesy of David Wyatt from...
We welcome Mr. Timm Bates back to the program this week. Timm was fortunate enough to get some good seats at last Friday night's preseason opener vs the Jets and tells us a bit about his experience. In this week's show: Timm tells us about his Friday night at PBS Timm says that Tim Tebow, NOT Mark Sanchez, is the better quarterback of the two Injuries plagued the Bengals win...
Chad Pennington thinks the New York Jets, Tim Tebow and the wildcat are a perfect fit. The former NFL quarterback would certainly know. He was part of the tricky offensive scheme in Miami, when he played with the Dolphins under current Jets offensive coordinator Tony Sparano. ''If the wildcat allows you to win and be more successful,'' Pennington said Tuesday, ...
The Turn On The Jets writing staff breaks down what they are most looking forward to seeing in the New York Jets second pre-season game. Make sure to leave your comments below or on the Turn On The Jets Facebook Page Joe Caporoso - I want to see the New York Jets offensive line find a way against this Giants pass rush. Give Mark Sanchez enough time to complete his drop back and...
DENVER It might not conjure up memories of Tim Tebow, whose No. 15 jersey was worn by legions of fans in Denver. Still, Andre Caldwell was swarmed for autographs after a recent Broncos scrimmage. One man asked Andre Caldwell to hold his baby before pulling out his cell phone for a quick shot of the two. That was something new for me, the wide receiver said of the request. The...
NFL News

Delivered to your inbox

You'll also receive Yardbarker's daily Top 10, featuring the best sports stories from around the web. Customize your newsletter to get articles on your favorite sports and teams. And the best part? It's free!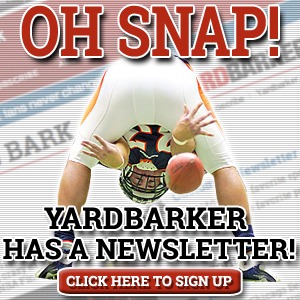 Latest Rumors
Best of Yardbarker

Today's Best Stuff

For Bloggers

Join the Yardbarker Network for more promotion, traffic, and money.

Company Info

Help

What is Yardbarker?

Yardbarker is the largest network of sports blogs and pro athlete blogs on the web. This site is the hub of the Yardbarker Network, where our editors and algorithms curate the best sports content from our network and beyond.