Found November 04, 2012 on Football Nation:
Good things come to those who wait.Unfortunately in today's National Football League it has become "Win NOW or Get Out!"Which is understandable, to a point.The point in question is about Minnesota Vikings quarterback Christian Ponder, and his place in the franchise.The Vikings had a horrible season last year, leading to having the No. 3 overall draft pick this past April.The Vikings were smart, they took offensive tackle Matt Kalil from USC. Good call, guys.No, seriously, it was a good call to draft a franchise quality "blind side" tackle to protect their quarterback of the future, Christian Ponder. That's what he is, though, right?The fact is, in the 2011 Draft, Minnesota maneuvered and traded around so they could move up the draft board far enough. The Vikings were in desperate need of a franchise quarterback.Christian Ponder from Florida State? Come on down! The future of the Minnesota Vikings and the hearts and faith of Vikings fans everywhere, is now...
Original Story:
http://www.footballnation.com/content...
THE BACKYARD
BEST OF MAXIM
RELATED ARTICLES
Vikings quarterback Christian Ponder was nothing short of terrible during yesterday's loss to the Seahawks. The 2nd-year quarterback was 11-for-22 and threw for 63 yards and an interception. This marks the second time in three games that Ponder has thrown for under 100 yards and it begs the question, should Ponder be benched? "The Vikings are dedicated to giving Ponder a fair...
Minnesota Vikings quarterback Christian Ponder has not played well over the last several games. After a hot start to the season in which he led the Vikings to a 4-2 record and threw eight touchdowns and only four interceptions in six games, Ponder has struggled over the last three weeks. He was particularly bad in a loss to the Seattle Seahawks on Sunday. Ponder was an abysmal 11...
We have all been there before. Frustrated, beaten, bruised and battered in one way or another, because of that we have let our tempers react. Percy Harvin of the Minnesota Vikings is no different, it's just that he's an NFL player and was caught on camera. Many witnessed Harvin arguing with head coach Leslie Frazier in the second quarter after another red-zone drive resulted...
I won't get into the recovery timeline on Adrian Peterson's ACL injury, short of saying that its quite amazing that he was on the field for week 1 and his production ever since has been amazing. Getting himself to the field for week 1, in my eyes, was heroic. What he's doing out there, on a surgically repaired leg or not, is also worthy of our admiration. Through 9 weeks...
EDEN PRAIRIE, Minn. Fingers have been squarely pointed in quarterback Christian Ponder's direction the past few weeks as the Minnesota Vikings' passing game has ground nearly to a halt and struggled to find any sense of rhythm or continuity. Ponder accepts the responsibility and has taken the blame that comes along with being Minnesota's leader on the field. His coaches...
Vikings coach Leslie Frazier insists that quarterback Christian Ponder is in no danger of losing his job despite another subpar effort Sunday against the Seahawks.Fantasy Spin:Ponder finished the afternoon with just 63 yards passing and a 37.3 quarterback rating. He's thrown at least one interception in each of his last five games and certainly won't fare much better next...
EDEN PRAIRIE, Minn. Minnesota Vikings coach Leslie Frazier sees an onion when he sees the team's passing offense lately. Finishing under 100 yards passing for the second time in three games, Minnesota coaches plan to head into full-out evaluations of quarterback Christian Ponder, the schemes and game plans of offensive coordinator Bill Musgrave, the route running and separation...
The Minnesota Vikings are trying to figure out how to get off the ground. They struggled through another poor performance by Christian Ponder in Sunday's loss at Seattle, wasting 182 yards rushing and two touchdowns by Adrian Peterson. As the toughest part of their schedule comes into view, the Vikings are searching for solutions to their sputtering passing attack. Coach Leslie...
Christian Ponder has been a sore point in the Vikings' passing game, but he isn't the only thorn causing irritation. We review the numerous aspects of the passing offense that went wrong, patched together with reaction from Leslie Frazier and others.
Leslie Frazier believes the fault for the Vikings' troubled passing game goes beyond Christian Ponder. One thing is for sure: When Ponder is pressured, he isn't performing well.
I WISH It Was Mediocrity: Instead, it may be just downright terrible football. The Vikings lost to the Seattle Seahawks on Sunday, November 4, 20-30, and frankly, that was a generous score. I kept looking at the scoreboard in the third quarter and broke several glasses as they dropped along with my slacked jaw when I realized that we were within three points still. BAH?! Yup, all...
It was a cold and cloudy day Sunday in Seattle.Well, when isn't it?Still, gray, cloudy, nippy days in early November are perfect for football. Trust me when I tell you that once the game begins, and the players are running full speed, giving their all and more, the temperature is perfect. Any colder and you get hypothermia from the sweat mixing with low temperature. Any hotter...
NFL News

Delivered to your inbox

You'll also receive Yardbarker's daily Top 10, featuring the best sports stories from around the web. Customize your newsletter to get articles on your favorite sports and teams. And the best part? It's free!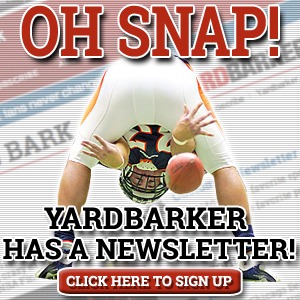 Latest Rumors
Best of Yardbarker

Today's Best Stuff

For Bloggers

Join the Yardbarker Network for more promotion, traffic, and money.

Company Info

Help

What is Yardbarker?

Yardbarker is the largest network of sports blogs and pro athlete blogs on the web. This site is the hub of the Yardbarker Network, where our editors and algorithms curate the best sports content from our network and beyond.