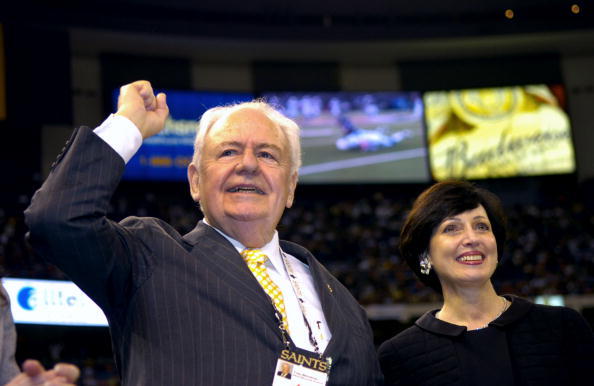 Gayle Benson, the wife of New Orleans Saints owner Tom Benson, played the role of good samaritan  at MetLife Stadium on Sunday.Following the Saints' upset loss to the New York Jets, Benson recovered something very precious, and subsequently delivered the lost item to the rightful soul.More from Newsday told the story:Moments after the Jets finished off a 26-20 upset win over New Orleans, Saints owner Tom Benson's wife, Gayle, found an engagement ring that was left accidentally in the ladies room in the MetLife press box. Turns out the ring belonged to Newsday's Jets beat writer Kimberley Martin, who had removed the ring to wash her hands but then realized after she got to the locker room that she hadn't put the ring back on.Benson gave the ring to stadium security and it found its way back to a thankful Martin, who is engaged to a sportswriter at a New Jersey newspaper. The return came with advice."Many blessings and always keep your ring on," Benson told her, "Better to get soap on it than lose it."Truer words have never been spoken.Via USA TODAY
Read the rest of this story...
MORE FROM YARDBARKER
NFL News

Delivered to your inbox

You'll also receive Yardbarker's daily Top 10, featuring the best sports stories from around the web. Customize your newsletter to get articles on your favorite sports and teams. And the best part? It's free!