Found March 26, 2012 on Awful Announcing:
Saints head coach Sean Payton will begin serving his one year suspension handed down from Roger Goodell beginning April 1st.  While Payton will be exiled from his coaching duties, could he possibly look elsewhere to stay connected with the NFL?  Would television come calling for the now disgraced head coach?  Within Judy Battista's New York Times article on the Saints moving on without Payton was this interesting nugget.  It seems only one network, Fox, is interested in giving Sean Payton a temporary home...
Payton will lose at least $6 million in salary from the Saints and could seek work elsewhere, perhaps in television. On Friday, representatives for ESPN, NBC and CBS indicated that they had no plans to hire him. But Fox Sports, which carries N.F.C. games during the season, is open to the possibility. "Our feeling about Sean is that he's bright, articulate and obviously contemporary," said Lou D'Ermilio, Fox's senior vice president for communications. "Any network with N.F.L. rights would have to consider it."
Fox would make sense as a landing place for Sean Payton as they carry NFC games and Payton would be very familiar with most of the talent.  Having an intelligent, contemporary voice to provide analysis provides extra insight for viewers (see Shaka Smart last week on TBS's NCAA coverage or Terry Francona in last year's ALCS).  Clearly, from a purely analytical perspective, Payton would be a home run addition either in the booth or the studio for any network.  We're talking about a Super Bowl winning head coach who is arguably one of the five best coaches in the league right now... but then there's that messy bounty situation...
Payton's approval rating and public image is hovering somewhere between Skip Bayless and Congress at the moment.  If Fox is willing to bring Sean Payton on air, the network would have to face tough questions about bringing someone aboard that was involved in a violent scandal that put the game of football in a very negative light.  However, by the time Week 1 rolls around in September, Payton's public image will likely be much better than the immediate days following his suspension.  Time heals all wounds and most fans will be more caught up in their own team than fixing their ire towards Payton.  
Given the harshness of his year long suspension, he may even turn into a sympathetic figure once the season actually rolls around.  For now though, he's going to toe the company line and be a good soldier for Roger Goodell and the NFL will move on as quickly as possible to prove (rightly or not) that they are trying to do everything they can to further their interest in player safety.  The NFL is going to do everything they can to present a united front in moving past this story at all costs.  And perhaps, that may mean Sean Payton not only disappearing from the sidelines, but disappearing from any association with the NFL for the next year.
Ask yourself, where are the limits of Sean Payton's punishment at the hands of the bounty scandal?  It's hard to believe that he is so toxic that all the NFL networks would stay away from Payton during his suspension.  What happened in New Orleans was bad, but given what kinds of things athletes and sports figures have come back from off the field, the odds favor Payton will eventually recover in the public eye.  Payton joining Fox this year would do good on multiple fronts.  It would drastically help Payton improve his image quickly if he's conciliatory and engaging on television.  It would help Fox by giving them someone smart that can talk football (which would be a milestone itself).  But, would it help the NFL in their eternal quest to "protect the shield"?
Would Roger Goodell strong arm the league's television partners into blackballing Payton while he serves his suspension?  At least publicly, the league is saying no...
The league responded in a statement: "He is suspended from the N.F.L. for the season. His involvement in any non-N.F.L. employment or business matters is not our decision."
Sure, it's not the NFL's decision, but it sure as hell isn't outside the NFL's sphere of influence.  Considering Roger Goodell has as much power as Sacha Baron Cohen's new movie character, he could easily send Fox the message that he doesn't want Sean Payton near the NFL until after the 2012 season is over.  And, given Goodell's history and immense power, his preventing Sean Payton from appearing on air would be the least surprising potential development of the bounty scandal.  After all, ESPN, the network of 10,000 analysts, couldn't wait to publicly distance themselves from even touching Payton during his suspension.  Don't forget it was Paul Tagliabue that put the kabosh on Playmakers because of concerns over what it would do to the NFL's image long ago.  And from everything we've been told, this Saints bounty scandal is the worst thing to afflict the league's image in recent memory.
Fox didn't say they were purusing Payton, just that it would be considered.  Perhaps the "Payton to Fox" hype has been overplayed and Fox was just trying to be complimentary to the coach.  But, Payton joining FOX for the next year seems to be a win-win situation for both the network and the coach, even if it would initially cause some controversy.  In the end though, it would be shocking if Goodell doesn't pull the Playmakers card once again to blackball Payton in the ultimate interest of protecting the shield.
Like Awful Announcing on Facebook
Follow Awful Announcing on Twitter

Original Story:
http://www.awfulannouncing.com/2012-a...
THE BACKYARD
BEST OF MAXIM
RELATED ARTICLES
Times may get hard for suspended New Orleans Saints head coach Sean Payton, as ESPN is reporting that the coach will lose up towards $5.8 million -- due to the NFL suspension he received from the league of his knowledge of the bounty program that was taking place with the Saints.Payton suspension will begin on April 1 with the suspension ending the day after Super Bowl XLVII, on...
New Orleans Saints coach Sean Payton is attending the NFL owners meetings one week before he begins his one-season suspension for his involvement in the team's bounty program. Payton and general manager Mickey Loomis, who will serve an eight-game suspension later this year for the system that paid Saints players for big hits on targeted players, were at Commissioner Roger Goodell...
The New Orleans Saints were largely an embarrassment in their first 39 years as an NFL franchise. Sean Payton arrived in 2006, transforming the 'Aints into the Saints. Can the team survive a year without him?....
Sean Payton lists Bill Parcells as his mentor. These days, the New Orleans Saints coach may need that support more than ever. Facing a season-long suspension for his role in the Saints' bounties program, Payton planned to meet with Parcells, his former boss, on Tuesday, a conversation that will include who will coach New Orleans this coming season. Speaking Tuesday morning...
The Saints currently have a championship-caliber roster but are without a head coach. As you know, Sean Payton has been suspended for an entire year as part of the Saints' punishment for running a bounty program, effective April 1. New Orleans is one of the best teams in the NFC, but the loss of Payton for a season could set them back significantly. As the team looks for an interim...
(Sports Network) - Soon-to-be suspended Saints head coach Sean Payton could reportedly meet with Bill Parcells about the possibility of the two-time Super Bowl winner taking over in New Orleans on an interim basis. Payton was suspended for the entire 2012 season for his role in the Saints' bounty scandal. The club has yet to name an interim head coach and the reason might be...
The Big Tuna may be headed to the Big Easy. Sean Payton has had discussions with former boss and mentor Bill Parcells about becoming the New Orleans Saints interim coach, ESPN's Chris Mortensen reported on Monday, citing league sources. Payton and Parcells have reportedly spoken on a couple of occasions since NFL commissioner Roger Goodell suspended the Saints coach for the...
Reports out of ESPN and Fox Sports are thy Sean Payton had reached out to Bill Parcells about coaching the Saints during his suspension this season. Payton was on Parcells staff in Dallas and it makes sense considering Parcells is not looking for a long term return to the league. Question is, would this delay
It's been no secret I'm a huge fan of the idea that Bill Parcells come to the Saints for one season only to replace a suspended Sean Payton. To quickly recap my thoughts about why this is a perfect fit: 1. Sean Payton and Bill Parcells are close friends, share the same coaching philosophy, and Payton views Parcells as a mentor.2. Parcells, at 70, is still completely present...
The old saying is always "it isn't the crime, it's the cover-up."  That seems to be what has happened to the New Orleans Saints, as they kept lying to NFL and commissioner Goodell as the investigation into Bountygate continued. Mike Florio reports that Goodell informed everyone that the Saints did themselves no service, including head coach Sean Payton and GM Mickey Loomis...
With today's news that New Orleans Saints head coach Sean Payton would like former NFL head coach Bill Parcells to become the interim coach of the Saints while he serves a year-long suspension, Peter King of SI.com asked Parcells if he had the bug to coach again. "Do I have the bug?" Parcells said, then he paused according to King. "I don't think so." Since retiring as...
The NFL annual owners meeting is in Palm Beach, Florida this year, starting Monday and ending on Wednesday. Former President Bill Clinton is scheduled to speak Sunday to kick off the event. Several issues are on the table as usual. One hot button topic will surely be the Saint's Bountygate scandal. All 32 teams will be there, but we haven't received any word on whether recently...
NFL News

Delivered to your inbox

You'll also receive Yardbarker's daily Top 10, featuring the best sports stories from around the web. Customize your newsletter to get articles on your favorite sports and teams. And the best part? It's free!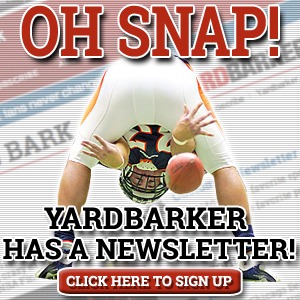 Latest Rumors
Best of Yardbarker

Today's Best Stuff

For Bloggers

Join the Yardbarker Network for more promotion, traffic, and money.

Company Info

Help

What is Yardbarker?

Yardbarker is the largest network of sports blogs and pro athlete blogs on the web. This site is the hub of the Yardbarker Network, where our editors and algorithms curate the best sports content from our network and beyond.