Found July 09, 2012 on BroncoTalk: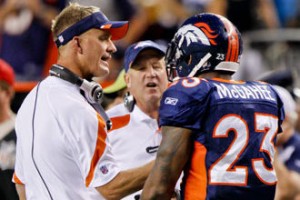 (Image courtesy of the Denver Broncos)
After recording an 8-8 record and a playoff berth last season, Denver's top two 2011 coordinators — Mike McCoy and Dennis Allen — suddenly became head coaching candidates.  The Oakland Raiders were granted permission to interview both coaches (and they ended up hiring Allen) and the Miami Dolphins considered signing McCoy.
Allen was considered the one responsible for Denver's somewhat of a defensive turnaround last season and McCoy was credited with creating a potent offense by elvolving his playbook to tailor to his players' unique skill-sets.  Heading into the 2012 season, McCoy remains a 2013 head coaching candidate and the man who replaced Allen — new Defensive Coordinator Jack Del Rio — could be on track to returning to the top of the coaching food chain.
If quarterback Peyton Manning performs well and the Denver Broncos win their division again this season, McCoy will emerge as one of the most sought after coaches in the league.  On the other side of the ball, if the defense benefits from Manning's presence and improves on their 2011 campaign, Del Rio will viewed in the same regard—if not better—than Allen was last offseason.
Del Rio has coached under John Fox before (in Carolina during the 2002 season) and was top dog in Jacksonville from 2003-to-2011.  During that time period the Jaguars enjoyed dominating defensive success with limited offensive production and unfortunately, limited overall success.  While his head coaching resume is far from exceptional (69–73 overall), Del Rio's defenses consistently ranked among the top ten during his tenure in Jacksonville.
If Denver's defense ranks among the top ten in 2012 and sends several defenders to the Pro Bowl, it will direct warm fuzzy wuzzies towards Del Rio in league circles.  And if some of the young rising stars on defense, such as Von Miller breakout under Del Rio's coaching, it could lead to the sixteen-year coach interviewing with other teams next offseason.
McCoy is a similar case.  If the offense excels under Manning, it would open the door for McCoy to follow in Allen's footsteps and accept a head coaching gig elsewhere in the NFL.  If McCoy did move on, it would open up the door for the Broncos to sign Manning's former Offensive Coordinator Tom Moore, who said he is going to return to coaching in 2013.  But that's a different subject for a different time.
As of now, McCoy and Del Rio are Denver's top two coordinators.  If the team has a successful 2012 season, they may have two vacant coaching positions heading into 2013.
Alternatively, if the Broncos do well enough under McCoy and Del Rio, the two coaches may not want to leave a winning team.  Both of the coaches have worked under Fox in the past and have been successful coaching with him.  If the two coordinators love their situation in Denver, teams may not be able to pry them away.  Only time will tell.
Original Story:
http://broncotalk.net/2012/07/38685/b...
THE BACKYARD
BEST OF MAXIM
RELATED ARTICLES
(Image courtesy of Bob Gathany/The Huntsville Times) The league's 2012 Supplemental Draft will be held on Tuesday and eight players are eligible to be selected.  One of the prospects in the draft is former Alabama A&M linebacker Larry Lumpkin, who was ruled ineligibly for the 2012 college football season. The draft gives players often labeled as character-flawed a chance...
Ever since iTweetGate, fans have become increasingly adamant that nine-year linebacker D.J. Williams should be shipped out of town. In one of our recent polls, 55% of fans voted in favor of D.J. being taken out of the starting lineup all together. My response has been that the team values D.J.'s on-the-field performance higher than his occasional off-the-field mishaps —...
We're celebrating some of the greatest hits in Denver Broncos history.  Today, we remember Rahim Moore's big hit against Buffalo. Be sure to check back tomorrow for Hit No. 13!  After the series is over we'll top it off with one big hitastic video.
Introducing the new 2013 Buick Verano, and it's new spokesperson, Denver Broncos QB Peyton Manning. It won't go at break neck speed, and that's just how Peyton likes it. Perfect for those Pharmacy runs or to make that early bird special. Ok, seriously, Manning is back to his obsession with hocking as many things on TV as humanly possible. We suspect he'll be seen...
Denver Broncos quarterback Peyton Manning will be featured in a new commercial for the 2013 Buick Verano.   Buick will debut the Manning commercial on Wednesday night during the ESPY Awards on ESPN. A behind-the-scenes video was released which shows the NFL star calling "audibles" to the vehicle's OnStar voice-activation features.
Be sure to follow me on Twitter for more Broncos updates throughout the day. Denver Broncos News Ex-Alabama A&M linebacker hopes the NFL calls | Huntsville Times Lumpkin, who spent two seasons at A&M before transferring to Carson-Newman College after the 2010 season, has made himself available for the NFL Supplemental Draft after being ruled ineligible for the 2012 season...
Denver, CO – 2011 will always be remembered by Denver Broncos fans as the year of Tebow. Whether or not you are a Broncos fan, we all recall the unbelievable season it turned out to be. After a 1-4 start, Time Tebow was inserted into the starting lineup and craziness then ensued. Comeback win after … Continue reading »
Over the next two weeks, we're going to be celebrating some of the best hits from Denver Broncos history.  Today, we remember Darrell Reid's big hit in Philadelphia. Be sure to check back tomorrow for Hit No. 14! After the series is over we'll top it off with one big hitastic video.
The AFC West has been viewed as that of a 'weak' division the past few years. This is mostly attributed to the fact that the division hasn't made it far into the playoffs in the last couple years. This may be a common misconception held by NFL fans around the league. The AFC West may in fact be the most competitive division in football today. Last year, there was a three...
NFL News

Delivered to your inbox

You'll also receive Yardbarker's daily Top 10, featuring the best sports stories from around the web. Customize your newsletter to get articles on your favorite sports and teams. And the best part? It's free!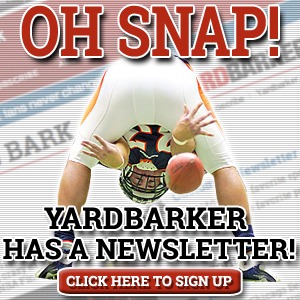 Latest Rumors
Best of Yardbarker

Today's Best Stuff

For Bloggers

Join the Yardbarker Network for more promotion, traffic, and money.

Company Info

Help

What is Yardbarker?

Yardbarker is the largest network of sports blogs and pro athlete blogs on the web. This site is the hub of the Yardbarker Network, where our editors and algorithms curate the best sports content from our network and beyond.