Found January 16, 2013 on The Sports Bank:
The rumor-mill known as Deadspin dropped a bombshell of a story when they reported that Notre Dame's Manti Te'o and the inspiring tale of him playing through the death of his cancer-riddled girlfriend was actually a hoax. Not only was the story a hoax, they claim the so-called girlfriend never existed at all. This comes just a couple of weeks after Alabama's thrashing of Notre Dame in the National Championship Game and the real beginning of 2013 NFL Draft speculation. Will this shocking story have an effect on the draft value of Te'o? Prior to Deadspin's mind-blowing story on Wednesday, one of ESPN's draft experts, Mel Kiper Jr. published his first NFL Mock Draft. Kiper doesn't always know what he's talking about, but he's usually pretty close. Kiper had the Notre Dame linebacker with "elite athleticism" and "elite intangibles" going 8th overall to the Buffalo Bills in the upcoming draft. If the report is indeed true, you can't help but think his value will drop a significant amoun
Original Story:
http://www.thesportsbank.net/nfl/will...
THE BACKYARD
BEST OF MAXIM
RELATED ARTICLES
Notre Dame safety Zeke Motta is working hard on the practice field for the East-West Shrine game in hopes of impressing NFL scouts and coaches watching. Motta says he's improving each day with the coaching he's getting at practice and his time at Notre Dame prepared him for this next chapter.
IRISH EYES ARE LYING
An investigative report from Deadspin revealed that Notre Dame linebacker Manti Te'o's girlfriend was really a hoax.
As more and more information comes out you can either believe one of two things. Either Te'o came up with this on his own to cover up a bigger story or he found out he was being duped and continue to lie to the media. A student on the Notre Dame campus wrote an op-ed piece on the situation and believes it is the latter. We all saw this coming. Well, not ALL of this — but enough...
This is a must read from SI.com of an unedited interview with Te'o that just raises a ton of more questions, but the most telling is Te'o confirming he met his fake girlfriend in person. Notre Dame says their relationship was just online. SI: How did you meet her? TE'O: We met just, ummmm, just she knew my cousin. And kind of saw me there so. Just kind of regular. SI: How long...
Potentially forever destroying the legacy of the most decorated defensive player in college football history, Deadspin.com reported earlier today that the girlfriend of University of Notre Dame Fighting Irish linebacker Manti Te'o never existed. Days before the 6-foot-2, 255 pound … Continue reading →
Five members of Notre Dame's 2013 class enrolled today and IrishEyes.com recruiting analysts Brian Dohn and Dave Berk take a look at each player.
As Manti Te'o, Notre Dame, and Catfish gain momentum in the national media, we are all left with more questions than answers. If you have been hibernating for the past 24 hours, had your iPhone on that new "Do Not Disturb" setting, or simply don't care enough about sports to view ESPN 24/7, then you can find out about the incident here, here, and here. As more facts continue...
The latest edition of the "Notre Dame Recruiting Blog" has updates on a number of 2013 recruits planning visits to campus, and fallout from Oregon's coaching situation.
Notre Dame says a story about Manti Te'o's girlfriend dying, which he said inspired him to play better as he helped the Fighting Irish get to the BCS title game, turned out to be a hoax apparently perpetrated against the linebacker. The university issued a news release Wednesday after Deadspin.com reported it could find no record of Lennay Kekua existing. The university...
SOUTH BEND, Ind. — Not once but twice after he supposedly discovered his online girlfriend of three years never even existed, Notre Dame All-American linebacker Manti Te'o perpetuated the heartbreaking story about her death. An Associated Press review of news coverage found that the Heisman Trophy runner-up talked about his doomed love in a Web interview on Dec. 8 and again in...
A University of Notre Dame graduate who launched a campaign to raise money for a cancer research group in memory of linebacker Manti Te'o's girlfriend says he is ''shell-shocked'' to learn the woman didn't exist.
NFL News

Delivered to your inbox

You'll also receive Yardbarker's daily Top 10, featuring the best sports stories from around the web. Customize your newsletter to get articles on your favorite sports and teams. And the best part? It's free!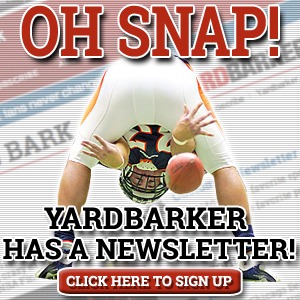 Latest Rumors
Best of Yardbarker

Today's Best Stuff

For Bloggers

Join the Yardbarker Network for more promotion, traffic, and money.

Company Info

Help

What is Yardbarker?

Yardbarker is the largest network of sports blogs and pro athlete blogs on the web. This site is the hub of the Yardbarker Network, where our editors and algorithms curate the best sports content from our network and beyond.