Found June 21, 2012 on PPR Fantasy Football:
Nothing is worse in Dynasty leagues than having a player who was a bona fide stud one year fall on his face the next. You get your hopes up and consider him a core player, a sure fire every week starter, then without warning or explanation he hits a slump so nasty that you want to drive to their city and beat them with a dead car battery. Having said that… Will the real Lawrence Timmons please stand up? In 2010, Timmons finished the year ranked as the LB7 in IDP leagues. He was machine of destruction. Through the first seven games he had racked up 56 solo tackles, 18 assists and three sacks. Nobody started off hotter! Then, something happened. Through the next six games he totaled just 20 solos, 17 assists, and zero sacks. He wasn't hurt, there was no position change, and it wasn't bad match-ups. It was like there was an imposter in his uniform. Timmons finished the year strong with 20 solos, seven assists, and a sack the final three weeks so everything was forgiven. Fast f...
Original Story:
http://fantasyppr.com/2012/06/21/will...
THE BACKYARD
BEST OF MAXIM
RELATED ARTICLES
The Top 100 Players of 2012 rolled on last night as players 11-20 were revealed. I am not a big fan of these list as I question their legitimacy for the most part. Several players have claimed not to have voted since the network started the top 100 last off-season and that is why I smell a rat. I like the concept that the NFL Network has, it's just I think they made up the list...
When the season opens in 2012, there is a great possibility that two starters from the 2011 campaign will be on the PUP list for the Steelers, running back Rashard Mendenhall and nose tackle Casey Hampton. Ironically, this was to be (and is) a huge season for both players as the Steelers weigh their contract options moving into 2013.This is especially true for Mendenhall, who in...
By Christopher DiMarino This is the first article in what will be a series analyzing the Pittsburgh Steelers competition on the schedule for the 2012-2013 season. As Zack de la Roacha of Rage Against the Machine sang, Know Your Enemy. I'm very particular about knowing who the Steelers are squaring off against. It gives me insight to what I can expect from the Steelers that week...
It's the slow time of the offseason, OTA's and mini camps are over and many players have scattered until training camp begins on July 25th.  Among all the dissecting of potential offensive philosophies, player personnel, defensive schemes, and what not, one of the hottest topics at this time of year is contracts. Every Steeler fans knows that you don't often see new deals...
That's right the round up is back!  It feels good to have to time to do this again.  I know I've missed so much since my last round up!  So, let's dive right in. James Harrison hasn't changed one bit since my one.  The NFL has all kinds of crazy things going on now with the bounties and the referees association filing unfair labor practices against the NFL.  Harrison...
By Jeremy Hritz Back on April 23, I posted my first edition of the Pittsburgh Steelers season prediction prior to the NFL Draft, noting that I would update it multiple times leading up to the season. This is the second version of the season prediction, and it takes into account the draft, OTAs, and mini-camp. In the first edition, I had the Steelers finishing the season 11-5 and...
Former Pittsburgh Steelers guard Ralph Wenzel passed away today at the age of 69. Wenzel suffered from Alzheimer's-type dementia. Wenzel was originally drafted by Green Bay Packers in the 11th round of the 1966 draft. The Packers traded the San Diego State product to the Cleveland Browns shortly after he was drafted. The Browns ended up waiving Wenzel shortly after trading for...
By Christina Rivers June 15, 2004 - No "big" deal for Tommy Maddox On June 7th, 2004, Steelers quarterback Tommy Maddox signed a new contract that could have earned him $14 million, according to the Pittsburgh Post-Gazette.  Maddox's contract extended him past the 2007 season, but there were conditions. One, Maddox would have to remain the starting quarterback with...
The hot topics around the NFL these days don't center around position battles, coaching changes, offensive or defensive philosophies near as much as they do when it comes to concussions. Head injuries and player safety in general have turned the national Football League into an ongoing litigation battle league with current and former players. It's as much of a political grandstanding...
What is the actual expectation of Haley and the offense? What if the Steelers lose the first few games? What if the losses are high scoring games in the 30′s, but the defense gives it away? What happens if they get blown out early as contrasted by low scoring games? The new offense may have a ton of potential but there is also going to be growing pains, to think that there won't...
Here we go Steelers! Here we go….. To Ireland. In what could only be viewed as a 'what took so long' announcement, Pittsburgh Steelers' Chairman Emeritus Dan Rooney said yesterday that he would like the Steelers to play a regular season game in Ireland. As most of you know, Mr. Rooney was named the ambassador to Ireland by President Barack Obama not long after Obama was elected...
The talk about an NFL game taking place in Ireland has really died down over the last few months. It was reported back in December of last year that the NFL sent a delegation to inspect Croke Park in Ireland as a possible place to play a game. US Ambassador to Ireland and Pittsburgh Steelers president Dan Rooney is of course a prime player in this game taking place in Ireland...
NFL News

Delivered to your inbox

You'll also receive Yardbarker's daily Top 10, featuring the best sports stories from around the web. Customize your newsletter to get articles on your favorite sports and teams. And the best part? It's free!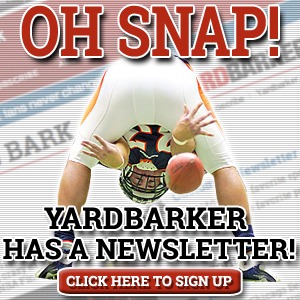 Latest Rumors
Best of Yardbarker

Today's Best Stuff

For Bloggers

Join the Yardbarker Network for more promotion, traffic, and money.

Company Info

Help

What is Yardbarker?

Yardbarker is the largest network of sports blogs and pro athlete blogs on the web. This site is the hub of the Yardbarker Network, where our editors and algorithms curate the best sports content from our network and beyond.