Found June 30, 2013 on Foxboro Blog:
                Now, before all you Patriots' fans get defensive, hear me out.  For years, Tom Brady has been the cornerstone of the Patriots' organization there is no denying that. Having won three super bowls, with five appearances since entering the league, it can be argued that he is one of, if not the best QB ever to play the game.  However, as much as this statement is true, Tom Brady is human and as his age starts to creep up, his play may start to slowly deteriorate.  With the uncertainty surrounding the Patriots pass catchers this year, it is not unreasonable to think that Brady could struggle this year.  He has had underwhelming weapons in the past.  In 2006, for example, the receiving core consisted of players like Doug Gabriel, Chad Jackson, Reche Caldwell, and Brandon Childress among others.  That season, although he put up good numbers by normal NFL Quarterback standards, for Brady his play left a lot to be desired.  That season, he threw for 24 touch
Original Story:
http://www.foxboroblog.com/2013-artic...
THE BACKYARD
BEST OF MAXIM
RELATED ARTICLES
The New England Patriots have avoided all of the remaining guaranteed money owed to Aaron Hernandez, which totals in at $5.91 million. According to Ben Volin of the Boston Globe, the team will be voiding the $3.5 million in future guaranteed base salaries on Hernandez's contract as well as the final installment on his $12.5 million signing bonus, which slots in at $3.25 million...
There have been allegations about Aaron Hernandez's involvement in Odin Lloyd's death flying around the internet for some time, but to my knowledge, Reddit user WasteOfFrog is the first curious soul to put a complete list of the charges and evidence against Hernandez together. The following was assembled by the Reddit user using public records. To view more evidence as it...
In an interview for Extra roughly two months ago former Patriots tight end Aaron Hernandez claimed to be a "role model" for Hispanic people. In a few short weeks the Aaron Hernandez saga has gone from bad to worse, and the young man is as far from a role model as can be. Of course, the only reason this video is of any note is because Hernandez and two others were arrested just...
According to Ted Daniel of FOX 25 in Boston, former Patriots tight end Aaron Hernandez was served with lawsuit papers for shooting Alexander Bradley in the face down in Miami. SOURCE: AH served Friday in jail w/papers relating to FL suit that claims he shot a former associate in the face in Feb. #fox25 — Ted Daniel (@TedDanielFOX25) July 1, 2013 Lawyer for plaintiff Alexander...
Aaron Hernandez was released by the New England Patriots less than two hours after he was arrested last Wednesday. Considering law enforcement officials opted not to reveal the charges against Hernandez until his arraignment several hours later, we were left to assume that the team knew something we didn't. Otherwise, would they have acted so [...]
I have a working theory that one of the reasons that Aaron Hernandez might have engaged in criminal activity is because he had done criminal activity in the past and never was punished for it. Case in point. According to the police report, here's what took place: A waitress brought Hernandez two "alcoholic drinks." After Hernandez finished the drinks, a restaurant employee...
The Aaron Hernandez murder investigation is having an effect on everyone who's ever known the young man. Former teammates now say he was a great friend. NFL brass and execs now wonder how he slipped under the radar, or why his background wasn't more closely scrutinized. Many people are interested in hearing what his former college coach has to say.  Meyer reportedly would sit...
  Over the last few weeks, Aaron Hernandez has become a household name for all the wrong reasons. With the murder charges levied against him, it's no surprise that the NFL has decided to stop selling his jersey. The Patriots are honoring their fans by offering free exchanges on Hernandez jerseys. Surprisingly, though, the jerseys and other pieces of Hernandez memorabilia are...
BY NICK ST. DENISBy a few accounts, former New England Patriots tight end Aaron Hernandez wasn't highly regarded in the locker room. By more accounts, he was exponentially worse in everyday life.But not by Deion Branch's account. (photo: Karen Cardoza, Flickr)Probably not intentionally, the former Patriots receiver Branch recently made some head-turning comments about Hernandez...
The NFL has stopped selling Aaron Hernandez jerseys, the New England Patriots are offering fans a free jersey for the exchange of the shamed Hernandez uniform as well. Even with such drastic measures, Hernandez jerseys are still hot sellers in one place at least. The Boston Globe is reporting that Hernandez jerseys are becoming a hot item on eBay, selling for more than $200 in some...
    Ever since the departure of defensive playmakers like Rodney Harrison, Tedy Bruschi, Junior Seau, and Ty Law among others, the Patriots have struggled defensively over the years.  Although these player departures have a lot to do with these defensive woes, the team hasn't exactly had the cream of the crop to work with as far as defensive minds go.  In the...
The New England Patriots have had a reputation throughout the Bill Belichick-Tom Brady era for valuing character as much as actual talent, but that reputation has taken a serious hit lately. The murder charge levied against Aaron Hernandez in the slaying of Odin Lloyd and subsequent revelation that the ex-Patriots tight end also reportedly is being investigated in a 2012 double...
Patriots News

Delivered to your inbox

You'll also receive Yardbarker's daily Top 10, featuring the best sports stories from around the web. Customize your newsletter to get articles on your favorite sports and teams. And the best part? It's free!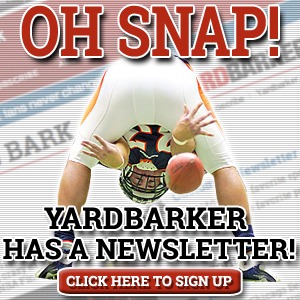 Latest Rumors
Best of Yardbarker

Today's Best Stuff

For Bloggers

Join the Yardbarker Network for more promotion, traffic, and money.

Company Info

Help

What is Yardbarker?

Yardbarker is the largest network of sports blogs and pro athlete blogs on the web. This site is the hub of the Yardbarker Network, where our editors and algorithms curate the best sports content from our network and beyond.