Found May 02, 2012 on Fox Sports Kansas City:
If 40 is the new 30, then 23 is the new 16. Your body is all grown up. The rest of you is under construction, a row of orange cones and Jell-O shots, waiting for life to pave the snot out of you. You're frisky, free, and invincible, at the height of your powers as a young man. You can work forever, party forever. At 23, you're convinced you know everything. Spoiler alert: You don't. "I was always motivated, always worked hard, but you always got that one little feeling like, Man, if I could go back, I'd do this,' " Chiefs safety Eric Berry said the other day. "Or I'd just be a little more excited I won't complain about doing this extra rep or this extra workout. I'd do anything to get out there and do it again." Talent is God-given. Perspective is learned. "Enjoy it while you can," Berry said. "That's the biggest thing." From a maturity standpoint, the Georgia native is 23 going on 42, wise beyond his years. As a rookie in 2010, Berry had it all: The hype, the reps, the numbers, the playoffs, the Pro Bowl, the love. In 2011, one game in, and it was gone. "It was one of those things where I kind of grew up off the field," offered Berry, who suffered a torn left ACL last September 11 in the season-opener against Buffalo. "I watched the game differently. I watched it (like) a defensive coordinator. Instead of Eric Berry, just Eric Berry the safety, (Number) 29, making sure I'm doing my job, I try to see the whole picture I didn't have to worry about getting ready for practice. I could pretty much just sit back and try to see what the offense was trying to do to the defense. "So I watched a lot of football this year, both college and NFL, and I think just my whole mindset toward the game has changed. You know? I kind of just try to see the big picture of everything, instead of just having tunnel vision, just for my position or just one side of the ball. I try to see everything for what it is (in) the grand scheme." At 23, you don't sweat the grand scheme. You mow through life with blinders and a smile. You're too busy marking your territory to worry about the big picture. Unless, of course, something you hold dear gets taken away. Loss makes you think. Loss makes you reflect. Loss can test a wise man in a hurry. "I've always been motivated," said Berry, who's been working out at the Chiefs' training facility for the past two weeks and expects to be at full speed by the time training camp rolls around in July. "But at the same time, I've never been away from the game for so long." A wise man learns to focus less on the tunnel and more on the light at the end of it. Ever since he broke into the starting lineup at the University of Tennessee as a true freshman in 2007, Berry had made it a point of pride to never miss a single practice, let alone a season. Once the shock of the injury wears off, you're thrust into the slow, monotonous grind of rehab. Although being within earshot of teammates Tony Moeaki and Jamaal Charles, who also suffered season-ending knee injuries last fall, helped to ease the load. "We went through so much," Berry recalled. "We have so much in common, because nobody can truly feel what we felt. "I came in some days, and I might be slacking, or whatever, and be like, Man, I just don't feel like doing it today.' But that might be Jamal's good day or that'd be Tony's good day. He'd be like, Come on, let's do this.' Or vice versa: Jamal might feel bad, and I'd lift him up. We just kind of took care of each other." A wise man learns the folly of second-guessing the past. Berry got hurt when Bills wideout Stevie Johnson dove at his knee, lowering his helmet on a cut block. In March, as the fallout from the New Orleans Saints' bounty scandal reached its apex, the Chiefs defender tweeted that he'd wondered if Buffalo "had a bounty out on me oh well who cares. Either way u can't hold me down." "That was just a joke," Berry would say later. "You got tape. You can look at the tape and make your own opinion about that. My opinion is my opinion. People (are) going to take it how they want anyway. To me, that's in the past. It is what it is." A wise man learns to let go. Eventually. You can follow Sean Keeler on Twitter @seankeeler or email him at seanmkeeler@gmail.com
Original Story:
http://www.foxsportskansascity.com/05...
THE BACKYARD
BEST OF MAXIM
RELATED ARTICLES
According to Adam Teicher of the Kansas City Star, the Chiefs brought in free agent tight end Dallas Clark and safety O.J. Atogwe for a visit on Tuesday. Both Clark and Atogwe have clearly seen better days, since they've both struggled with injuries over the past couple of seasons. It looks like the Chiefs wanted to see how much all player have left in order to find out if they...
11. NT Dontari Poe CDontari Poe is the definition of a boom or bust prospect. He has phenomenal measurables, but he had minimal production on a crappy team in a small conference in Conference-USA and the tape doesn't match at to his measurables. He's also more of a straight line athlete than anything too. I liked him a lot more in the 2nd round, but I'll average an A and an...
I had been uneasy all week leading up to the game.  Unlike most of the other Nebraska Cornhusker football fans sitting near me in Memorial Stadium in Lincoln on that Saturday afternoon in September, I knew Fresno State was not just another non-conference cupcake win.  Pat Hill's squad was for real.  He takes pride in [...]
(Eds: APNewsNow. ) By DAVE SKRETTA AP Sports Writer There's a whole bunch of new faces running around the Kansas City Chiefs practice field these days. General manager Scott Pioli stood pat last season, and the result was a team that looked just about the same as it did the previous year. And that proved disastrous when a rash of injuries early in the season exposed a lack of...
The Kansas City Chiefs gambled early and often in this class, focusing on players with high upside despite minimal on-field production in college. It's a bold strategy, and Scott Pioli is putting his job on the line. If these draft classes don't pan out, he'll be on the hot seat in a year or two. Dontari Poe is a classic boom-or-bust prospect. It's impossible to overlook...
On this edition of Out of Bounds, we grade out the Kansas City Chiefs 2012 NFL Draft. Did the Chiefs make the right decisions and how many of their picks will make the final 53-man roster?
Going into the NFL draft, the Chiefs had one huge need nose tackle. Well, you could make the case they had two glaring needs. If you're like me, you're not a big believer in Matt Cassel. But at least at quarterback, the Chiefs had actual bodies on the depth chart. At nose tackle, on the other hand, the Chiefs had just Jerrell Powe, who played all of seven snaps in 2011...
Dallas Clark visited the Chiefs on Tuesday, but the 32-year-old did not sign a contract. Kansas City is relatively stable at the position with Tony Moeaki and Kevin Boss on the depth chart. But Moeaki is returning from torn knee ligaments in training camp last year and Boss started just 11 games, posting 28 receptions, his lowest output since 2007 with the Giants. Clark played...
According to the Kansas City Star, the Kansas City Chiefs have worked out a pair of NFL veterans. The paper reports that the Chiefs brought in veteran TE Dallas Clark and S O.J. Atogwe. Clark is currently 33 and was released by the Indianapolis Colts while Atogwe will turn 31 next season and was released by the Washington Redskins earlier this off-season after signing a 5-year contract...
Since the Pittsburgh Steelers drafted Florida running back Chris Rainey in the fifth round of the 2012 NFL draft, one really can't help but to think that new offensive coordinator Todd Haley plans to use him the same way that he used Dexter McCluster when he was the head coach of the Kansas City Chiefs. It got me wondering just how much Haley used his running backs in the passing...
NFL News

Delivered to your inbox

You'll also receive Yardbarker's daily Top 10, featuring the best sports stories from around the web. Customize your newsletter to get articles on your favorite sports and teams. And the best part? It's free!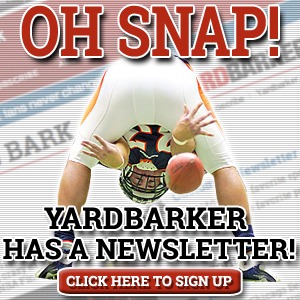 Latest Rumors
The Backyard

Today's Best Stuff

For Bloggers

Join the Yardbarker Network for more promotion, traffic, and money.

Company Info

Help

What is Yardbarker?

Yardbarker is the largest network of sports blogs and pro athlete blogs on the web. This site is the hub of the Yardbarker Network, where our editors and algorithms curate the best sports content from our network and beyond.