Found July 11, 2013 on Football and Futbol:
This is the second post in my ongoing series reviewing the Dallas Cowboy's roster position by position. Jason Garrett has wanted to run a 12 personnel (two tight end) offense since he got here. Now with 4 candidates that could be an option. Granted, outside of Witten the other 3 aren't the most proven players as of yet. Jason Witten: Even if Jason Witten were to retire today, he would be hands down the best tight end in the history of the Cowboys. Also for the record I have him down in my mind as one if not the most underrated tight ends ever. In his ten seasons his stats read as: 806 receptions, 8,948 yards, and 44 touchdowns. Not to mention he is an excellent blocker. He's also 31, and if Tony Gonzales can still be playing at 37, and he runs a little more physically than Witten, taking more hits, who knows how long Witten can last. Witten is the quintessential consummate professional, and the "Mr. Cowboy" of this generation. Mostly because like the old school Energizer Bunny, Witten just keeps on going. Just when it appeared a lacerated spleen of all things was what it would take to finally hamper his prolific production last year, he quietly posted an NFL-record 110 catches by a tight end, and a casual 1,039 yards – the second highest yardage total of his career. No big deal. Now this 12 personnel offense, implementing two tight ends on a regular basis, may affect Witten's production slightly. There's also the fact that he's competing for touches with Dez Bryant, and after the second half of last year who knows how many times Bryant is going to get the rock this season. But at the same time, there were years when Witten was competing with the likes of Terrell Owens and Terry Glen for touches. Outside of any of that, Witten is still Romo's security blanket, and at this point is the most consistent player on this team. Gavin Escobar was the third tight end drafted overall, is a third round pick, and is the third playmaking tight end the Cowboys have tried to partner with Witten. (The subliminal message intended is he could end up being the number 3 tight end.) The first two, Anthony Fasano and Martellus Bennett…well…they weren't the answer. On a side note, one of my favorite (of the many) stupid Stephen A. Smith rants for ESPN, he dogged the Cowboys for dumping Martellus Bennet because he was "balling" for the Giants last season. Because #1 I guess you can blame a team for dumping a guy who over four years only caught 85 balls for 846 yards and 4 touchdowns, with all of the touchdowns coming in his rookie season. And #2 "Balling" apparently equals being so average at best that the Giants saw no need to keep him around, and he will be playing for the Bears next year. But back on topic, after being selected 47th overall in April, expectations will be on Escobar to take the role of second-string tight end behind Witten. He is considered mainly an explosive pass-catcher, but not much of a blocker, after accumulating 1,646 total yards and 17 touchdowns during three years as at San Diego State. However I wouldn't be surprised if the number two tight end job, at least early on ends up going to second year man James Hanna. James Hanna: The Cowboys' sixth-round pick in 2012 could develop into a steal as while most of his production was late in the year he showed good hands and route-running when given opportunities. Seven of his eight total receptions and 76 of his 86 total yards came in the final month of the season. Apparently he has put some good work in on tape at OTAs and minicamp – and wouldn't you know it he was running the 2nd team behind Witten. But the harsh reality is that there is more money invested in rookie Escobar and if and when old Jerry gets his way, the player that he's paying more is going to be on the field on a more regular basis by at least some point this year. But that's not to say he couldn't snatch the number 2 job to start out the year, its going to come down to who shows up in training camp. Dante Rosario is going to be listed on the roster at tight ends, but he is a little more versatile than the others and will likely get opportunities at different offensive positions. Rosario has college and a little experience as a fullback in the pros and that could be huge towards making this team, especially considering last year's starting fullback Lawrence Vickers will be limited by offseason surgery. Rosario also offers experience on special teams, another key factor in making a roster, where he has made 27 total tackles in his six seasons in the NFL. Rosario's production isn't really that spectacular, but he is by far Dallas' second-most experienced tight end behind Witten. He has accumulated 1,106 total yards and eight touchdowns during his time with three different teams. What's key to remember is that Escobar and Hanna are pass-catching tight ends, so Rosario's experience as a fullback gives him an advantage and a legitimate shot to make this team if he has a solid camp performance.  
Original Story:
http://www.footballandfutbol.com/witt...
THE BACKYARD
BEST OF MAXIM
RELATED ARTICLES
    Ware is he?!?!  That is the question offensive coordinators are constantly asking when they play the Dallas Cowboys.  DeMarcus Ware is one of the most dominant linebackers to ever play the game of football.  Ever since Bill Parcells drafted him in the 1st round out of Troy in 2005, Ware has been a nightmare to opposing offenses.  He has a total of 111 sacks coming into...
According to the NFL's official transaction log, the Dallas Cowboys have waived DT Rob Callaway from injured reserve with an injury settlement, reports ProFootballTalk. He reportedly underwent microfracture knee surgery in June and was placed on the IR. He played in two games as a reserve in 2012, while spending the rest of the season on the practice squad. the 25-year-old...
According to Albert Breer of the NFL Network, the Cowboys and linebacker Sean Lee haven't started working on a contract extension yet. Also, heard today that there haven't been talks between Cowboys and Sean Lee on an extension, so we'll see where that goes. — Albert Breer (@AlbertBreer) July 10, 2013 The Cowboys would be smart to have Lee play out the final season of...
The Dallas Cowboys have released fullback Lawrence Vickers, not a surprising move considering their recent emphasis on an offense with two tight ends. The move announced Friday came after Vickers had back surgery following the season and worked only on the side during offseason practices. Dallas is unlikely to carry a fullback on the roster after loading up on tight ends behind...
Roger Staubach was Captain Comeback. Tony Romo is Captain Choke of America's Chokers. Or is he? Scott Kacsmar's final myth-buster exposes the NFL's real chokers.
As we continue to examine 2012 as a primer for what needsto be accomplished heading into training camp of 2013 and beyond, we shouldfollow up ourbreakdown of the offensive numbers with a thorough checkup of thestatistics that the defense was responsible for. Clearly, this is less relevant when you consider the wholesale adjustments tothe defense moving forward. They spent the offseason...
The Dallas Cowboys had one fullback on their roster. Now they have zero. In a move that saves about $1.2 million on the salary cap, the Dallas Cowboys have cut Lawrence Vickers. This just shows how much fullbacks have come to be devalued in today's NFL. And really, in a pass-happy league, unless your fullback can play tight end and catch the ball well, it makes sense that fullbacks...
The Dallas Cowboys announced the release of FB Lawrence Vickers on Friday. Vickers, 30, was the team's only fullback on their roster, so his release appears to be an indication that they are prepared to move forward with H-Back position rather than the traditional fullback. David Helman of DallasCowboys.com notes that this move should create close to $1.2 million in cap space...
Dallas Cowboys running back DeMarco Murray told ESPN, via the Dallas Morning News that he's "100 percent, ready to go" for training camp. "I'm doing everything," Murray added. "Full speed." While on ESPN's First Take, Murray was asked if he can rush for 2,000 yards in one season. "I think I'm capable of anything," Murray said. Murray says the Cowboys need...
DeMarco Murray should be a full participant when training camp starts in Oxnard, Calif. later this month. The Dallas Cowboys starting running back said Wednesday that he's "100 percent, ready to go." "I'm doing everything," Murray added. "Full speed." Murray made those comments during an interview on "The Herd with Colin Cowherd,&quot...
Fans will remember Paul Palmer from the 1989 Dallas Cowboys before they will remember several other players. Junior Tautalatasi? Curtis Stewart? Eric Brown? Steve Hendrickson? Onzy Elam? Garry Cobb? Kevin Lilly? The Most Obscure Player of 1989: Running back Paul Palmer, shown on this card playing against his former team, the Kansas City Chiefs. The reason Palmer is the Most Obscure...
Cowboys News

Delivered to your inbox

You'll also receive Yardbarker's daily Top 10, featuring the best sports stories from around the web. Customize your newsletter to get articles on your favorite sports and teams. And the best part? It's free!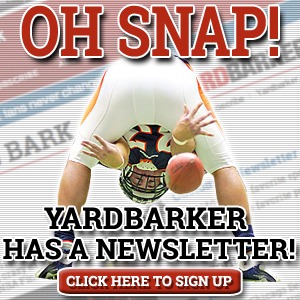 Latest Rumors
The Backyard

Today's Best Stuff

For Bloggers

Join the Yardbarker Network for more promotion, traffic, and money.

Company Info

Help

What is Yardbarker?

Yardbarker is the largest network of sports blogs and pro athlete blogs on the web. This site is the hub of the Yardbarker Network, where our editors and algorithms curate the best sports content from our network and beyond.