Found November 21, 2012 on Midway Illustrated:
PLAYERS:
Ted Ginn Jr
,
Colin Kaepernick
,
Alex Smith
,
Vernon Davis
,
Lance Briggs
,
David Akers
,
Jason Campbell
,
Alshon Jeffery
,
Stephen Paea
,
Kyle Williams
,
Patrick Willis
,
Randy Moss
,
Devin Hester
,
Major Wright
,
Michael Crabtree
TEAMS:
San Francisco 49ers
,
Chicago Bears
I'm so excited I'm about to stroke out.  Or maybe it's the sugar high from the cupcake I just ate.  Or both.  The Bears kick off. Tedd Ginn Jr. returns it to the 18.  The Bears defense is ready to murder Colin Kaepernick, filling in for the concussed Alex Smith.  The 49ers move into Bears territory on a cleverly designed pass play to Vernon Davis from a jumbo formation. Kaepernick is 3 for 3 now.  49ers knocking on the door of the red zone.  3rd and 1 at the Bears' 14.  Kaepernick overthrows a well-covered Vernon Davis on a play action pass to the end zone.  Excellent job by Lance Briggs keeping up with Davis downfield, creating a tighter throwing window for Kaepernick.  David Akers converts a kick from 32 yards out.  49ers lead 3-0.  Touchback.  Bears start from the 20. Bad news:  Jason Campbell sacked on 3rd and 2.  Good news:  Alshon Jeffery is back and healthy!  Podlesh continues to struggle, with a 37 yard punt, net of 33.  But fortunately, the 49ers get whistled for a holding penalty.  Still good field position for the enemy, at their own 37. Stephen Paea just blew up a Gore run for a 6 yard loss on 2nd and 1.  Get you some! Outstanding pass protection from the Niners' o-line.  Kaepernick hits the NFC title game goat, Kyle Williams, for a 57 yard gain to the 2.  1st and goal.  Play action.  Kaepernick hits Vernon Davis for an easy score.  10-0, 49ers.  I'm getting angry and might need another cupcake.  And definitely another beer.  Bears ball.  Forte picks up a first down after strong back-to-back carries.  Welcome back, Alshon Jefery.  You were dearly missed.  Jeffery with a 9 yard reception up to the 39.  3rd and 1.  Forte blasts through for a key first down.  Slowing down the Niners' momentum a bit.  I'll take it. Patrick Willis breaks up a 3rd and 9 pass to Forte over the middle.  The way this defense is playing, 10 points might be enough for the Niners to win the game.  Urge to drink heavily… rising. Podlesh pins San Francisco inside their own 3 yard line.  Time for the Bears D to take over and start scoring touchdowns.  Might be the only way the Bears get on the board tonight.     Randy Moss just made a catch, and Kaepernick is 8 for 9.  Grumble grumble. Make that 9 for 10.  Vernon Davis again, all the way to the 33.  Gore gashes for a first down.  I'm having nightmare flashbacks to the 1995 NFC divisional playoffs:   49ers - 44, Bears - 15.  At least that massacre wasn't surprising.  Niners a run a read option to Hunter up the middle and basically untouched for a 14 yard touchdown.  This is despicable.  97 yard drive and it's 17-0, Merciless Killers.  Jason Campbell throws an interception on a shoddily executed out pattern by Devin Hester.  Hester doesn't have the size to be anything other than precise with his routes, especially on the sideline.  So why call that play there?  Surely there was another option somewhere on the play, but I definitely had an anger blackout and missed the replay.  DRINK! Major Wright misses a tackle on 3rd and 11, and surrenders a 1st down to Michael Crabtree.  Sack!  A glimmer of hope, although Kaepernick managed to hang onto the ball.  Akers boots another field goal through the uprights, burying the Bears in a 20-0 hole.
Original Story:
http://www.midwayillustrated.com/2012...
THE BACKYARD
BEST OF MAXIM
RELATED ARTICLES
Two days ago after Colin Kaepernick led the 49ers to victory over the Chicago Bears, Jim Harbaugh was asked who would be his starter against New Orleans. Harbaugh responded by saying, "I usually tend to go with the guy that has the hot hand and we have two quarterbacks that have a hot hand." Well, it was reported tonight that the 'hot hand' he is going with is Colin Kaepernick...
I have yet to meet a head coach who wants to deal with a quarterback controversy. Coaches, as a rule, like certainty and stability. Quarterback controversies by definition lead to the opposite. They create distractions when you're seeking focus, and they can spark division when you're searching for togetherness. Colin Kaepernick was brilliant on Monday night in leading San...
Colin Kaepernick made a heck of an impression in his first NFL start against a very solid defense. Following the game, head coach Jim Harbaugh told reporters that he hasn't completely ruled out giving Kaepernick another start, nor is ready to bench Alex Smith. "I usually tend to go with the guy who has the hot hand," Harbaugh said, per ESPN.com's Mike Sando. "We really...
San Francisco 49ers coach Jim Harbaugh is sticking with Colin Kaepernick as his starter under center - for now, anyway - as his team prepares for Sunday's home game with the Miami Dolphins. And, no, Alex Smith isn't out of this mix yet, either. A day after a 16-13 overtime loss at St. Louis, Harbaugh accepted the blame for the fourth-quarter pitch that was fumbled by Kaepernick...
The San Francisco 49ers shouldn't start Colin Kaepernick on Sunday against the New Orleans Saints because he's the hot hand but because the Niners should "make the smart call" about Alex Smith's health, according to Bruce Jenkins of the San Francisco Chronicle. The 49ers should start Colin Kaepernick against New Orleans on Sunday because somebody, somewhere, has...
1. Colin Kaepernick is Worth a Pickup in Most Formats Although the 49ers have yet to commit to either Colin Kaepernick or Alex Smith (concussion) as the team's starter at this point, the upside presented by the former makes him a worthwhile speculative addition in most formats. Kaepernick would presumably have his passing upside limited, just as Smith does, by the generally...
San Francisco 49ers head coach Jim Harbaugh is not messing around. According to Sports Illustrated's Jim Trotter, Harbaugh informed Alex Smith that Colin Kaepernick will start at quarterback on Sunday at New Orleans. Trotter's report states that the decision was not based on medical reasons. Smith is recovering from a concussion suffered in Week 10 against the St. Louis Rams...
Regardless of his motives or how he minces words, 49ers head coach Jim Harbaugh made the correct decision by naming Colin Kaepernick over Alex Smith as the starting quarterback right here, right now. It may not lead to a more peaceful Thanksgiving Day among 49ers fans and media, who will now pick apart the call much as they did the pre-decision controversy. But that is the nature...
      When Alex Smith returns to health there is no question he should return to the starting line-up for the San Francisco 49ers. Colin Kaepernick played a great game against Chicago this past Monday, that is true but it was just one game! As the starter for the 49ers Smith is 19-5-1 in his last 25 starts, which includes a 6-2-1 record this year. So far this season smith...
If you pay any attention to the NFL, you know that Alex Smith has had an interesting career to say the least. The former first overall draft pick from the 2005 draft out of Utah had a pretty bum-like start to his career for the first six years, only to blossom in 2011 under the tutelage of newly-appointed head coach Jim Harbaugh. Smith had his best year statistically, throwing for...
The good times are rolling here at BC as the win steak continues. At this point it's almost not even fair. We went 4-1 last week and confidence is higher than it's ever been. Our friend Ashley Ilenfeld was a very worthy opponent, but finished 2-3. This week we are facing off against another Ashley…model and Bears sexy superfan Ashley Brooke (go follow – @aYoN765). The Packers...
Welcome to another installment of Down and Distance's Top 5 Fantasy TE's. We're heading into week 12 and it's nitty gritty time, time to roll into your Fantasy Football Playoffs! Did pretty good last week with the exception of Gronkowski getting hurt, he did produce though but we won't be including him until his return (Obviously). Another mistake was not including Vernon...
NFL News

Delivered to your inbox

You'll also receive Yardbarker's daily Top 10, featuring the best sports stories from around the web. Customize your newsletter to get articles on your favorite sports and teams. And the best part? It's free!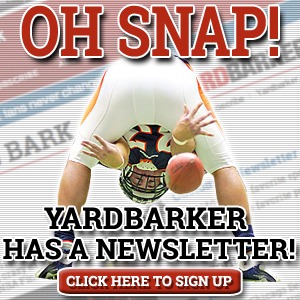 Latest Rumors
Best of Yardbarker

Today's Best Stuff

For Bloggers

Join the Yardbarker Network for more promotion, traffic, and money.

Company Info

Help

What is Yardbarker?

Yardbarker is the largest network of sports blogs and pro athlete blogs on the web. This site is the hub of the Yardbarker Network, where our editors and algorithms curate the best sports content from our network and beyond.