As soon as you Google the name Aaron Rodgers on the internet, a plethora of pages will pop up about his greatness. They have titles talking about how he may be the greatest quarterback to ever play the game. They talk about how amazing his statistics are, and how incomparable they are to any other player. Certainly he is a great player with many different passing records to is name...
Now that we're just a few weeks away from the start of free agency, NFL teams have fully transitioned from the 2017 campaign to the offseason. We've already seen two major quarterback situations settled with Jimmy Garoppolo re-signing in San Francisco and Alex Smith being traded to Washington. That position is going to be the talk of NFL free agency.Though, there's a handful of big...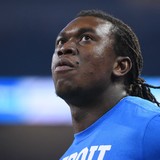 The Lions should use the franchise tag on Ziggy Ansah, Dave Birkett of the Detroit Free Press argues. Ansah's injury history is troubling, but he is the Lions' top pass rusher and the team cannot risk losing him to free agency, in Birkett's opinion. The projected ~$17.5MM tag for defensive ends is not cheap, but it would give the Lions several months to hammer out a long-term deal...
Packers All-Pro quarterback Aaron Rodgers is enjoying some time away from the gridiron, and he'll be taking in some NASCAR action this weekend.Rodgers, who, this time last year, was dating actress Olivia Munn, has now confirmed that he's dating Danica Patrick. As such, he'll be at Daytona International Speedway on Sunday to support her in her final race at the famous track, according...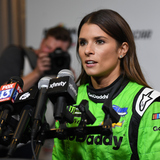 For those who don't know it by now, Green Bay Packers quarterback Aaron Rodgers and race car champion Danica Patrick are a thing. And, Rodgers plans to be present at the Daytona 500 this Sunday."He's going to be here to support me and he's excited," Patrick said, per the Associated Press (h/t Packers News). "I'm excited to show him what I do."This NASCAR race will be Patrick's second...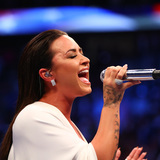 If everything works out, Green Bay Packers quarterback Aaron Rodgers won't be the only member of the team on the celebrity dating circuit.Fresh off an impressive rookie season, running back Aaron Jones is out here hitting up music sensation Demi Lovato. One could even say, he's shooting his shot."Hit me up, Demi! You single, I'm single. Sup? I'm a great match for you," Jones told...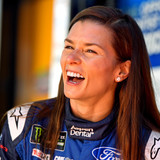 The rumors are a thing of the past, as Packers quarterback Aaron Rodgers and NASCAR driver Danica Patrick have made their relationship public.Not only that, they recently made their first public appearance together, at an event tied to a golf tournament Rodgers is set to compete in. The Packers quarterback will soon be teeing off at the AT&T Pebble Beach Pro-Am, which is set...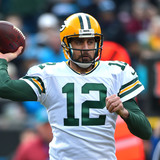 Green Bay Packers quarterback Aaron Rodgers is coming off a rough season that saw him miss more than half the campaign due to a broken collarbone.It was the second time in his career that he was sidelined due to this injury, and the first time around his comeback was epic. Following his first broken collarbone in 2013, Rodgers came back with a vengeance to win the NFL MVP award in...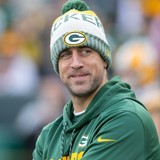 Aaron Rodgers is currently a fabulous bargain for the Green Bay Packers, set to make around $20 million the next two years barring a contract extension.Given the fact that Rodgers is arguably the best quarterback in the league, this isn't going to fly for long. In fact, Rodgers himself admitted that he's not ruling out the possibility he might end up having to finish his career wearing...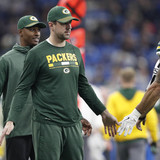 Aaron Rodgers is not happy about the Green Bay Packers letting quarterbacks coach Alex Van Pelt go.Rodgers made the media rounds on Thursday in Minneapolis, but it was his comments on ESPN's "Golic and Wingo" that stood out. The Packers quarterback made it clear he was not happy that the team did not consult him about Van Pelt leaving as part of their sweeping changes after the season...
MORE STORIES >>
Packers News

Delivered to your inbox

You'll also receive Yardbarker's daily Top 10, featuring the best sports stories from around the web. Customize your newsletter to get articles on your favorite sports and teams. And the best part? It's free!