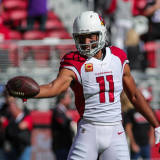 Sure, there wasn't a lot of great games today. But there were plenty of great players continuing to make their mark on history.Cardinals wideout Larry Fitzgerald, in his 14th season in the league, moved to #6 on the league's all-time receiving yards list with 14,953, passing Hall of Famer Tim Brown (14,934 yards). In the same game, Adrian Peterson ran for 159 yards, moving to 12...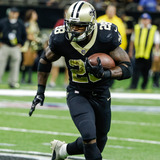 Adrian Peterson turned back the clock in his first game with the Cardinals on Sunday.Peterson, who had only 81 yards for the entire season leading up to Sunday's game, eclipsed that mark against the Bucs. He carried the ball 26 times for 134 yards (one touchdown), and a few of them came on one pretty sweet run.Check out the moves he put on Brent Grimes in the open field here. AP...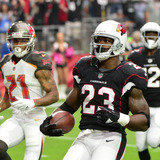 Adrian Peterson didn't take long to get comfortable with his new team on Sunday.On his first offensive drive with the Arizona Cardinals, Peterson carried the ball four times for 54 yards. He capped things off with a 27-yard touchdown run. Peterson was traded to Arizona from the New Orleans Saints earlier in the week. It should be noted that Saints running back Mark Ingram totaled...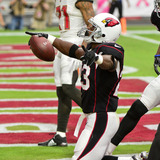 It didn't take future Hall of Fame running back Adrian Peterson too long to make his presence known for the Arizona Cardinals in his debut with the team.In Arizona's first possession of the game, Peterson went for 54 yards on four rush attempts. That included this amazing 27-yard touchdown to put the Cardinals up early against Tampa Bay. Notice just how elite Peterson's vision was...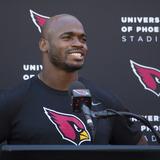 Despite boasting the worst rushing attack in the NFL, Bruce Arians and the Arizona Cardinals don't envision the recently acquired Adrian Peterson to be a three-down back.Instead, Arians noted on Thursday that the future Hall of Fame running back will not play on third downs once he makes his debut with the team on Sunday. Seen as a bell cow during his 10-year career with the Minnesota...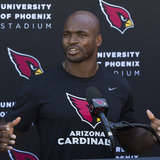 The Arizona Cardinals on Wednesday formally introduced Adrian Peterson after a stunning trade to acquire him from the New Orleans Saints. And while the Cardinals may be cautiously optimistic over the acquisition, it pales in comparison to how Peterson feels about his arrival.The 32-year-old running back was a poor fit for the Saints' offensive scheme. And Peterson's unhappiness was...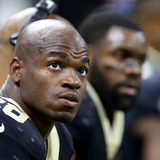 As Adrian Peterson prepares to make his Arizona Cardinals debut following a trade from the New Orleans Saints, one situation from his previous life in Minnesota is making headlines.According to the Star Tribune, Crown Bank in Minneapolis has filed a lawsuit against Peterson alleging that he defaulted on a $2.4 million loan from back in 2016."The bank said in its lawsuit that Peterson...
Adrian Peterson is being sued for defaulting on a bank loan, according to a report.The Star Tribune says Peterson is being sued by Minneapolis-based Crown Bank for allegedly defaulting on a $2.4 million loan.The suit says Peterson took out the loan in May, 2016, but defaulted a few months later in October. He reached a forbearance agreement with the bank in which he agreed to pay...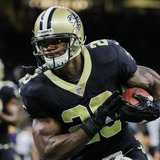 Less than a day after acquiring future Hall of Fame running back Adrian Peterson from the New Orleans Saints, the veteran is already being listed as the Arizona Cardinals' starter. He's followed in line by Kerwynn Williams and Andre Ellington. Arizona yielded a conditional sixth-round pick in next year's draft for Peterson on Tuesday. Peterson, 32, put up just 81 yards on 27 attempts...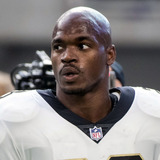 The New Orleans Saints traded Adrian Peterson to the Arizona Cardinals on Tuesday, and the veteran running back sounds like he couldn't wait to leave his former team.Shortly after news of the trade surfaced, Peterson told NFL Network's Stacey Dales that he is "so ecstatic" about the move.The Cardinals are reportedly sending a conditional late-round pick to New Orleans, which gives...
MORE STORIES >>
Cardinals News

Delivered to your inbox

You'll also receive Yardbarker's daily Top 10, featuring the best sports stories from around the web. Customize your newsletter to get articles on your favorite sports and teams. And the best part? It's free!