Earlier this week the Green Bay Packers announced the signing of two-time All-Pro linebacker Ahmad Brooks. Brooks was previously released by San Francisco on August 25, as part of the 49ers' rebuilding process. Brooks will look to fill the pass-rusher void left by Julius Peppers who racked up 25 sacks for the Packers over a three-year span before returning to Carolina this offseason...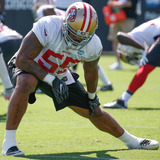 Ahmad Brooks has already found a new home.A week after being released by the San Francisco 49ers, Brooks has agreed to a one-year deal with the Green Bay Packers. NFL Media's Ian Rapoport says the deal is for a $3.5 million base salary, with the potential to earn up to $5 million. Brooks, 33, has been in the league since 2006. He played eight straight seasons with the Niners, racking...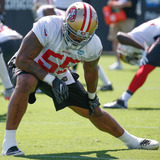 The Green Bay Packers made yet another rare venture into free agency on Wednesday, reportedly signing former San Francisco 49ers Pro Bowl linebacker Ahmad Brooks.According to NFL Media's Ian Rapoport, it's a one-year deal that could be worth up to $5 million. Brooks, 33, spent each of the past eight seasons in San Francisco prior to being released earlier in August. The former Pro...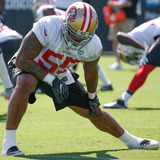 The San Francisco 49ers' roster overhaul under first-year general manager John Lynch is close to taking another step. According to Matt Barrows of The Sacramento Bee, San Francisco plans to release long-time linebacker Ahmad Brooks."The 49ers plan to release the longest tenured player on their defense, outside linebacker Ahmad Brooks, according to multiple sources," Barrows reported...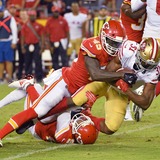 The San Francisco 49ers are in it for the long haul. After spending the last couple years flapping around in the wind, the 49ers finally found a long-term plan this offseason. And it doesn't seem that bad.New general manager John Lynch was an unorthodox hire, but so far he seems to know what he's doing. Lynch fleeced the Chicago Bears on draft night, getting a treasure trove of picks...
San Francisco 49ers cornerback Tramaine Brock was arrested early April 7th for a domestic violence incident. The 49ers promptly released him, and this was their full statement on the matter: "The San Francisco 49ers announced on Friday that they have released cornerback Tramaine Brock." General Manager John Lynch sent a strong message with this move, and in the process, began the...
By Jesse Reed It's no secret the San Francisco 49ers are dealing with one of the worst stretches of off-field problems in recent memory. Following the latest incident involving Ahmad Brooks, former 49ers cornerback Eric Davis, now with NFL Network, revealed Jim Harbaugh's "coddling" approach to off-field issues could have been a big contributor to the franchise's current issues...
By Larry Brown Things just got very real for a couple of football players. 49ers linebacker Ahmad Brooks has been charged with misdemeanor sexual battery, while former 49ers DT Ray McDonald was indicted for rape by a grand jury over an incident involving the same woman, Santa Clara County prosecutors announced Wednesday. The alleged incidents took place at a party at McDonald's...
The new league year, although young, has seen an unprecedented amount of movement of high-profile players in trades, as well as in free agency. Lets take a look at the biggest storylines of the new league year. New York Jets busy week In what will be his last major payday, Darrelle Revis certainly cashed in. NFL Media's Ian Rapoport reported the five-year, $70 million deal, including...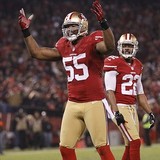 Third and two with 3:19 to play in the fourth quarter and the San Francisco 49ers leading the Saints 20-17.  Ahmad Brooks gains the edge on a five man rush and appears to sack Drew Brees causing a fumble recovered by San Francisco putting them in a great position to seal the game.   But the play didn't end that way.  Brooks was called for a personal foul costing the 49ers the game...
MORE STORIES >>
Packers News

Delivered to your inbox

You'll also receive Yardbarker's daily Top 10, featuring the best sports stories from around the web. Customize your newsletter to get articles on your favorite sports and teams. And the best part? It's free!