Chiefs wide receiver Albert Wilson appeared on SiriusXM's NFL Radio Thursday afternoon. The four-year Chief will become an unrestricted free agent when the league year begins on March 14. This is the first we've heard from Wilson that I can recall since the season's end. Pro Football Focus recently referred to Wilson as a must-sign player for the Chiefs, and after I reviewed his...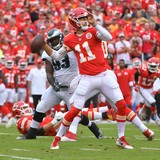 Tuesday's stunning trade that sent Alex Smith to the Washington Redskins caught plenty of attention in the football world. That includes a man preparing for the Super Bowl, Philadelphia Eagles coach Doug Pederson.Pederson, Smith's former offensive coordinator with the Kansas City Chiefs, was not thrilled about having Smith in the NFC East."Yeah, I just hate that we have to play him...
It may seem like only a handful of teams have a real opportunity to unseat the New England Patriots in the AFC in a given year. But it only seems that way.Who in their right mind envisioned at the start of the season that the Jacksonville Jaguars would be up by 10 points in the fourth quarter against the Patriots in the AFC Championship Game? If you called that, this one scribe is...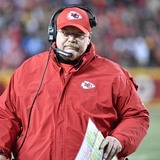 Hue Jackson will be taking on a CEO-style approach this season and shed light on why he thought Todd Haley's experience was sufficient to unseat him as Browns play-caller. Jackson confirmed Thursday that Haley will call plays, just as he did in Pittsburgh."This is something I've always dreamed of transitioning into," Jackson said (via Mary Kay Cabot of cleveland.com) of an arrangement...
Offensive coordinator Matt Nagy was the Kansas Chiefs' primary play caller for the 2017 season. But Nagy is now the head coach of the Chicago Bears. Replacing Nagy as Kansas City's play caller in 2018 will be head coach Andy Reid."I'm gonna go back to doing that — I'll do that," Reid said, via Terez Paylor. "I did it at Denver, against Denver. And I was very happy with Matt (Nagy...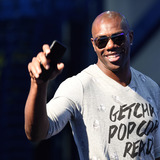 Terrell Owens has always been one to speak his mind, and now some of his former colleagues are getting caught in the crosshairs.Answering questions from fans on Twitter on Friday, the mercurial wideout took shots at ex-Philadelphia Eagles teammate Donovan McNabb as well as some of his old coaches. For one, Owens shaded Dallas Cowboys coach Jason Garrett, saying that Garrett ran both...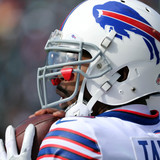 NFL wild-card weekend is complete, and we're down to eight remaining teams in the postseason. Four teams are going home after suffering losses. That means plenty of goats will have an entire offseason to reflect on what went wrong for them at the worst possible time.Here's a list of 10 big disappointments from the first weekend of the NFL playoffs.Andy Reid, ChiefsThe Chiefs' second...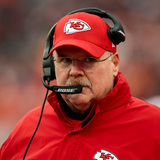 The Kansas City Chiefs are heartbroken. After taking a 21-3 lead into halftime against the Tennessee Titans, it all went downhill. Ultimately, the Titans would advance with a 22-21 victory. But that's not why Chiefs fans are so upset. Numerous calls in the second half would go against them. Moreover, a couple of them in particular were downright bad. But head coach Andy Reid doesn...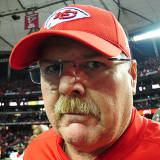 The Chiefs clinched the AFC West title after defeating the Dolphins on Sunday, which resulted in both players and coaches feeling festive after the 29-13 win.Head coach Andy Reid was clearly in the holiday spirit, as he elected to ring in Christmas Eve by dressing as Santa Claus.Reid wore the costume to his postgame press conference, and he also donned it while celebrating with his...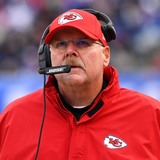 Andy Reid is getting into the festive spirit after a big Kansas City Chiefs win.The head coach burst into the Kansas City locker room dressed as Santa Claus after the 29-13 win over the Miami Dolphins, and kept the apparel for his postgame press conference. The Chiefs clinched a second consecutive AFC West title on Sunday, so the coach was in a deservedly celebratory mood. He's certainly...
MORE STORIES >>
Chiefs News

Delivered to your inbox

You'll also receive Yardbarker's daily Top 10, featuring the best sports stories from around the web. Customize your newsletter to get articles on your favorite sports and teams. And the best part? It's free!