Dallas looks to be without a key defender to start the 2017 season.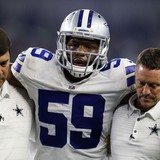 Updating a previous item, it looks like the Dallas Cowboys received some good news regarding starting middle linebacker Anthony Hitchens. The team originally thought Hitchens suffered a season-ending knee injury Saturday night against the Oakland Raiders.While the injury itself is still severe, it looks like Dallas will get its starting linebacker back at some point in the first...
Cowboys starting middle linebacker Anthony Hitchens does not have a torn anterior crucicate ligament in his right knee, according to Todd Archer of ESPN. That's the good news. The bad news is Hitchens has a tibial plateau fracture and will need eight weeks to recover. Hitchens got caught up in traffic on a long run [more]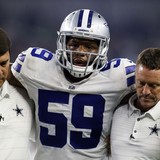 The Dallas Cowboys, already thin on defense, fear they have lost starting inside linebacker Anthony Hitchens for the season with a knee injury.Hitchens was injured Saturday in Dallas as the Cowboys hosted the Oakland Raiders. He couldn't put any weight on his injured leg and had to be helped to the locker room. This is a huge blow to Dallas' front seven, which already opens the...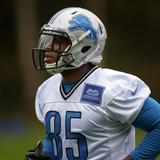 Eric Ebron is not a happy man. He doesn't feel that the NFL's officials have given his Lions a fair shake, and he's not afraid to talk about it. After a 21-14 loss to the Rams which saw multiple contested calls (or no-calls) go against the Lions, Ebron spoke out against the officials. "When you play here (for the Lions) it's always more than 11 on 11….The term Detroit...
With projected starting middle linebacker Rolando McClain not ready for live game action, the Dallas Cowboys were hoping that second year linebacker Anthony Hitchens would step into his role. Remember, McClain is also suspended for the first four games of the regular season. Instead, an early training camp injury has kept Hitchens sidelined since August 15th.Hitchens has finally...
Dallas Cowboys linebacker Anthony Hitchens is sporting a walking boot on his injured right foot, reports the Dallas Morning News. Hitchens, who had an ankle problem at the end of last year, is no stranger to a myriad of injuries during the offseason. In spite of his issues, he played in all 16 games, and contributed 75 tackles. Cowboys LB Anthony Hitchens just walked...
If you wanted some controversy during the first weekend of NFL Playoff action, officials during the Detroit Lions-Dallas Cowboys game provided just that in the fourth quarter on Sunday evening. With Detroit up by three in the fourth quarter, Matthew Stafford threw a pass down the seam to tight end Brandon Pettigrew, who was obviously interfered with by Cowboys linebacker Anthony...
When the Cowboys drafted Anthony Hitchens in May, many saw him as a potentially good backup especially considering the yearly injury history with Sean Lee. Fast forward to November 2014 and Hitchens looks like a full-blown starter to me. Hitchens is well on his way to becoming an impact player for the Cowboys, and with that being said should Hitchens remain a starter even when Rolando...
If you were like me, then you were glued to your TV last night with a close eye on the defense. Leading up to the game we all knew we were missing several starters on the defensive side of the ball, but we still wanted to see who from all these backups would standout. Unfortunately, the defensive backups were gashed with regularity and it was painful to watch as it stirred flashbacks...
MORE STORIES >>
Cowboys News

Delivered to your inbox

You'll also receive Yardbarker's daily Top 10, featuring the best sports stories from around the web. Customize your newsletter to get articles on your favorite sports and teams. And the best part? It's free!