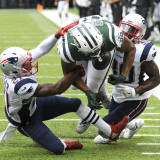 The NFL has instituted a new referee hotline, where players, coaches, and mascots can lodge complaints, ask for explanations, and whine about calls without fear of a fine. It's like 411 means 4th-and-11. Here, we've compiled the best of the week's questions and responses, which are about as authentic as Jay Cutler's love of football. We know when the hotline blings, that can only...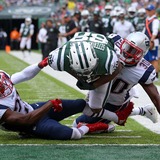 The Patriots, once again, were the recipients of a favorable call that few seemed to understand on Sunday, and the Jets got hosed by it.It happened in the fourth quarter, when Austin Seferian-Jenkins caught a pass and fought his way toward the end zone. The Jets tight end carried two Patriots defenders into the end zone and appeared to break the plane, so it was ruled a touchdown...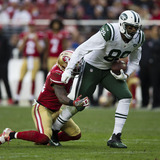 The Jets got very little out of the 12 players they drafted in 2014. It could turn out that their biggest contributor from the 2014 draft class is a player drafted by another team.Tight end Austin Seferian-Jenkins was drafted 38th overall by the Buccaneers in 2014, 11 spots before the Jets drafted Jace Amaro. Amaro's career is now hanging by a thread in Tennessee and Seferian-Jenkins...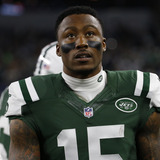 The New York Jets picked up troubled tight end Austin Seferian-Jenkins on waivers Monday, and he has a new mentor in the locker room. Wide receiver Brandon Marshall said he has been talking with and trying to help Seferian-Jenkins even before he joined the team, and was thrilled to hear that the Jets had claimed him after his release by Tampa Bay. "We've been talking for a while...
The highest praise that could likely be imagined was handed down to second-year tight end Austin Seferian-Jenkins this week. According to Joe Kania of Buccaneers.com, offensive coordinator Dirk Koetter has very high expectations for Seferian-Jenkins. "I'll tell you, if Austin (Seferian-Jenkins) is healthy he reminds me… I coached Tony Gonzalez at the end of his career (and) our Tight...
The chemistry between Jameis Winston and Austin Seferian-Jenkins is building, which could end up being a great thing for the Tampa Bay Buccaneers and their offense in 2015. According to Justin Pawlowski of Bucs Blitz, Winston said that Seferian-Jenkins is one of his closest friends on the team. "Austin is probably one of my closest friends here," Winston said of his new tight end...
At the beginning of the season I wrote a blog titled "Fantasy rules to live by." If you asked me I would describe it as the Fantasy Football equivalent to Sun Tzu's book "The Art of War." The basic theme is don't overreach, don't overreact, and finally don't overthink.
Buccaneers rookie Austin Seferian-Jenkins scored Sunday in a loss to the Falcons. And posed like Captain Morgan in the end zone while using the ball as a barrel after his touchdown. Too bad the pirate pose was a 15-yard penalty, which, it turns out, led to Falcons go-ahead touchdown.But the tight end wasn't done. Later he posted an image of the guilty touchdown celebration to Instagram...
Too often players celebrate touchdowns in strange ways that only they and maybe their brother watching at home really understand, but that was not the case with Tampa Bay Buccaneers rookie tight end Austin Seferian-Jenkins against the Atlanta Falcons.It would appear appear that young Austin is a fan of Captain Morgan.via Bleacher ReportRead more »
By Alex Kozora Game notes from the Pittsburgh Steelers Week Four 27-24 loss to the Tampa Bay Buccaneers. Second Half – Single high with the Steelers in man coverage. 3×1 formation for the Bucs. Mike Mitchell covering Austin Seferian-Jenkins to the isolated side. Tampa Bay attacks him and the pass is complete for seven. – Upon […] Steelers Vs. Buccaneers Game Rewind – Second Half...
MORE STORIES >>
Ravens News

Delivered to your inbox

You'll also receive Yardbarker's daily Top 10, featuring the best sports stories from around the web. Customize your newsletter to get articles on your favorite sports and teams. And the best part? It's free!