Former Miami Dolphins' wide receiver Brian Hartline has found a new home in Cleveland. Reportedly, Hartline just inked a two-year, $6 million contract with the Browns. This makes for a homecoming for the Ohio native and former college player from Ohio State. Hartline, who seems content, had this to share regarding his return to his home state. I'm very excited. It came down to a...
The Miami Dolphins are oozing with confidence these days. If it's not predicting they will have the best offense in the NFL, it's one of the position groups that top all others. There is a swagger going on in South Florida, tired of watching the new England Patriots take their annual place on top of the AFC East, the Dolphins are out to prove 2013 is their year. Receiver Brian...
Most NFL players dedicate their offseason to relaxing and working out, but Miami Dolphins wide receiver Brian Hartline has himself a summer job. Hartline inked a five-year, $31 million contract extension with the Dolphins last week, but he has decided to keep his day job despite having a tremendous amount of financial security. On Wednesday while he was speaking with Dan LeBatard...
It's not every year an NFL team has $46 million to spend, and if they blow it, the chance may never come again. Miami took care of a key piece of business in locking up receiver Brian Hartline, setting up the core for a top level receiver to come in and round out the group. However, Hartline thinks 2013 is the year for the Dolphins to take advantage of their considerable resources...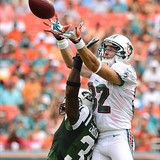 What can we take from the photo below of Miami Dolphins wide receiver Brian Hartline and a rather bodacious babe in a bikini taken in Antigua? Hmmm.... 1. It doesn't take an elite athlete to make it in the NFL. 2. Brian believes in curls. Just not ones done in the gym. 3. The Dolphins are fixing to pay that $6 million a year? 4. She is clearly into him for the money...
Receiver Brian Hartline and the Miami Dolphins both think they can get a deal done, keeping the up and coming receiver as a favorite for Ryan Tannehill. Hartline emerged in 2012 catching 74 receptions for 1,083 yards and 1 touchdown, becoming a top target for the rookie quarterback. However, with the franchise tag being applied to defensive lineman Randy Starks, Hartline will...
MORE STORIES >>
Dolphins News

Delivered to your inbox

You'll also receive Yardbarker's daily Top 10, featuring the best sports stories from around the web. Customize your newsletter to get articles on your favorite sports and teams. And the best part? It's free!