Bruce Ellington's hamstring injury sustained during Friday's preseason game is enough to knock him out for the season. Ellington was placed on injured reserve Tuesday, four days after tearing his hamstring in the 49ers' loss to the Packers. Ellington was being hyped up during San Francisco's training camp and appeared poised for a breakout season, so this news is detrimental for...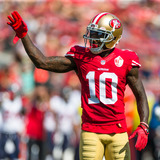 It is starting to look like playing professional football might not be in the cards for San Francisco 49ers wide receiver Bruce Ellington. NFL Media Insider Ian Rapoport broke the news on Tuesday that the 49ers placed Ellington on season-ending injured reserve with a torn hamstring. This is an unfortunate setback for a team that was planning on featuring Ellington in a starting...
Bruce Ellington is hanging onto his job as the San Francisco 49ers punt returner but his job security is tenuous at best.Ellington has fumbled in back-to-back games and a repeat scenario will land him on the bench, 49ers special teams coordinator Thomas McGaughey told reporters Wednesday."You put the ball on the ground again, yeah, that's just the reality of what we do," McGaughey...
Even though Jarryd Hayne was re-signed to the practice squad, Bruce Ellington will get first crack at returning punts for the San Francisco 49ers in Sunday's game versus the Atlanta Falcons.Ellington will take the place of Reggie Bush, who suffered a season-ending knee injury at the end of a punt return in St. Louis when he lost his footing on concrete surrounding the field and crashed...
Bruce Ellington got off to a fast start in Week 5 - until he was brought down by his own coaches.A backup wide receiver for the San Francisco 49ers, Ellington appeared on his way to a big night in a last-minute loss to the New York Giants.On the second play of the game, Ellington turned a receiver screen into a 30-yard game - a much-needed boost for an offense that had scored a combined...
The San Francisco 49ers have now turned in their final injury report for their Sunday game at Heinz Field against the Pittsburgh Steelers and it includes two offensive players. Running back Reggie Bush (calf) has been ruled out for Sunday's game against the Steelers after failing to practice all week.... The post 49ers Rule Out RB Reggie Bush For Steelers Game, WR Bruce Ellington...
There is little to no chance that Dylan Thompson is going to play this season in San Francisco. If he does, that means injuries are killing the team. So the fourth preseason is his time to turn it on and have some fun.Good thing he has a speed demon like Bruce Ellington with him on the field helpin him out. #NFL Dylan Thompson and Bruce Ellington hook up. Ellington embarrasses that...
San Francisco 49ers rookie wide receiver Bruce Ellington had not played much prior to Saturday's game against the San Diego Chargers. On the year he had a whopping five catches for 54 yards and a touchdown on the season. With the season winding down you could say he was starved for playing time and needed to do something with it if he got it.So--he did.via Bleacher ReportRead more »
The draft is now a distant memory and with OTA's currently is session the San Francisco 49ers as well as the other 31 NFL teams have begun to evaluate their talent.  This is the first time the rookies can get their feet wet with their new teams and set the tone for what their coaches can expect from them this coming season.  Obviously, their are some rookies that have already cemented...
After 49ers General Manager Trent Baalke worked his magic during the NFL draft by snagging more picks in next year's draft and organizing masterful trades all three days, the 49ers came away drafting 12 new players with immense talent all the way from the first round through the seventh. I have taken the liberty of analyzing each pick and figuring out which player is going to have...
MORE STORIES >>
Texans News

Delivered to your inbox

You'll also receive Yardbarker's daily Top 10, featuring the best sports stories from around the web. Customize your newsletter to get articles on your favorite sports and teams. And the best part? It's free!