Prior to Monday Night's game between the Houston Texans and Denver Broncos, some members of ESPN's crew decided to take the field and try some field goals. Randy Moss lined up in his dress clothes and nice shoes from 28 yards away. If either the Arizona Cardinals or Seattle Seahawks had him on Sunday night, that game would not have ended in a tie. .@RandyMoss nailed two 28...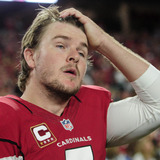 There is no excuse for missing a game-winning field goal from only 24 yards away, so Arizona Cardinals kicker Chandler Catanzaro didn't try and offer one. "I just missed it," Catanzaro said, via Josh Weinfuss of ESPN. "No excuse. Just came out of it a little too fast. Didn't stay in it. No excuse for those. The team played their tails off, but I have to move past it as...
In what proved to be possibly the most exciting game of the year so far for the Arizona Cardinals, a 32-yard field goal by Chandler Catanzaro sealed the deal as time expired to raise the Cards over the now 8-2 Cincinnati Bengals. This game was billed as an incredibly important one on the Cardinals's schedule from the get-go, and the Arizona faithful did not disappoint–at least...
Maybe Brian Billick was wrong when he said kickers aren't football players.Chandler Catanzaro channeled his inner Cam Newton after kicking a last-second field goal to lift the Arizona Cardinals to a 34-31 victory over the Cincinnati Bengals on Sunday night.Though it was basically the same distance as an extra point, the 32-yarder by Catanzaro represented the first game-winning field...
A Chandler Catanzaro field goal in the final seconds garnered a win for the Arizona Cardinals (8-2) over the Cincinnati Bengals (8-2) in a game that featured a wild second half. Other than two incredibly awful first half interceptions, Cardinals quarterback Carson Palmer was spectacular against his former team, going 20 of 31 for 317 yards and four touchdowns. Bengals quarterback...
Sunday night it wasn't 'Prime Time' Andy Dalton that was the problem for the Cincinnati Bengals. He had a pretty solid night with over 300 yards and two touchdowns on the night. No, the Bengals were their own worst enemy during the game. Rather than let the Cardinals kick a 40+ yard field goal to try for the win.Domata Peko was called for unsportsmanlike conduct because he was calling...
GLENDALE, Ariz. (AP) Chandler Catanzaro kicked a 32-yard field goal with 2 seconds remaining and the Arizona Cardinals escaped with a wild 34-31 victory over the Cincinnati Bengals on Sunday night. The field goal was considerably closer than it would have been because Cincinnati's Domata Peko was called for unsportsmanlike conduct for calling out the offensive signals as the Cardinals...
Via Associated Press
By all accounts, it was a stellar rookie season for Cardinals' kicker Chandler Catanzaro.He converted on his first 17 field goals, which set an NFL rookie record. In total, he made 29 of his 33 field goals. On extra points, he was a perfect 29 for 29, and in the process, set a franchise rookie record for points with 114.In 2015, however, the player known as the "Cat Man" is setting...
Arizona Cardinals kicker Chandler Catanzaro doesn't seem to be fazed by the NFL moving the extra-point back to the 15-yard line instead of the 2.  Catanzaro told the Cardinals official website that he will embrace the challenge. "What it comes down to is that kicking is kicking," Catanzaro said. "It's me, the ball and my target. That doesn't change much. Nothing changes...
We've got some great news for hygiene enthusiasts plus one Oakland Raiders fan who taunted Arizona Cardinals rookie kicker Chandler Catanzaro on Sunday.  There you have it. Raiders fans said a lot of things on Sunday during the Cardinals 24-13 victory, some of them not very nice things directed at Arizona Cardinals players, according to Cardinals defensive lineman Darnell Dockett...
MORE STORIES >>
Jets News

Delivered to your inbox

You'll also receive Yardbarker's daily Top 10, featuring the best sports stories from around the web. Customize your newsletter to get articles on your favorite sports and teams. And the best part? It's free!