As the Seattle Seahawks look to get back to being a punishing rushing team in 2018, one of the biggest question marks is regarding who will be the running back or running backs that lead the way? The running back position for the Hawks has basically been a waiting room where backs share the injury bug with one another while awaiting their turn on the field. In recent seasons the...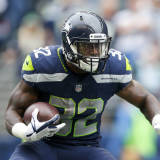 The Seattle Seahawks could be receiving a much needed boost to their running game in the coming weeks.The Seattle Times' Bob Condotta reported on Friday that Seahawks head coach Pete Carroll said Carson could resume practicing next week. Carson, a 7th-round pick by Seattle, broke his ankle/leg in Week 4 against the Colts and was placed on IR after undergoing surgery.Though he hasn...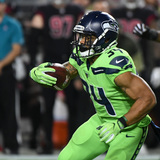 Russell Wilson could very well finish the season as the Seattle Seahawks' leading rusher. The team's running back situation continues to be an absolute mess. And Tuesday's news that Seattle placed second-year running back C.J. Prosise on injured reserve doesn't help matters here. The injury-plagued former Notre Dame star has played in a grand total of 11 of a possible 25 games since...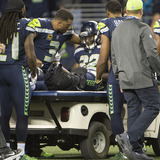 The Seattle Seahawks' injury woes have continued. According to head coach Pete Carroll, rookie running back Chris Carson suffered a fracture below the knee in Sunday's blowout win over the Indianapolis Colts. This comes mere weeks after Seattle named Carson its starting running back. In his first game in that role, Carson put up 100 total yards against the San Francisco 49ers. He...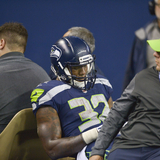 Seattle Seahawks running back Chris Carson left Sunday's game with a lower leg injury, and there is reportedly a good chance he could be out for the remainder of the season.According to Ian Rapoport of NFL Media, team doctors believe Carson suffered a broken ankle. Carson, a rookie who was drafted in the seventh round this year, was trying to run out the clock with Seattle beating...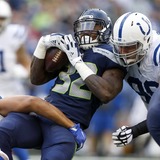 Chris Carson was carted off the field during the fourth quarter of the Seattle Seahawks' game against the Indianapolis Colts on Sunday night after suffering an apparent leg injury.The rookie 7th-round pick was trying to run out the clock with his team up 39-18 midway through the fourth quarter. He rushed for no gain on his first down attempt. Carson was stood up by Indy with his...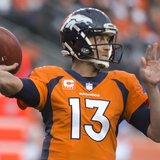 The Broncos made a statement by bottling up Ezekiel Elliott and throttling the Cowboys, with Trevor Siemian looking great under center. Meanwhile, Andy Dalton and the Bengals are in full-on crisis mode offensively, with many speculating that Dalton has lost the backing of much of the team. Seattle is 1-1 and still looking for consistent offense, the Falcons look strong, New England...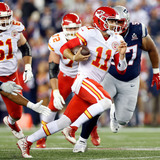 Stars of Week 1QB: Alex Smith, KC: 28-35, 368 yards, 4 TDs, 0 INTsRB: Kareem Hunt, KC: 17 carries, 148 yards, 1 TD 5 catches, 98 yards, 2 TDs)WR: Stefon Diggs, MIN: 7 catches, 93 yards, 2 TDsTE: Austin Hooper, ATL: 2 catches, 128 yards, 1 TDWhile not shocking to have two players from the victor of the Patriots-Chiefs game land here, the Chiefs providing those players does come as...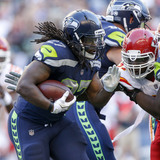 Seattle Seahawks running back Eddie Lacy is at full speed for the weekend, according to coach Pete Carroll.Carroll said Wednesday that, with top option Thomas Rawls considered questionable with an ankle injury, Lacy is ready and able to handle 20-25 carries if needed against the Green Bay Packers. Just because Lacy can do it does not mean he will. While he is the most accomplished...
The Seattle Seahawks enter the 2017 NFL season with high hopes and expectations. They also enter with some adversity that their championship window may have closed. They have had all off-season to improve their weaknesses, with most key pieces returning to 100 percent healthy again. However, there are some new faces on the team that could make a serious impact. One of those new faces...
MORE STORIES >>
Seahawks News

Delivered to your inbox

You'll also receive Yardbarker's daily Top 10, featuring the best sports stories from around the web. Customize your newsletter to get articles on your favorite sports and teams. And the best part? It's free!