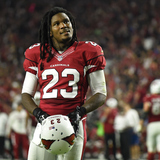 Just about every team across the professional sports landscape is attempting to beef up their social media game in order to bring fans closer to their favorite franchises and players.For the Arizona Cardinals that meant helping out a young fan who was the victim of another fan's bad behavior, and setting a great example for teams' media relations departments everywhere.Andrew Joseph...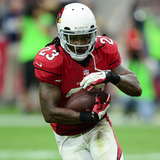 Chris Johnson may never again rush for anything close to 2,000 yards, but the veteran running back's reemergence as a member of the Arizona Cardinals has proven he can still play the position at the highest level. Through seven weeks, Johnson is averaging 5.1 yards per carry, and his 567 rushing yards rank second in the NFL. "He's still got it," Cardinals quarterback Carson Palmer...
The Baltimore Ravens were on the wrong end of several questionable calls Monday night, the most notable of which may have been Chris Johnson's 62-yard run late in the third quarter. If you ask John Harbaugh, the play should have been whistled dead after Johnson gained four yards. Johnson was taken down on a short first-down run and landed on top of Ravens defensive tackle Brandon...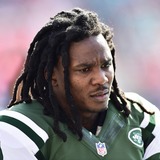 By Rachel Wold Most of us rent a practical Jeep Rangler or Ford Mustang when we go on vacation. This was not the case for NFL running back Chris Johnson. Johnson reportedly rented a $300,000 Rolls-Royce Ghost in January of 2014 from Just 4 Luxury in Miami, Florida. Johnson paid cash up front to rent the luxury ride for two days. The rental company is claiming that Johnson kept...
Oakland Raiders cornerback Chris Johnson was placed on the reserve/non-football illness list Saturday in the wake of a shooting that left his sister dead and his mother wounded. The announcement from the team came after Johnson left the Raiders on Dec. 7 to be with his family in Fort Worth, Texas. Johnson, who had an injury-plagued season in which he only started four games, returned...
Oakland Raiders cornerback Chris Johnson was not with the team Wednesday, having left to be with his family in Texas in the wake of a shooting that left his sister dead and his mother wounded. The shooting occurred Monday when police allege 46-year-old Eugene Esters fatally shot his estranged girlfriend, 33-year-old Jennifer Johnson, in a Fort Worth, Texas, apartment complex, the...
MORE STORIES >>
Ravens News

Delivered to your inbox

You'll also receive Yardbarker's daily Top 10, featuring the best sports stories from around the web. Customize your newsletter to get articles on your favorite sports and teams. And the best part? It's free!