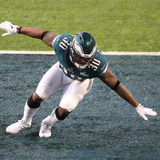 Eagles running back Corey Clement was the X-factor in Super Bowl LII.The Patriots clearly were not prepared for his pass-catching abilities, as he hauled in four catches for 100 yards (one touchdown) in the game.It was Clement's best performance of the season, and he made sure to get something to remember it.Check out this amazing Super Bowl LII tattoo he got on his forearm. That...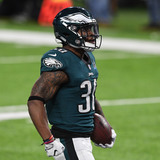 This could turn relatively awkward should Corey Clement suit up for another NFL team during his career. But for now, the young running back appears to consider himself a member of the Philadelphia Eagles for life.After earning a Super Bowl ring in his first NFL season, the former Wisconsin standout decided to get a Super Bowl tattoo to celebrate the occasion. And it's all sorts of...
Fresh off a 100-yard receiving performance in the Eagles' first-ever Super Bowl win, Corey Clement was confused for an unruly fan at Thursday's parade. Video shot by Jon James and posted on Instagram shows police officers approaching Clement, grabbing him, and then letting him go when realizing he was actually a player: Looks like the bike cop tells the other officers that Clement...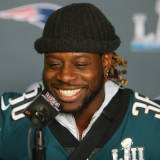 It's never easy to repeat in the NFL, but the Philadelphia Eagles have plenty to like ahead of the 2018 season. However, everybody knows about the Eagles now. There aren't going to be any surprises. That said, moves have to be made to improve the team to ensure they stay competitive. Well, except in one particular department: running back.Obvious moves the Eagles could make, according...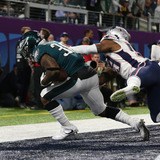 The fact remains that nobody who watches the NFL can be entirely sure what a catch is anymore, but it worked out for the Philadelphia Eagles in Super Bowl LII.Nick Foles hooked up with running back Corey Clement from 22 yards out on what was ruled a catch on the field. It was not clear, however, that Clement had full control of the ball when he went out of the back of the end zone...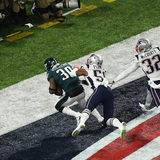 It just wouldn't be an NFL game if we didn't get a controversial catch. Super Bowl LII gave us one of those, when Nick Foles and Corey Clement connected on a touchdown for the Philadelphia Eagles in the third quarter. Upon further review, it appeared as though Clement might have been out, as he looked to be bobbling the ball on the way out. Fans of the New England Patriots were dismayed...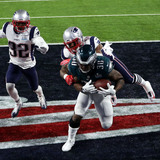 The New England Patriots are having problems with Nick Foles. They are also having problems with Eagles' running back Corey Clement. And just minutes after the Patriots would trim the lead back down to three, the pair had an answer. How about that throw from Foles? Moreover, how about the NFL not reversing something on a close catch? Super Bowl LII continues to amaze, and the Eagles...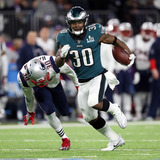 Eagles running back Corey Clement has shown how athletic he is in the past, but he also showed that he can be physical as well in the second quarter of Super Bowl LII.Clement came up big when the Eagles really needed him, as the team was faced with a third-and-3 situation with under two minutes remaining in the first half, and the Patriots having recently cut their lead to 15-12...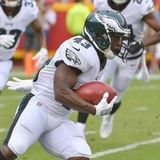 The Philadelphia Eagles have made it all the way to Super Bowl LII, despite key players suffering season-ending injuries. One of those players, whose season was cut short is running back Darren Sproles.In Week 3 of the regular season, Sproles suffered not only a broken arm but tore his ACL. At the time, losing Sproles was a big blow to both the Eagles' running game and special teams...
Eagles running back Corey Clement has fulfilled his dream of playing for an NFL team, and that earned him a pretty sweet gift from someone who helped him achieve his goal.Clement's high school guidance counselor once told him if he ever did manage to play football at the NFL level, she would give him her BMW.Well, on Tuesday, she made good on her promise. The photos tell the story...
MORE STORIES >>
Eagles News

Delivered to your inbox

You'll also receive Yardbarker's daily Top 10, featuring the best sports stories from around the web. Customize your newsletter to get articles on your favorite sports and teams. And the best part? It's free!