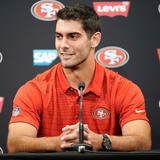 This year's NFL trade deadline featured one of the most active periods we've seen. Some top players like Adrian Peterson and Marcell Dareus were traded recently, and that was before everything that happened on Monday and Tuesday. The Patriots finally traded Jimmy Garoppolo, the Browns missed another opportunity, and some other key players were dealt.Here are 10 takeaways from the...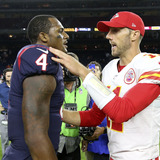 Five weeks isn't quite enough to make definitive conclusions about a full NFL season. It is sufficient to get your bearings and at least make some bold declarations, but be careful. There are always teams like 2015 Kansas City Chiefs, who started 1-5 only to win out their last 10 games to finish 11-5 and make the playoffs. Certainly there won't be one of those every year, but who...
It was one rough day for Philadelphia Eagles running back Darren Sproles.  After taking a handoff early in the second quarter in Sunday's game against the New York Giants, Sproles bounced his run to the outside then tried to cut up field and took an awkward hit from Giants safety Darian Thompson.  On the play, Sproles both tore his ACL and broke his arm, and is now out for the season...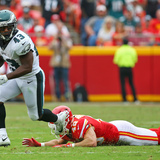 In some absolutely horrible news, veteran Philadelphia Eagles running back Darren Sproles will be out for the remainder of the season after he reportedly suffered a broken arm and a torn ACL on the same play against the New York Giants on Sunday. Here's the play in question. As you can see, Sproles was initially hit in the arm. He then went to the ground holding his knee. It's a...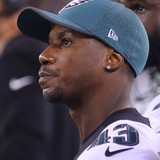 Darren Sproles left Sunday's game against the New York Giants with an injury that will keep him out indefinitely.NFL Media's Ian Rapoport says Sproles is believed to have suffered a broken arm and is out indefinitely. Sproles left the Philadelphia Eagles' game early on Sunday after getting hurt on a touchdown drive in the second quarter. Sproles was said to be holding his wrist in...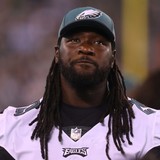 LeGarrette Blount remained a good soldier despite going without a carry for the Philadelphia Eagles on Sunday.Blount only had one touch — a reception that went for no yards — and no carries in the Eagles' 27-20 loss to the Chiefs. After the game, he was asked about his lack of carries. Blount maintained a good team attitude and deflected all questions. He kept saying that his lack...
Since entering the NFL in 2005, Darren Sproles has consistently been one of the quickest, most elusive players in the league. In fact, he's been a nightmare for opposing defenders to tackle for a lot longer than that. Sproles turned 34 on Tuesday. His current team, the Philadelphia Eagles, took to Twitter to wish him a happy birthday. They posted a highlight reel of Sproles back...
The quickness and speed you saw out of Christian McCaffrey during his time at Stanford has been confirmed with a stopwatch at the NFL Combine.The former Cardinal running back had a stellar day in Indianapolis on Friday. He ran a 4.48 40-yard dash time, and then he posted one of the best 3-cone drills by a running back at the combine in nearly 15 years. McCaffrey is somewhat on the...
The Philadelphia Eagles are entertaining the possibility of reuniting head coach Doug Pedersen with recently-released running back Jamaal Charles.Per Josh Alper of Pro Football Talk, Pederson said during a press conference at the Scouting Combine Wednesday that the Eagles will explore bringing Charles to the organization.Pedersen was the offensive coordinator for the Chiefs for three...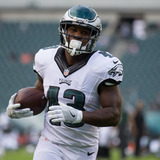 The Philadelphia Eagles will be without running back Darren Sproles, who's been ruled out with a concussion for Sunday's game against the Baltimore Ravens. Coach Pederson: Barbre (hamstring) will be questionable for Sunday. Sproles (concussion) and Vaitai (knee) are OUT. — Philadelphia Eagles (@Eagles) December 16, 2016 The concussion keeping the veteran back from playing was...
MORE STORIES >>
Eagles News

Delivered to your inbox

You'll also receive Yardbarker's daily Top 10, featuring the best sports stories from around the web. Customize your newsletter to get articles on your favorite sports and teams. And the best part? It's free!