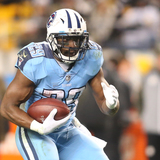 Derrick Henry is emerging as a feature back for the Tennessee Titans in DeMarco Murray's absence, which has led to some speculation that Murray's time with the team could be over.ESPN's Cameron Wolfe wrote an article on Thursday about the passing of the torch from Henry to Murray. In that article, Wolfe said there is a "decent chance" Murray's time with the Titans is over.There's...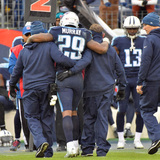 As the Tennessee Titans continue their AFC playoff run on Saturday, they will again be without one of their top offensive weapons. Running back DeMarco Murray has been ruled out for the divisional round game against the New England Patriots. The news is certainly not shocking. Murray missed the Wild Card Weekend win over the Kansas City Chiefs and reportedly has a torn MCL.Murray...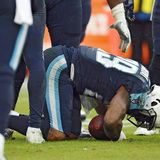 DeMarco Murray has been held out of Tennessee's last two games with a knee injury, and the Titans running back is not going to be able to return in time to help his team against the New England Patriots.After he was held out of practice yet again on Wednesday, Murray was ruled out for Saturday's divisional round playoff game. Murray suffered a torn MCL in his team's Dec. 24 game...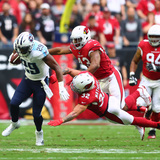 There's a good reason Pro Bowl running back DeMarco Murray didn't suit up for the Tennessee Titans' win over the Kansas City Chiefs Saturday.Murray reportedly has a torn MCL. That's some shocking news given that Murray was questionable heading into the game. It also places more of an onus on Derrick Henry to put up large chunks of yardage in the AFC Divisional Playoffs against the...
The Tennessee Titans have ruled out their No. 1 running back DeMarco Murray ahead of this Saturday's Wild Card Playoff game against the Kansas City Chiefs. Murray will miss his second game in a row after spraining his knee in Week 16. This means the lead running back duties will once again fall on second-year back Derrick Henry.Henry struggled immensely last week when the Titans...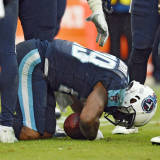 This is breaking news. Please refresh for updates.DeMarco Murray is dealing with a badly sprained knee and will not be available in the Titans' crucial Week 17 contest, Ian Rapoport of NFL.com reports (on Twitter).Tennessee's starting running back is dealing with the most severe of MCL tears, and while he initially expressed optimism he could play through it against the Jaguars,...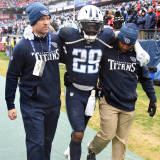 At 29 years old, Titans running back DeMarco Murray is in the middle of his seventh NFL season, but it's hard to definitively say he's enjoying it. After rushing for 1,287 yards on 4.4 yards per carry last season, he's not been himself in 2017.Now, he has a torn MCL. However, he expects to play against the Jacksonville Jaguars. What in the world?The Titans are 8-7, clinging to the...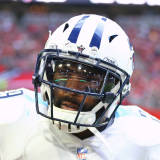 Don't rule DeMarco Murray out for Sunday's game just yet.Murray suffered a knee injury at the end of the Tennessee Titans' loss to the Los Angeles Rams on Sunday. He underwent an MRI, and ESPN's Adam Schefter says Murray has a 3rd-degree MCL tear. Despite the tear, Murray reportedly will try to play through the injury. Titans head coach Mike Mularkey said as much on Tuesday, sharing...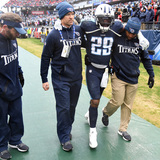 DeMarco Murray suffered a knee injury on Sunday when the Tennessee Titans were edged at home by the Los Angeles Rams, 27-23. After getting MRI results back, the Titans are hopeful the running back can still play in their final regular-season game against the Jacksonville Jaguars.Speaking to the media Tuesday, head coach Mike Mularkey said the MRI results were "about what the team...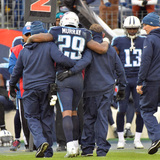 The Tennessee Titans have a lot to play for in Week 17, but they may be without running back DeMarco Murray.Titans head coach Mike Mularkey said after the team's 27-23 loss to the Los Angeles Rams on Sunday that Murray will undergo and MRI on his knee. He said that it "doesn't look good." Murray had 15 carries for 48 yards and a touchdown in the game. He was injured on the team's...
MORE STORIES >>
Titans News

Delivered to your inbox

You'll also receive Yardbarker's daily Top 10, featuring the best sports stories from around the web. Customize your newsletter to get articles on your favorite sports and teams. And the best part? It's free!