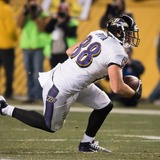 It sure looks like veteran tight end Dennis Pitta's career is over. The former fourth-round pick of the Baltimore Ravens suffered a hip injury last week, at which point suggestions were that he would be forced into retirement.It's the third hip injury Pitta has suffered throughout his career. And it has ended his time with Baltimore. The team announced on Wednesday that it has released...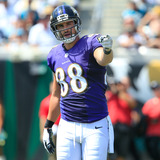 Dennis Pitta has suffered a dislocated hip for the third time in his career, and he may be forced to retire as a result.The Baltimore Ravens announced on Friday that Pitta suffered a hip injury again during OTAs. Reports later emerged saying it's a dislocation. ESPN's Adam Schefter immediately said that Pitta could be forced to retire. Pitta has missed several games due to hip injuries...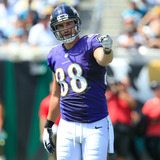 The Ravens recently signed defensive tackle Brandon Williams to a lucrative extension that may not have been possible if it weren't for Dennis Pitta.Last season, Williams played in all 16 games for the third consecutive season and continued to establish himself as one of the better interior defensive linemen in the NFL. While there were other suitors for Williams' services, Baltimore...
Ravens tight end Dennis Pitta has reportedly been told that it is not safe for him to resume his NFL career after two hip operations. While the final decision on Pitta's future rests with the player himself, sources told ESPN that doctors have advised him that returning to the field would be unsafe. As a...Read More
TE Dennis Pitta, age 30, 6-4, 245, drafted in the 4th round in 2010 out of BYU… You couldn't ask to meet a nicer guy than Dennis Pitta. He should be entering the 6th year of his career as a receiving TE in his physical prime. But coming back from his second hip fracture in the previous two years is going to be problematic. Pitta meant a lot to Joe Flacco's offense in the Super Bowl...
Baltimore Ravens tight end Dennis Pitta is hopeful to make a return sometime in the 2015 season after suffering a season-ending hip injury three weeks into the 2014 campaign. However, it is being reported by Aaron Wilson of The Baltimore Sun that the tight end is likely to be put on the PUP list prior to training camp, which would cause him to miss the first six games of the regular...
Baltimore Ravens tight end Dennis Pitta is hoping to return to the team for the 2015 season. Pitta has only played in seven games over the past two years after suffering a hip dislocation and fracture in consecutive years. Speaking up on his recovery process, Pitta seemed pretty optimistic about a potential return: "I feel good. But obviously it's a process. I have an idea in mind...
Baltimore Ravens tight end Dennis Pitta has had his last two seasons marred by injury—the same injury, in fact. In 2013, Pitta dislocated and fractured his right hip during training camp, costing him the entire season. The injury reoccurred in September of last year and Pitta was place on injured reserve while he again underwent surgery for a hip both dislocated and fractured for...
Baltimore Ravens: Dennis Pitta signs a five-year contractThe Baltimore Ravens have come to terms with tight end Dennis Pitta on a five-year contract. With Pitta's contract, the veteran will stay in Baltimore and will not hit the unrestricted free agency market in a few days. Pitta has quickly emerged as one of the key players on the Ravens' offense over the past few years. But after...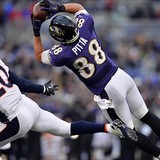 Baltimore Ravens tight end Dennis Pitta could return to the field for Sunday's game against the Minnesota Vikings. Pitta has been sidelined since July after undergoing hip surgery for an injury sustained on the second day of training camp. Dennis Pitta (Wesley Hitt/Getty Images) Pitta has stuck to a strict rehabilitation regimen and the team is "hopeful" for his return this week...
MORE STORIES >>
Ravens News

Delivered to your inbox

You'll also receive Yardbarker's daily Top 10, featuring the best sports stories from around the web. Customize your newsletter to get articles on your favorite sports and teams. And the best part? It's free!