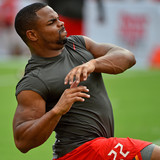 The existing suspicion that Doug Martin has played his final game with the Tampa Bay Buccaneers took another step toward reality with general manager Jason Licht's latest comments.According to Rick Stroud of the Tampa Bay Times, Licht said Martin "just wasn't ever the same" after returning from his three-game suspension."It wasn't until late that Peyton [Barber] kind of arrived and...
Defense may be the main focus of the offseason for the Buccaneers, but it sounds like some changes could be made at running back as well. During an interview with Rick Stroud of the Tampa Bay Times about what went wrong during the 2017 season, Bucs General Manager Jason Licht touched on the team's 27th-ranked [more]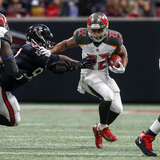 The running game failed the Buccaneers this season due to Doug Martin's continuing struggles. For Monday night, they went with someone else.The Buccaneers deactivated Martin for their game against the Falcons. This is because he violated a rule about team meetings. Regardless of his demotion, the Buccaneers wanted to give Peyton Barber a chance as a starter. Martin hasn't been the...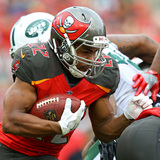 Doug Martin was surprisingly announced as a healthy scratch for the Tampa Bay Buccaneers' game against the Atlanta Falcons on Monday night, and now we have an idea why.NFL Media's Ian Rapoport says Martin violated a team rule regarding a meeting. He also says Martin should play in the team's final two games. This will be Martin's fifth missed game this season. He missed games earlier...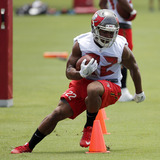 All of the reports coming out of Tampa Bay Buccaneers camp indicate nothing but good things for running back Doug Martin.NFL Network's Mike Garofolo relayed word from Tampa Bay general manager Jason Licht with yet another positive report on Martin, who ended last season suspended for a violation of the NFL drug policy."I had a conversation with [Licht]. He said, '[Martin] looks lean...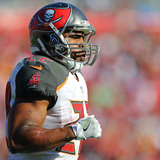 Going back to the end of 2016, the road has been rough for Tampa Bay Buccaneers running back Doug Martin. Thanks to a positive drug test, he was suspended for four games at the end of the 2016 season, which will spill into 2017.As a result of the positive drug test, Martin went to rehab. On Thursday, he called the trip a success, even going as far as to say that it "turned a negative...
Tampa Bay Buccaneers running back Doug Martin is thankfully in good health after being involved in a car crash on Thursday.As passed along by Mike Garafolo of NFL Network, Martin was driving his car when someone blew through a stop sign and hit his car. Jenna Laine of ESPN provided the following details on the crash itself:"According to Tampa Police, at approximately 1:15 p.m., Martin...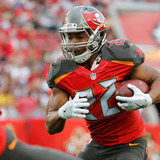 Florida State running back Dalvin Cook remains on the board heading into day two of the NFL Draft, and one potential suitor had a reason to pass.The Tampa Bay Buccaneers, who picked 19th, ended up passing on Cook despite a potential need at running back. According to NFL Network's Ian Rapoport, that was because of the impressive offseason work being done by current running back Doug...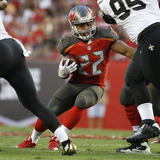 It's now all starting to make sense. Shortly after it was reported that Doug Martin was leaving the Tampa Bay Buccaneers for personal reasons, said departure could have to do with the fact that he's apparently been suspended four games by the NFL. Bucs RB Doug Martin failed a drug test and is being suspended four games starting now, per league sources. — Adam Schefter (@AdamSchefter...
Tampa Bay Buccaneers running back Doug Martin is once again going to be inactive for Week 17, and it's fair to wonder if he has played his last game for the team. Martin was inactive for last weekend's game against the New Orleans Saints despite being healthy. Bucs head coach Dirk Koetter said Monday that keeping Martin off the active roster was a "coach's decision." Martin has...
MORE STORIES >>
Buccaneers News

Delivered to your inbox

You'll also receive Yardbarker's daily Top 10, featuring the best sports stories from around the web. Customize your newsletter to get articles on your favorite sports and teams. And the best part? It's free!