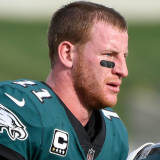 The NFL is equal parts amazing and awful. For everything wonderful thing worth celebrating, there's a terrible one to cancel it out. Especially, it seems, in a year like this one where we've had what feels like a record number of injuries.We're taking a look at the saddest aspects of this current NFL season because it's becoming impossible to watch football without thinking of them...
In a clear sign that his career has fallen on hard times, former Buffalo Bills quarterback EJ Manuel didn't receive a penny of guaranteed cash in the free-agent deal he signed with the Oakland Raiders recently. That's a far cry for a quarterback that was selected in the middle of the first round by Buffalo just five years ago. During his career in Western New York, Manuel put up...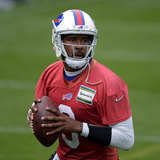 The latest free agent quarterback to lock up a new home team is EJ Manuel. Manuel was signed by the Oakland Raiders on Monday after spending four seasons with the Buffalo Bills. The fifth-year quarterback was selected 16th overall by the Bills in 2013. During his rookie year, Manuel played in 10 games, passing for 1,972 yards, 11 touchdowns and threw nine interceptions.After that...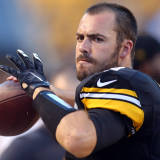 Being the starting quarterback in the NFL comes with perks. You get the money, you probably get your own parking spot and all eyes are on you. On the other hand, being a backup quarterback is a completely different world. You're just one of the guys, a faceless helmet and shoulder pads on the sidelines as the warriors battle it out on the field.Even when you get your opportunity...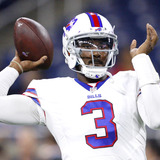 The news surrounding the Buffalo Bills just keeps coming. After firing head coach Rex Ryan Tuesday, the Bills have revealed the team will start EJ Manuel over Tyrod Taylor against the New York Jets to close the season. It turns out the handling of the quarterback situation played a role in Ryan's getting fired before the season ended. ESPN.com shared the report: After Ryan made...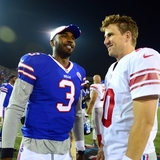 The Buffalo Bills broke minicamp on Thursday and now take some time off before heading down the New York State Thruway to St. John Fisher in Pittsford for training camp on July 31. The quarterback competition looms large for the Bills, and thankfully for the team, EJ Manuel ended minicamp on a high note. EJ Manuel has been the best quarterback today, and it hasn't even been close...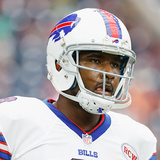 By Rachel Wold With the Buffalo Bills gearing up for a three-headed quarterback competition this summer, the status of former first-round pick EJ Manuel seems to be up in the air. Reports earlier this week indicated that Manuel's job and longevity in Buffalo could be in jeopardy if he fails to light it up during training camp. Bills offensive coordinator Greg Roman is now denying...
Injury-prone.  A project.  A bust. It seems any time EJ Manuel's name is brought up, these are the labels that have come to categorize him.  Manuel, taken in the first round by the Buffalo Bills in 2013, hasn't had the best start to his NFL career.  His rookie season was cut short by injury, forcing him to miss six games.  His second season was essentially a wash, as he was benched...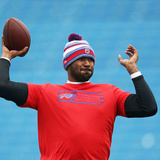 C.J. Spiller believes that one of EJ Manuel's problems thus far in the NFL has been that he is too nice of a guy. Spiller, who is set to become a free agent and may not return to the Buffalo Bills, said during an interview with NFL Network's NFL AM on Tuesday that Manuel had...Read More
In the upcoming NFL Draft the Buffalo Bills do not have a first or fourth round pick. However, rookies can still be drafted in later rounds and be an integral part of the team in the upcoming season. The Bills hold the 50th, 81st 129th, 147th, 178th, and 209th overall picks in this year's draft. It is vital for these picks to count in order to plug in holes of which the Bills have...
MORE STORIES >>
Raiders News

Delivered to your inbox

You'll also receive Yardbarker's daily Top 10, featuring the best sports stories from around the web. Customize your newsletter to get articles on your favorite sports and teams. And the best part? It's free!