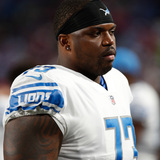 Months after making a trade to acquire him from the Los Angeles Rams, the Detroit Lions have waived/injured Greg Robinson heading into Week 10. Robinson started six games for Detroit at offensive tackle this year. The former No. 2 overall pick suffered an ankle injury a couple weeks back, however, and had been awful when he played.The Rams had already given up on Robinson when they...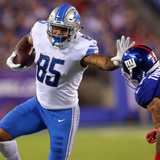 Monday Night Football in Week 2 featured two teams that many pegged to compete for the NFC title in 2017, but it's hard to say either of them played like it.The Detroit Lions, visiting the New York Giants, pulled out a rather easy 24-10 win, much to the consternation of Giants fans, who booed their team on multiple occasions.It's safe to say there was more ugly football than bright...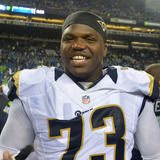 The Detroit Lions are getting some much needed help and experience on their offensive line.The Lions announced on Thursday that have acquired offensive tackle Greg Robinson from the Los Angeles Rams in exchange for a sixth-round draft pick. Robinson, the No. 2 overall pick in the 2014 NFL Draft, has appeared in all but two games during his first three NFL seasons. According to Charles...
San Jose State defensive coordinator Greg Robinson is retiring following the Cure Bowl today, per an AP report. Robinson, 64, had been in coaching since 1975 and had served on both the collegiate and professional levels. Prior to San Jose State, he had served at Texas in the same position and also worked at Michigan, UCLA, Syracuse and other programs over the course of his career...
When you are the No. 2 pick in the NFL Draft--like former Auburn offensive tackle Greg Robinson was for the St. Louis Rams this season--there are expectations that you are going to have to meet. As an offensive lineman one it is really pretty simple--do not allow the man in front of you to even think about touching or running back or quarterback.So--how do you do this if you are...
Overall, the St. Louis Rams had a phenomenal draft that shows promise for the future. They addressed a few vital positional needs and added depth at positions on the offensive and defensive lines, and in the secondary. There will definitely be some position battles going camp, a healthy thing for any team to have and something the Rams are not used to. Coach Jeff Fisher and General...
Round 1 Pick 2- T Greg Robinson This is a great pick for the St. Louis Rams. Robinson was the best run blocker and one of the best overall players in the draft, so picking him up here was an excellent pick. His dominant run blocking will give the Rams the edge with their run-first mentality. He has elite athleticism and will develop into a solid pass blocker. This piece solidifies...
MORE STORIES >>
Lions News

Delivered to your inbox

You'll also receive Yardbarker's daily Top 10, featuring the best sports stories from around the web. Customize your newsletter to get articles on your favorite sports and teams. And the best part? It's free!