With Atlanta's injuries on the defensive line, could the Falcons consider the talented pass rusher? There was a bit of interesting NFC South news yesterday when the Bucs made a somewhat...questionable roster move. As Auman says above, the 6'2, 260 lb DE Jacquies Smith was an excellent "diamond-in-the-rough" find by the Buccaneers in 2014. Smith had 6.5 sacks in only 7 starts for...
In a move that surely no one saw coming, on the eve of their Thursday Night Football match up with the New England Patriots, defensive end Jacquies Smith has been waived by the Bucs. Buccaneers have cut pass rusher Jacquies Smith. Expected to see action on waivers — Aaron Wilson (@AaronWilson_NFL) October 4, 2017 The […] The post Bucs Waive DE Smith appeared first on Pewter Report.
Jac is back – and just in the nick of time for the Buccaneers. Defensive end Jacquies Smith declared himself healthy and ready and to play on Wednesday, and hopes to help in the pass rush department this Sunday when Eli Manning and the 0-3 New York Giants come to town. The Giants' offensive line […] The post DE Smith Ready To Help Bucs' Struggling Pass Rush appeared first on Pewter Report.
The Bucs defensive end participated in practice for the first time todya. The Tampa Bay Buccaneers had Jacquies Smith practicing for the first time since September 2016 today—almost exactly one year since he tore his ACL in last year's season opener. Participating in practice isn't quite the same thing as actually playing, though, and it's still unclear when Smith will be able to...
The 2015 Buccaneers season ended with plenty of questions surrounding the roster. Every player with the exception of a few have concerns whether it's their play, contract or roster status. TheBayCave.com will briefly look at the concerns of some of those players. Note: This was altered to reflect the firing of head coach Lovie Smith. OFFENSE RB Doug Martin – It has been reported...
Two games in. Five tackles. Two forced fumbles. Four sacks. That's the stat line for not an All-Pro defensive lineman, but for Bucs defensive end Jacquies Smith and he is well on his way to double digits sacks.  Smith's play has been much needed. So many were concerned with the Buccaneers' pass rush heading into 2015 but those same folks with concerns failed to remember how the 25...
TAMPA, Fla. (AP) Jacquies Smith stood in front of his locker, a bit reluctant to talk about his role in helping the Tampa Bay Buccaneers get their season on track. The Bucs (1-1) rebounded from an embarrassing four-touchdown season-opening loss to Tennessee, with Smith keying a superb defensive effort that stifled Drew Brees and the New Orleans Saints in a 26-19 victory. A little...
Drew Brees was throwing ducks and looking like a cousin of Peyton Manning in the New Orleans Saints' loss to the Tampa Bay Buccaneers on Sunday, leading many to suggest he is physically done as a quarterback. But the veteran QB indicated after the game that something else might have been responsible for his poor showing. Brees admitted after the 26-19 defeat that his shoulder was...
The Bucs used to pride themselves on getting after the quarterback. But those days are long gone.  It has been a while since the Buccaneers have made noise in the opponents backfield on a consistent basis. In fact, you may have to go as far back as the Warren Sapp/Simeon Rice days. That doesn't go over well with Tampa Bay head coach Lovie Smith who set a standard for the number...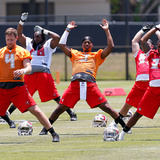 By Jesse Reed Tampa Bay Buccaneers quarterback Jameis Winston has apparently made a lasting impression on the team's veterans after just a few practices. Winston is with the rest of the NFL's rookies right now in Los Angeles for the Rookie Symposium, and his absence is being keenly felt on the practice field and in the locker room. Defensive end Jacquies Smith recently spoke about...
MORE STORIES >>
Buccaneers News

Delivered to your inbox

You'll also receive Yardbarker's daily Top 10, featuring the best sports stories from around the web. Customize your newsletter to get articles on your favorite sports and teams. And the best part? It's free!