Jaron Brown is coming off his career-best performance, gaining 105 yards receiving on eight catches and making a pair of important grabs in overtime as the Cardinals beat the 49ers. But perhaps more impressive has been the way the wideout has come back off the ACL tear he suffered in October of 2016. Brown played 99 snaps in the overtime game — 82 at wide receiver, 17 on special...
Arizona Cardinals quarterback Carson Palmer was in elite form in Week 2. Just watch him connect with Jaron Brown on this beautiful 51-yard touchdown. Carson Palmer + @jaronbrown13 = SIX! 51 yards! #BeRedSeeRed #TBvsAZ https://t.co/Gn5cCyJ5D3 — NFL (@NFL) September 18, 2016 It was Palmer's third touchdown in the first half. For Brown, the touchdown marks only the fifth of his...
The Tampa Bay Buccaneers are down 24-0 against the Arizona Cardinals at the half. That's pretty bad. Part of that is bad defense, part of it is three turnovers on offense, part of it is not scoring. You know, an all-around breakdown, as we've been used to in Tampa. This play beats them all, though. There are 26 seconds left. The opponent is at midfield. You're down 17-0. All you...
So I arrived home Tuesday morning on a redeye from Phoenix after most of four weeks on the road at NFL camps and stadiums, and when I walked into my apartment in Manhattan, I realized it was exactly four weeks ago to the morning that I'd seen my first practice of the summer—Packers, on Ray Nitschke Field, across the street from Lambeau. The bookends were interesting: Green Bay...
The Arizona Cardinals were reeling after blowing a big lead and their vaunted wide receiver corps was ailing.Seeking to stem the momentum on the road against the hard-charging Seattle Seahawks on Sunday night, the Cardinals needed someone to make a big play against the high-profile Legion of Boom secondary.Into the void stepped a most unlikely savior - seldom-used wideout Jaron Brown...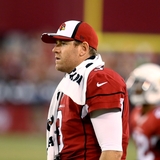 CLEVELAND -- Carson Palmer only needed one half to put away the badly bruised Browns.Palmer threw four touchdown passes -- three in the second half -- and for 374 yards as the Arizona Cardinals rallied for a 34-20 win Sunday over the Cleveland Browns, who lost two defensive starters with concussions.Palmer had two TD passes in the third quarter when the Cardinals (6-2) overcame a...
When the Arizona Cardinals watch the film from Saturday night's preseason game against the San Diego Chargers wide receiver Jaron Brown is going to get quite a few pats on the back for his big catch in the second half where he was well-covered by the defense, but managed to pull it down anyway.He'll deserve every one, but will probably not get one from Phillip Rivers. He'll be busy...
Every play counts for Arizona Cardinals wide receiver Jaron Brown. Every play counts for every player of course, but for an undrafted second-year player each play is a chance to prove the team needs him. So when Brown's number was called and the ball came his way there was no way he was not going to make that catch.He did of course even though he was upended by Rams defensive back...
Dashon Goldson will not be suspended for his hit on Cardinals receiver Jaron Brown in Sunday's game, but the Tampa Bay safety could be fined.
MORE STORIES >>
Cardinals News

Delivered to your inbox

You'll also receive Yardbarker's daily Top 10, featuring the best sports stories from around the web. Customize your newsletter to get articles on your favorite sports and teams. And the best part? It's free!