No starting quarterback, no head coach, no general manager. The New York Giants have not uttered those three phrases together since the end of the 1978 season, when quarterback Joe Pisarcik was replaced by Phil Simms, head coach John McVay was replaced by Ray Perkins, and general manager Andy Robustelli was replaced by George Young. Back in 1978, the Giants were a mess. They were...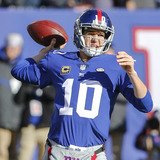 While there are obscure quarterbacks who threw passes for the New York Giants, the QBs featured in this quiz were the 'top passer' for the team that year, according to the number of yards passing. We have identified 26 (with some repeats), how many of them can you name? Clue: Years active  
​ If you're a long-time New York Giants fan, like me, you remember too vividly Herm Edwards picking up the fumble from the irrational handoff between Joe Pisarcik and Larry Csonka and returning it for the touchdown that won that game at the Meadowlands for the Eagles. The Miracle at the Meadowlands as it was known at the time. Since then, Edwards has gone on to become a semi...
MORE STORIES >>
NFL News

Delivered to your inbox

You'll also receive Yardbarker's daily Top 10, featuring the best sports stories from around the web. Customize your newsletter to get articles on your favorite sports and teams. And the best part? It's free!