Did somebody say two game winning streak? The Chargers are alive, baby! Okay, so they etched out a win by a single point thanks to Jon Condo - a 2x Pro Bowler and normally perfect LS - botching a simple PAT snap and allowing the Chargers to drive down the field and kick the gamewinner, but who cares about the semantics? They went into the house of a divisional rival and were able...
A high snap on an extra point is glaring in a close loss. But it's not fair to heap the blame for this loss on that. You hear it all the time how the smallest things in football mean the difference between winning and losing. Usually the saying is that it's a game of inches. This game came down to the snap of a ball on a one-point play. With just over 8 minutes left in the game...
Patterson gives the Raiders the lead with big play With a little over 8 minutes left in the game and the Raiders trailing the LA Chargers 14-10 wide receiver Cordarrelle Patterson took a jet sweep to the house from 47 yards out. The Raiders went on to miss the ensuing extra point due to a high snap by long snapper Jon Condo. Offensive Coordinator Todd Downing has used jet motion...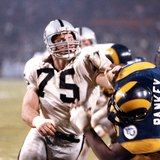 32 defensive players from the Oakland Raiders have made the Pro Bowl in the Super Bowl era. How many of these defensive stars can you name?Clue: Number of Pro Bowls/Years Active 
ALAMEDA, Calif. (AP) One day after not having a backup long-snapper nearly proved costly, the Oakland Raiders could be in the market for a starter. Jon Condo suffered a dislocated right shoulder while recovering a fumble early in the fourth quarter of Sunday's 15-12 win over the Denver Broncos. Although Condo returned and finished the game, Oakland coach Jack Del Rio said that...
The Oakland Raiders premiered a state-of-the-art practice facility, which received overwhelmingly positive reviews from local-media and the players. "When you see it for the first time, especially coming from the old weight room, it's jaw-dropping," said long snapper Jon Condo, entering his ninth season with the Raiders. "It's definitely top of the art and one of the better weight...
MORE STORIES >>
Raiders News

Delivered to your inbox

You'll also receive Yardbarker's daily Top 10, featuring the best sports stories from around the web. Customize your newsletter to get articles on your favorite sports and teams. And the best part? It's free!