The arrival of a rookie superstar helped the Saints to vast defensive improvement. The New Orleans Saints had only 3 cornerbacks voted to the Pro Bowl in their first 51 years of football, Dave Whitsell (1967), Dave Waymer (1987), and Eric Allen (1995). They have had some other very good cornerbacks throughout team history; Mike McKenzie, Jabari Greer, Toi Cook, Tracy Porter all...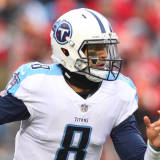 With the Wild Card round in the rear-view mirror, eight final teams are left to compete in the NFL's Divisional Playoffs. However, not all playoff teams are created equal — a couple of these upcoming matchups almost seem unfair to the underdogs.For one, the Tennessee Titans will head to chilly Boston to play a rested New England Patriots squad. But, it might not turn out so bad considering...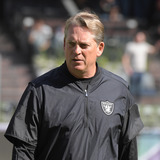 We are down to the last 25 percent of the NFL season, which happens to be the quarter that offers the most fun. It takes until about Thanksgiving to really know what every team is — that's when we're sorting out pretenders from contenders and waiting for teams that start hot to fall out of contention. We've done all of that.We know who's for real and now it's time to see what they...
Despite having a solid season, Saints cornerback Ken Crawley still has his detractors. He did a good job of setting the record straight on Sunday against the Panthers. Ken Crawley came into the NFL in 2016 as an undrafted rookie free...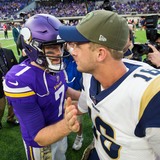 NFL lifespans are famously short. The average career length is between three and six years, depending on a host of different factors, and it's not uncommon to see someone break onto the scene one year and peter out the next.But the reverse can happen as well. Every year, there are a crop of players on their last legs who rise to the challenge and earn their keep.Here are 14 who did...
The New Orleans Saints' 26-20 loss to the Los Angeles Rams yesterday isn't all that upsetting, but it definitely puts them in a more difficult predicament. In the end, the Saints tried keeping up with a good football team like the Rams but fell short. Marshon Lattimore and Ken Crawley's absences had a very negative affect on the Saints' secondary, as they constantly got burned by...
The Saints knew they'd be without Marshon Lattimore and Ken Crawley against the Rams. But no amount of game planning can overcome lack of talent. Going into the Week 12 matchup with the Los Angeles Rams, the Saints knew they'd be without...
The news Saints fans have been dreading all week was confirmed on Friday's final injury report. Marshon Lattimore and Ken Crawley are both out for Sunday. Saints fans were already mentally prepared for the notion that Marshon Lattimore...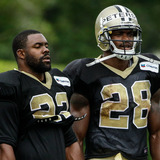 A 7-9 record, a solid offense and a bad defense. That's all the New Orleans Saints have offered for the past three seasons. And it isn't getting better.The Saints ranked sixth in offensive DVOA last season, good enough to keep them competitive. During the offseason, however, New Orleans lost its second-best receiver, Brandin Cooks, while its star left tackle, Terron Armstead, went...
After the first game I wanted to take stock of where we see the current standing for some guys battling for roster spots. CB Ken Crawley: He played 38 snaps defensively which was the most of any defensive player at 56%. I'd say the results were mixed for him, though he definitely didn't show us the same potential we saw in camp. Crawley gave up some shorter receptions, tackled poorly...
MORE STORIES >>
Saints News

Delivered to your inbox

You'll also receive Yardbarker's daily Top 10, featuring the best sports stories from around the web. Customize your newsletter to get articles on your favorite sports and teams. And the best part? It's free!