Oh, the war of NCAA coach smokeshows is on. IT'S ON KINGSBURY. You didn't think Saban would see the shirtless photo...
Kliff Kingsbury is a single man with more game than Johnny Manziel, according to his interview on "Highly Questionable."
Texas Tech head coach Kliff Kingsbury went on ESPN's "Highly Questionable" Wednesday to talk about pretty much everything except football. Dan Le Batard and Bomani Jones were able to squeeze...Story
Texas Tech coach Kliff Kingsbury may be the most eligible bachelor in the coaching ranks.  He certainly isn't shy about going shirtless and for showing off his six pack via Twitter. I had a huge laugh with Bomani Jones' Tweet The reason why @TexasTech finally sold out of football season tickets. @TTUKingsbury pic.twitter.com/Ru8j148OPg — Aggie Gossip (@AggieGossip) July 29...
Kliff Kingsbury shirtless served a six pack of abs to Twitter, which melted at the sight. Here are the best reactions.
Tony Romo and the Dallas Cowboys read "mean tweets" about their team last month. Now, some of the coaches in the Big 12 are seeing what's being said about them on Twitter.  Most in the social media world critiqued a few of their styles, especially West Virginia's Dana Holgersen.  And of course Texas Tech's Kliff Kingsbury was a hot topic.  New Texas coach...
Only surprising thing about this Kingsbury photo is the length of his shorts. Thought he'd go suns out thighs out. pic.twitter.com/6dxcYTE7Mq — Mike Ryan (@MikeRyan790) July 29, 2014 There's no doubt Kliff Kingsbury, a Ryan Gosling look-alike, who announced previously one of his recruiting tactics is flirting with mothers, is one good looking dude. But it's certainly […...
If Kliff Kingsbury could win recruits with his looks alone, let's just say it's likely his Texas Tech team would be champions of the Big 12, perhaps even national championships. The Red Raiders head coach has already admitted to flirting with mothers in an attempt to win more recruits, but has yet to see his looks produce any big-time results on the football field. In a slightly...
Kliff Kingsbury has fully embraced his status as the most attractive head coach in college football. He's already admitted to flirting with mothers to win recruits, and the resemblance to actor Ryan Gosling is undeniable.  Kingsbury was on ESPN's SportsNation, and the show stole a bit from another Disney property—Jimmy Kimmel Live—and had Kingsbury read tweets that people...
The analysis around the web of Texas Tech after Big 12 Media Days was not about its offense or defense, but instead over what coach Kliff Kingsbury was wearing.  Deadspin examined the watch Kingsbury wore in Dallas on Monday to see if his Breitling Mulliner Tourbillon, which retails for more than $100,000, was real or just a cheap knockoff.  Kingsbury doesn't know where it...
MORE STORIES >>
College Football News

Delivered to your inbox

You'll also receive Yardbarker's daily Top 10, featuring the best sports stories from around the web. Customize your newsletter to get articles on your favorite sports and teams. And the best part? It's free!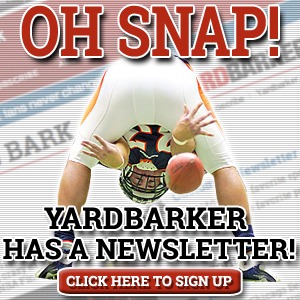 THE COLLEGE FOOTBALL HOT 10