Less than 24 hours ago we crowned the Ohio State marching band the undisputed champions of halftime entertainment, but the Florida State Marching Chiefs aren't going down without a fight (or a late penalty flag...whichever you prefer):We're still rolling with the Buckeyes since they've been killing it with halftime shows as long as we've been running DC, but we can...
FORT WORTH, Texas - Texas Tech head coach Kliff Kingsbury had no qualms about putting TCU quarterback Trevone Boykin in the Heisman conversation. It's doubtful you'll hear TCU head coach Gary Patterson or Boykin talking about it anytime soon though. "You won't see him talking here for a couple of weeks," Patterson said. "He just needs to throw passes.&quot...
When the Kliff Kingsbury Era began having the youngest--and according the ladies hottest--head coach in the land was enough to drive attendance. It helped that the team won games in pretty exciting fashion too. Then the wheels fell off towards the end of  last season, and they have yet to really get them back on this year.So with a record of 2-3 and a tough West Virginia team coming...
Texas Tech head coach Kliff Kingsbury is perplexed by his team. Kingsbury is puzzled by how his team can perform and conduct themselves one way during practices and then be mistake prone during games. The Red Raiders coach sees plenty of confidence and swagger during practices, but when it comes to game days, that bluster evaporates. Kingsbury added, "I would say the mental mistakes...
Former Texas Tech walk-on and reigning Big 12 Offensive Freshman of the Year Baker Mayfield will have to sit out the season after his waiver request was denied by the NCAA. Mayfield transferred from Texas Tech to Oklahoma after last season due partially to Texas Tech head coach Kliff Kingsbury refusing to name Mayfield the starting quarterback [&hellip (Visited 5 times, 6 visits...
This Kliff Kingsbury facepalm sums up Texas Tech's OK State loss.
The Kliff Kingsbury era got off to a good start last year but just three games into the 2014 season, he has fired his defensive coordinator…. Breaking: Texas Tech DC Matt Wallerstedt has been dismissed from the staff. Details coming on http://t.co/VP1ldkYydJ — Pete Roussel (@coachingsearch) September 18, 2014 Here's what the Texas Tech website has to say about Wallerstedt…...
GIF: Kliff Kingsbury drops an angry F-Bomb (req @Banditof87) http://t.co/BG8EVH4uvy — CJ Fogler (@cjzero) September 7, 2014 Kliff Kingsbury was not pleased with his quarterback or his team with their porous effort against UTEP and he got caught on camera dropping a hefty f-bomb. The post Kliff Kingsbury Drops An Angry F-Bomb On Camera appeared first on Diehardsport.
Texas Tech head coach Kliff Kingsbury appears to be Mr. Cool on the outside. The perfect hair (yes, I'm jealous) and the movie star good looks give him the appearance of someone that cannot be bothered by anything. He's unflappable; a rock.Or is he....@cjzero/TwitterRead more »
Texas Tech Red Raiders head football coach Kliff Kingsbury is the man. Plain and simple. With his leading man looks and the meticulous care he puts into his appearance, always looking suave and debonair, it's no surprise he's a bit hit with the ladies. It probably shouldn't be surprising, either, that his masculine wiles have […] The post Kliff Kingsbury responds to 'breakup...
MORE STORIES >>
College Football News

Delivered to your inbox

You'll also receive Yardbarker's daily Top 10, featuring the best sports stories from around the web. Customize your newsletter to get articles on your favorite sports and teams. And the best part? It's free!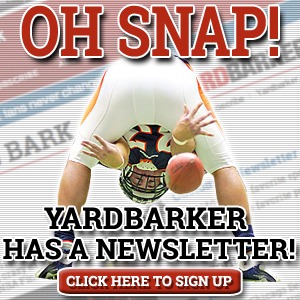 THE COLLEGE FOOTBALL HOT 10