Kliff Kingsbury is as smooth as they come, and probably the only coach in college football with the looks and charisma to pull off such a bold challenge. The Texas Tech head coach, while wearing a "Beyonce is Bae" T-shirt, challenged the Queen B to dump ice on her head for a good cause. The entire Red Raiders football team participated in this challenge. It wouldn't be as...
When Texas Tech head football coach Kliff Kingsbury does something, he goes all out. The latest example of this came yesterday, when the Red Raiders' coach took the ALS Ice Bucket Challenge. While most people just dump a bucket of cold water on their head and challenge three friends, Kingsbury took it to the next level by including his entire team and challenging Texas native Beyonce...
Kliff Kingsbury's breakup with a fan is not your average breakup. She ends her thirst in the best way possible.
College football fans routinely toe the line between "passionate" and "crazy." This goes way past that line. Arkansas fan Pam Robles had a bit of a crush on Texas Tech head coach Kliff Kingsbury, but for a multitude of reasons, she had to "break up" with the Red Raiders' coach. Robles sent a letter with those reasons — along with a CD of 90s R&B music — to Kingsbury...
Texas Tech Red Raiders head football coach Kliff Kingsbury is the man. Plain and simple. With his leading man looks and the meticulous care he puts into his appearance, always looking suave and debonair, it's no surprise he's a bit hit with the ladies. It probably shouldn't be surprising, either, that his masculine wiles have […] The post Kliff Kingsbury responds to 'breakup...
Let's be honest, we were already all in love with Kliff Kingsbury. Male, female, dogs, cats, basically if you have a heart beat you probably want to sleep with Kliff Kingsbury.  So what happens when a hot Arkansas fan sends a joking letter announcing she's breaking up with Kingsbury? He wins the Internet by responding to her. Damn it, Kliff, how come you are so good looking...
Kliff Kingsbury has captured the heart of many of the college girls and the mothers' of recruits.  But one woman has had enough and "broke up" with the Texas Tech head coach this month.  Pam Robles wrote Kingsbury a letter explaining why she has decided to end their relationship.  "When we first met last football season, it was love at first sight. You, stepping...
Texas Tech head coach Kliff Kingsbury is one of the up and coming head coaches in college football. Before he was hired at Texas Tech, he was the offensive coordinator at Texas A&M. In 2012, the Aggies upset #1 Alabama and that win propelled the Aggies' program as well as Kingsbury's career. Kingsbury loved that win so much that he got the play sheet framed and hung it up...
Kliff Kingsbury has been the head coach of the Texas Tech football program for a little more than a year. The most memorable win of his coaching career, though, likely came when he was an assistant at Texas A&M.  The 35-year-old spent 2012 as the offensive coordinator and quarterbacks coach at Texas A&M. That season, of course, Johnny Manziel led the Aggies to a 29-24 victory...
Texas Tech coach Kliff Kingsbury may be the most eligible bachelor in the coaching ranks.  He certainly isn't shy about going shirtless and for showing off his six pack via Twitter. I had a huge laugh with Bomani Jones' Tweet The reason why @TexasTech finally sold out of football season tickets. @TTUKingsbury pic.twitter.com/Ru8j148OPg — Aggie Gossip (@AggieGossip) July 29...
MORE STORIES >>
College Football News

Delivered to your inbox

You'll also receive Yardbarker's daily Top 10, featuring the best sports stories from around the web. Customize your newsletter to get articles on your favorite sports and teams. And the best part? It's free!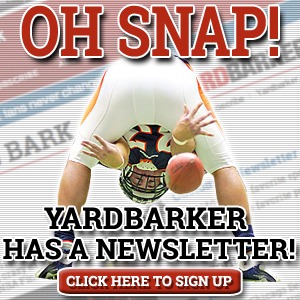 THE COLLEGE FOOTBALL HOT 10