Looks like Kliff Kingsbury and Texas Tech will be in the market for a new defensive coordinator this winter after canning DC Matt Wallerstedt just a few games into the year. Whoa. RT @coachingsearch: Breaking: Texas Tech DC Matt Wallerstedt has been dismissed from the staff. — Bryan Fischer (@BryanDFischer) September 18, 2014 Texas Tech has been known to have great offense, but...
The Kliff Kingsbury era got off to a good start last year but just three games into the 2014 season, he has fired his defensive coordinator…. Breaking: Texas Tech DC Matt Wallerstedt has been dismissed from the staff. Details coming on http://t.co/VP1ldkYydJ — Pete Roussel (@coachingsearch) September 18, 2014 Here's what the Texas Tech website has to say about Wallerstedt…...
GIF: Kliff Kingsbury drops an angry F-Bomb (req @Banditof87) http://t.co/BG8EVH4uvy — CJ Fogler (@cjzero) September 7, 2014 Kliff Kingsbury was not pleased with his quarterback or his team with their porous effort against UTEP and he got caught on camera dropping a hefty f-bomb. The post Kliff Kingsbury Drops An Angry F-Bomb On Camera appeared first on Diehardsport.
Texas Tech head coach Kliff Kingsbury appears to be Mr. Cool on the outside. The perfect hair (yes, I'm jealous) and the movie star good looks give him the appearance of someone that cannot be bothered by anything. He's unflappable; a rock.Or is he....@cjzero/TwitterRead more »
Apparently they like Kliff Kingsbury at Texas Tech because they're now paying him handsomely to stick around. The 35-year-old and his alma mater agreed to a contract extension on Friday that will keep him in Lubbock through 2020. The guaranteed total base value of the contract is reportedly $24.2 million and including this season Texas Tech will pay Kingsbury an average of $3.5...
Kliff Kingsbury has agreed to a contract extension with Texas Tech that will keep him and his Ray Bans in Lubbock through the 2020 season. Texas Tech announces a contract extension for Kliff Kingsbury through 2020. — Bryan Fischer (@BryanDFischer) August 29, 2014 Texas Tech and Kliff Kingsbury have new deal through 2020 that will pay $3.1 million in 2015 up to $4.1 million in...
Kliff Kingsbury is as smooth as they come, and probably the only coach in college football with the looks and charisma to pull off such a bold challenge. The Texas Tech head coach, while wearing a "Beyonce is Bae" T-shirt, challenged the Queen B to dump ice on her head for a good cause. The entire Red Raiders football team participated in this challenge. It wouldn't be as...
Texas Tech Red Raiders head football coach Kliff Kingsbury is the man. Plain and simple. With his leading man looks and the meticulous care he puts into his appearance, always looking suave and debonair, it's no surprise he's a bit hit with the ladies. It probably shouldn't be surprising, either, that his masculine wiles have […] The post Kliff Kingsbury responds to 'breakup...
College football fans routinely toe the line between "passionate" and "crazy." This goes way past that line. Arkansas fan Pam Robles had a bit of a crush on Texas Tech head coach Kliff Kingsbury, but for a multitude of reasons, she had to "break up" with the Red Raiders' coach. Robles sent a letter with those reasons — along with a CD of 90s R&B music — to Kingsbury...
Texas Tech head coach Kliff Kingsbury is one of the up and coming head coaches in college football. Before he was hired at Texas Tech, he was the offensive coordinator at Texas A&M. In 2012, the Aggies upset #1 Alabama and that win propelled the Aggies' program as well as Kingsbury's career. Kingsbury loved that win so much that he got the play sheet framed and hung it up...
MORE STORIES >>
College Football News

Delivered to your inbox

You'll also receive Yardbarker's daily Top 10, featuring the best sports stories from around the web. Customize your newsletter to get articles on your favorite sports and teams. And the best part? It's free!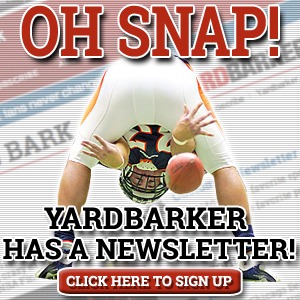 THE COLLEGE FOOTBALL HOT 10