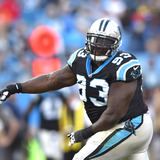 Carolina Panthers defensive tackle Kyle Love is disappointed he does not get to face the New England Patriots in the Super Bowl. In 2013, the Patriots released Love after he had been diagnosed with Type 2 diabetes. The 29-year-old is clearly convinced that the timing was not a coincidence, and he made that clear when he promised "pain" before the Panthers played New England in the...
According to Mike Florio of ProFootballTalk, the New England Patriots gave the recently released Kyle Love two options: take a one year retirement or be released. Love, who was diagonsed with Type-2 diabetes two weeks ago, was released yesterday and according to his agent, Richard Kopelman, the Patriots gave him the two options. Love chose to be released so he can resume playing...
For the second time this week, the New England Patriots released a defensive lineman as it started with Brandon Deaderick on Monday and now with Kyle Love, who was recently diagnosed with Type-2 Diabetes. The news was first reported by ESPNBoston.com Patriots writer Mike Reiss. Richard Kopelman, Love's agent was informed by New England that his client would be released and said the...
The Patriots essentially bought out Kyle Love's exclusive rights year and restricted free agency year by giving him this 2 year, 3.09 million dollar deal. Love, a 2010 undrafted free agent, was set to make $540,000 this season and somewhere between 1-2 million in 2013 under a restricted free agent tender, so the Patriots are probably giving him more money than he ordinarily would...
MORE STORIES >>
Panthers News

Delivered to your inbox

You'll also receive Yardbarker's daily Top 10, featuring the best sports stories from around the web. Customize your newsletter to get articles on your favorite sports and teams. And the best part? It's free!