Laurent Duvernay-Tardif was a sixth-round pick by the Chiefs in 2014 out of McGill University in Montreal, Quebec.
Laurent Duvernay-Tardif might have just made one of the most unique jersey requests in NFL history
A handful of NFL players have suffixes like "Sr." or "Jr." or "III" after their last names on their jerseys. Now one player has an idea for a new one. Chiefs offensive lineman Laurent Duvernay-Tardif, who is finishing up his medical degree this offseason, wants the back of his jersey to say, "Duvernay-Tardif M.D." "I [more]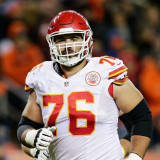 Laurent Duvernay-Tardif is proving himself to be a true Renaissance man.The Kansas City Chiefs right guard, who is currently in PyeongChang covering the Olympics for an outlet in his native Canada, spoke to Aaron Rose of the Kansas City Star in an interview that ran over the weekend. In the interview, Duvernay-Tardif revealed that he plans to become the first NFL player to take the...
Chiefs starting right guard and soon-to-be doctor Laurent Duvernay-Tardif is currently over in Pyeongchang, South Korea, covering the Winter Olympics for Radio Canada. In an interview with the Kansas City Star, Duvernay-Tardif said he is all set to finish his McGill University medical degree by the time the 2018 football season begins, and he is currently in talks with the NFL...
Since there's not a Canadian football team for Laurent Duvernay-Tardif to play for, he has to settle for being a member of the media to fulfill his Olympic dream. The Chiefs offensive lineman is working for Radio-Canada as a reporter in Korea, making him probably the largest reporter there. "It was just a tremendous opportunity," he [more]
A look at what the Chiefs have been up to on social media
A look at what the Chiefs have been up to on social media
I know you're not the happiest with the Chiefs right now, and that's for good reason, but starting right guard Laurent Duvernay-Tardif continues to find ways to be the most interesting man in the NFL. Here he is casually checking in from the Winter Olympics in South Korea, where he is working for Canadian radio: I'll translate for you since I know French pretty well: Arrowhead...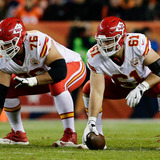 If you needed any further proof that cash is going to flow like midnight wine during free agency this year, look no further than the haul offensive guard Laurent Duvernay-Tardif is about to bring home in a five-year deal with the Kansas City Chiefs. Duvernay-Tardif isn't an elite guard.He's good, but a deal that averages more than $8 million per year for a guard was unheard of not...
MORE STORIES >>
Chiefs News

Delivered to your inbox

You'll also receive Yardbarker's daily Top 10, featuring the best sports stories from around the web. Customize your newsletter to get articles on your favorite sports and teams. And the best part? It's free!