Marcus Smith managed to disappoint every Eagles fan and coach last season as he was virtually non-existent, impact-wise, and completely invisible on the stat sheet. Questions regarding his strength and awareness on the field were cited by many as the reasons for his inactivity in games. As a result of this, the first round pick was buried in the depth chart by veterans Trent Cole...
Saying that Philadelphia Eagles' Marcus Smith will start this season is an incredibly bold statement considering the rookie did not start a single game last year. The number 26th overall pick in 2014 was really a question mark given that he was a reach to start with, had to move to inside linebacker halfway through the season in the hopes of seeing some action, and was put on blast...
Philadelphia Eagles OLB Marcus Smith Before the 2014 NFL regular season the Philadelphia Eagles drafted Marcus Smith in the first round of the NFL draft with the 26th pick. Smith was expected to compete immediately with fellow outside linebacker Brandon Graham for snaps behind Trent Cole and Connor Barwin. Instead of doing that, Smith rode the bench and barely played any snaps at...
You can't judge an NFL player by his rookie season alone, but it's safe to put the Philadelphia Eagles' 2014 first-round pick, outside linebacker Marcus Smith, on bust watch. Despite the investment, Smith managed to make the field for just 74 total defensive snaps in 2014. At one point, the Eagles tried converting him to inside linebacker just to get him on the field. That transition...
If what has already gone down this offseason is any indicator of what's to come, you can expect the Eagles to be very active this weekend. Several of their players have already been rumored to be squarely on the trade block, and now you can add former first-round pick Marcus Smith to that list."I don't think they'll flat out give him away,'' an anonymous source told True Jersey's...
It's a different world for Eagles fans right now… we have a head coach with absolute final say over all things football— or as Beanstalker from Australia so aptly puts it, "Chitler"… These following nuggets of the Chippah's visions of future directon for the team emerged from this week's NFL Annual Meeting activities in Arizona: Regarding Marcus Smith, OLB—"There are times when...
This is the article I should have saved for April Fool's Day— but with "the future of Marcus Smith" hysteria so rampant in the Delaware Valley right now, it's time to administer the vaccine. Move Marcus to the other side of the ball. Smith is a quarterback trapped in the mind of a defensive end. This is biological fact! Thus, it is decreed that Marcus Smith is the perfect candidate...
The time spanning from now until the start of training camp is a critical time for NFL executives. It is important for front office personnel to reevaluate the players, coaches and look for any new talent that they believe can add value to their team. These moments are usually not for the fans. Favorite players will be shopped around in free agency, and beloved veterans may end up...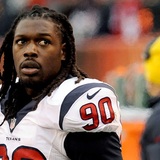 Coming into the 2014 NFL season, every fan base expected their top draft pick to become a key piece to their success this season. In the case of Sammy Watkins, Brandin Cooks, Khalil Mack and Anthony Barr, the teams that drafted them are elated. On the other hand, some teams are wishing they picked another player instead of the guy stuck at the bottom of the depth chart. While all...
Well, the Eagles have officially ruled out ILB Mychal Kendricks for Sunday night's game against the Giants. Also fellow ILB Demeco Ryans is questionable (groin injury)— but my guess is 'Meco gives it a go at least to start the game… That leaves Casey Matthews and a dinged-up Emmanuel Acho as your inside linebacker alternates. It also moves the Eagles' 1st-round draft pick Marcus...
MORE STORIES >>
Panthers News

Delivered to your inbox

You'll also receive Yardbarker's daily Top 10, featuring the best sports stories from around the web. Customize your newsletter to get articles on your favorite sports and teams. And the best part? It's free!