I was often told during my rookie season that I should cherish the relationships and the memories the NFL would bring. Over the years I've had the opportunity to work with some great people. I have played with future Hall of Famers and been taught by legendary coaches as well. But it's not necessarily those individuals who I have bonded with the most. I came into the league as an...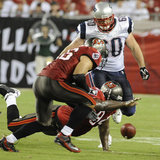 Many people only see the end results. To wear nice suits and live in nice homes comes with a price. Many see us on Sunday, and figure that our lives as NFL players are easy. Well, I have news for them. The price we pay is great, but so is the reward. We have been working hard since, March 16, perfecting our craft. To look into the eyes of young rookies who come into the league not...
MORE STORIES >>
Giants News

Delivered to your inbox

You'll also receive Yardbarker's daily Top 10, featuring the best sports stories from around the web. Customize your newsletter to get articles on your favorite sports and teams. And the best part? It's free!