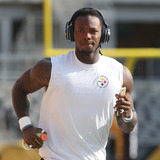 The Steelers finally seemed to finally quell all their locker room dissension, when another major issue appeared to pop up after Sunday's win.Reports began circulating about wide receiver Martavis Bryant being unhappy about his role in the offense and requesting a trade. And that does make sense on paper, being that Bryant is third fiddle in the offense behind Antonio Brown and Le...
Besides the Pittsburgh Steelers big road win over the Kansas City Chiefs on Sunday, we're sure to be talking about wide receiver Martavis Bryant reportedly requesting a trade all this week. Sunday evening, Ian Rapoport of the NFL Network reported that Bryant had recently requested a trade and since that...
Martavis Bryant recently requested a trade away from the Pittsburgh Steelers. The Washington Redskins may want to consider making an offer to get some receiving help. Martavis Bryant has had an up-and-down NFL career to date. A fourth round pick in the 2014 NFL Draft, Bryant came in...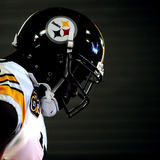 Pittsburgh Steelers wide receiver Martavis Bryant is said to be unhappy with his current situation, but the team is reportedly not exploring trade possibilities for him at this time.In response to a report that claimed Bryant has asked the Steelers to deal him, a source told ESPN's Jeremy Fowler that the Steelers "value" Bryant and that it is unlikely they will shop him around. For...
Pittsburgh Steelers wide receiver Martavis Bryant was reported as having requested to be traded from the team. Should the Baltimore Ravens pursue the speedy playmaker? The Baltimore Ravens offense has been atrocious for the most part this season. Part of the reason for that is the...
The facts, as well as the opinions, are a bit all over the map when it comes to the situation surrounding Martavis Bryant, the Pittsburgh Steelers wide receiver in his third season with the team after sitting out 2016 because of a suspension. Ian Rapoport reported that he told the...
Steelers receiver Martavis Bryant has denied a report that he is unhappy as a Steeler and wants to be traded. But Bryant's girlfriend appeared to confirm the report. Deja Hiott, whom Bryant has identified as his girlfriend multiple times on social media, posted a tweet on Sunday night that responded to the report of Bryant [more]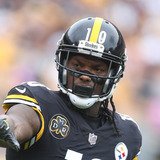 The Pittsburgh Steelers are not lacking drama this year. In addition to the recent holdout by Le'Veon Bell and a rare sideline eruption by Antonio Brown, receiver Martavis Bryant has reportedly requested a trade.Ian Rapoport of NFL Media has the scoop on this and reports the team is "well aware that he's unhappy." Through six games, Bryant hasn't been the explosive playmaker many...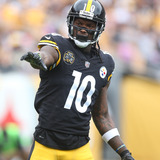 Martavis Bryant requested a trade from the Pittsburgh Steelers recently, according to a report.NFL Media's Ian Rapoport shares the news on Bryant, and says the wide receiver has made it known he is unhappy. The Steelers have stood by Bryant, a third-round pick in 2014, despite all of his suspensions. But he may not be getting as much action as he would like. On Sunday against Kansas...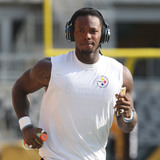 Big news, Steelers fans: Martavis Bryant received full reinstatement from the league.The NFL announced Friday that Bryant has been completely reinstated following his suspension that took him out for the 2016 season.Bryant had been getting cleared to return to action in conditional steps prior to receiving full reinstatement. He even saw some preseason action, catching seven passes...
MORE STORIES >>
Steelers News

Delivered to your inbox

You'll also receive Yardbarker's daily Top 10, featuring the best sports stories from around the web. Customize your newsletter to get articles on your favorite sports and teams. And the best part? It's free!