The Ravens wide receiver broke out a classic prank after his 6-yard touchdown catch in the second quarter of Baltimore's 23-16 win. Campanaro and other pass catchers stepped up with Jeremy Maclin out.
The Ravens' slot wide receiver and returner has been crushing the team's offseason workouts and is confident he's put his injury woes behind him. If so, he has an opportunity to be a major contributor.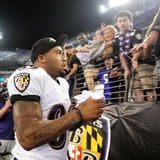 Ravens fans and the team got some bad news this past Monday as it was revealed WR's Steve Smith Sr. (the team's most prolific and viable option at WR)and young Michael Campanaro will be out of action for a significant amount of time. Both Smith and Campanaro got banged up in the Steelers game last Thursday. Smith has some damage to the back and rib regions after taking a crazy...
The Ravens were left with few options when Michael Campanaro was diagnosed with a herniated disk in his back, and the second-year receiver now finds himself on season-ending injured reserve.Campanaro, who rushed for a 9-yard touchdown in Thursday's win over the Steelers, was likely to be sidelined for several weeks. Steve Smith Sr.'s back injury coupled with Breshad Perriman's continued...
If Ravens fans were worried about Michael Campanaro's leg strength, they can worry no more. Campanaro put on an athletic show yesterday at wideout and slot receiver working on Eagles corners and linebackers in the Ravens-Eagles joint practice session in Philly. The preseason game is going to be played on Saturday night at 7:00 p.m. EST. Campanaro looked solid and he continually...
An MRI on Ravens receiver Michael Campanaro revealed a slight tear of his quadriceps, according to the Baltimore Sun. Campanaro will miss the rest of organized team activities, but is expected to return for training camp, according to the report. He suffered the injury on the first day of OTAs on Wednesday.  The second-year receiver is fortunate that he didn't suffer a complete tear...
Tough break for Michael Campanaro, the 2nd-year WR/RB out of Wake Forest, who tore a quad muscle on the first day of OTA's. Michael Campanaro is out for several months with a torn quadriceps suffered at Ravens OTA's. That's a tough break for a player who has flashed so much promise as a receiver, a running back and a kick/punt returner. It's also a challenge to the Ravens'offensive...
Ravens wide receiver Michael Campanaro suffered an injury to his quadriceps during Wednesday's OTA practice, according to a report from the Baltimore Sun. The session was closed to the media, and the team has yet to disclose the severity of the injury. Campanaro was able to walk after the injury, and is set to undergo an MRI, according to the report.  Campanaro battled hamstring...
Chykie Brown, CB Mike Campanaro, WR The worst part of losing at Cincinnati for the Ravens is they lost some more key players to injury while doing it. Now with the Pittsburgh road trip coming up and the Steelers really looking sharper as they dominated Indianapolis last weekend, the Ravens are short at cornerback and wide receiver…and basically running out of tight ends. Jimmy...
The Baltimore Ravens are traveling to Dallas to face the Cowboys Saturday night for the second preseason game. Starters are expected to play for most of the first half, which will help the team become more prepared for the regular season. The Ravens scored an impressive win against the San Francisco 49ers in week one with a great performance from both starters and backups. Wide receiver...
MORE STORIES >>
Ravens News

Delivered to your inbox

You'll also receive Yardbarker's daily Top 10, featuring the best sports stories from around the web. Customize your newsletter to get articles on your favorite sports and teams. And the best part? It's free!