Not breaking news: Michael Thomas has good hands. The skills challenges the NFL has added to the Pro Bowl weekend have been a welcomed addition for fans and players alike. These challenges range from friendly competitive games like dodgeball, to testing football skills like strength and catching. New Orleans Saints Pro Bowl WR Michael Thomas competed in the "hands" competition where...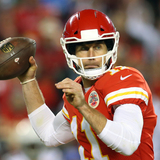 The 2017-2018 NFL season is nearing its end with only the Super Bowl left to play. Accordingly, the stamp has been put on the performances for most players, and now the debate is on: Who was the best, who was the worst, who was overlooked and who ended up being a letdown?Here's a look at 15 of the NFL's most underrated players in 2017:15. Michael Thomas, WR, New Orleans SaintsIt...
The Vikings disagreed with officials, who picked up a flag on Saints receiver Michael Thomas. Thomas injured Vikings safety Andrew Sendejo with a hit that Minnesota players thought was an illegal blindside block. "I thought it was an illegal hit," Vikings safety Harrison Smith said, via Josh Katzenstein of the Times-Picayune. "Want to talk about [more]
Minnesota Vikings safety Andrew Sendejo has been ruled out with a concussion after he was on the receiving end of a blind side hit by New Orleans Saints wide receiver Michael Thomas.
Via
ESPN
January 14, 2018
In the third quarter of Sunday's game, Saints receiver Michael Thomas laid out Vikings safety Andrew Sendejo, and the Vikings weren't pleased.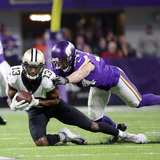 Andrew Sendejo was taken into the locker room for examination after a collision with Michael Thomas in the third quarter of Sunday's NFC divisional playoff game between his Minnesota Vikings and the New Orleans Saints.Thomas was running a route when he collided with Sendejo, who took the worst end of things: A flag was initially thrown on the play, but the referees decided not to...
How do you get fined for punching air? That's like getting fired on your day off. Desmond Trufant is still one of the league's best cornerbacks, but nothing was going right last week against the New Orleans Saints. First he got burned Ted Ginn, who is surprisingly still in the NFL. Then he tried punching a real wide receiver, missed, and now lost over 12 grand because of it. Frankly...
The offense had become so sluggish during Sunday's win over the Jets that the home fans began to boo. So Drew Brees just started firing away at Thomas.
Via
ESPN
December 17, 2017
Jeff Duncan and Josh Katzenstein break down Sunday's training camp practice
New Orleans Saints quarterback Drew Brees raves about rookie receiver Michael Thomas and the progress he has made through six OTA workouts, Thursday, June 2, 2016.
MORE STORIES >>
Saints News

Delivered to your inbox

You'll also receive Yardbarker's daily Top 10, featuring the best sports stories from around the web. Customize your newsletter to get articles on your favorite sports and teams. And the best part? It's free!