When the Dallas Cowboys drafted Ryan Switzer in the fourth round of the 2017 NFL Draft, Cowboys Nation rejoiced. By some, including myself, the product out of North Carolina was considered a steal by America's Team. Taking a guy who could contribute from day one for special teams and for the offense was something to be happy about. At the time, WR didn't look like much of a need...
Ryan Switzer had some good, and some bad, moments during his rookie season for the Cowboys. How did each rookie perform in 2017? Did he out-perform his draft value, or did he struggle? This series will take a look at how each first-year player performed for the Dallas Cowboys in their first professional season. The Dallas Cowboys were committed to building the defensive side...
The Dallas Cowboys 2017 rookie class may not have had the immediate impact that the 2016 class did, but they certainly provided reasons to be optimistic about the future. From finding starting-caliber defensive backs in Chidobe Awuzie, Jourdan Lewis, and Xavier Woods to finding a potentially game-breaking offensive/special teams weapon in Ryan Switzer, the 2017 draft looks to be...
Thanks to an 83-yard punt return from Ryan Switzer, a good second quarter for the Dallas Cowboys got even better.Dallas had already outscored the Washington Redskins 10-0 in the second quarter. Switzer fielded a punt from Tress Way on his own 17, found a hole, and sprinted to the end zone. It was the Cowboys' first punt return for a touchdown since 2013. What a great time to break...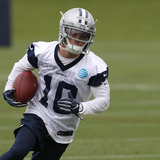 The Dallas Cowboys have some high hopes for North Carolina product, Ryan Switzer, who's been wowing throughout the offseason. Unfortunately, the rookie receiver suffered a hamstring injury during Thursday's practice, and the 'Boys don't have any idea how severe it is at this time. There's a bit of good news and a bit of bad news associated with this.The bad news first: Switzer is...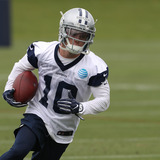 Dallas Cowboys rookie receiver Ryan Switzer isn't the most physically imposing human being. You probably wouldn't expect him to be a budding NFL star if you saw him walking around in street clothes at your local mall. Measuring in at 5-foot-8 and 181 pounds, he just doesn't look the part.So it's not all that surprising that the fourth-round rookie out of North Carolina was mistaken...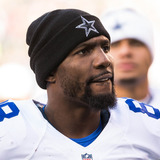 Ryan Switzer, the No. 133 pick in the 2017 NFL Draft by the Dallas Cowboys, is in good hands thanks to Dez Bryant.Let the North Carolina product himself tell it, as Bryant has made a point to take a mentorship role during the brief time they've known one another.Jori Epstein of the Dallas Morning News captured his thoughts on the matter:"Dez has been like a big brother to me so far...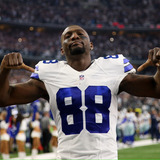 Dallas Cowboys receiver Dez Bryant wants his impact to extend beyond the confines of the team's offense. He wants to return punts again.Bryant spent some time receiving punts during OTAs and told reporters he's trying to get his team to sign off on letting him do it during the regular season."I'm always in Coach Bisaccia's ear," Bryant said, via Jon Machota of SportsDay. "That's...
During his career at the University of North Carolina and in the Senior Bowl that followed, the overall scouting report on Ryan Switzer highlighted his ability to run some of the most pristine routes in college football. Most of his scouting report on NFL.com references his route running, heaping praise on his "crisp" route pattens and "sharp angles" coming out of breaks. Standing...
MORE STORIES >>
Cowboys News

Delivered to your inbox

You'll also receive Yardbarker's daily Top 10, featuring the best sports stories from around the web. Customize your newsletter to get articles on your favorite sports and teams. And the best part? It's free!