Beating a team like the previously undefeated New England Patriots take a total team effort. Sure, Brock Osweiler played well in his second start, Emmanuel Sanders caught nearly everything that came his way even in the snow and C.J. Anderson ran like a man possessed. But one of the standouts who may get lost in the mix was Shaquil Barrett. Simply, Barrett is a football player...
For the Denver Broncos to win the team's defense was going to have to play the game of the year. As it turns out they pretty much did exactly that. With an offense as good as the Patriots they were never going to be able to shut it down completely, but when they were needed to make some plays late in the game they did.They made sure Tom Brady had to work for every yard in the fourth...
Shaquil Barrett is a stud. With just one career start and only eight total games under his belt, the outside linebacker from Colorado State is proving that he has just as much upside as any young defender in the league. So how did the kid who has 3.5 sacks, 31 tackles and four forced fumbles in limited minutes go undrafted just two years ago? Well, he was fat. Robert Klemko of MMQB...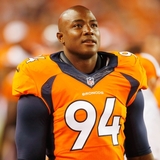 When the Denver Broncos defense lost a guy like DeMarcus Ware for the game against Cleveland you would think the defense might slip a little. Instead of slipping, the absence of Ware gave another guy the chance to show what he brings to the table--Shaquill Barrett.Barrett got the start in Ware's absence and had a pretty good day with nine tackles and 1.5 sacks on the day. Read more »
  Shaquil Barrett is a beast. The second-year stud out of Colorado State University was rated the No. 12 best outside linebacker through five games by Pro Football Focus, and with the fantastic first start of his career behind him now, that rating will likely go up. In yesterday's narrow 26-23 overtime win by Barrett's Denver Broncos over the Cleveland Browns, the linebacker was...
At 6-0, the Denver Broncos enter their bye week with plenty of confidence in their defense, but lingering questions about the offense. A 26-23 overtime win in Cleveland didn't do much to reassure Broncos fans who expected to see their team steamroll one of the weakest defenses in football. The Denver-Cleveland matchup was supposed to offer Peyton Manning a chance to get his offense...
  Denver is deep on the defensive side of the ball. Especially at the pass-rush position, as well as at cornerback. DeMarcus Ware went out of the game due to a back injury in the second quarter and didn't return. That meant more playing time for Shaquil Barrett, second year player out of Colorado Sate University, and first-round defensive end Shane Ray. Each made an impact on the...
Riding high after a miraculous Denver Broncos victory over Kansas City on Thursday night, Danny Williams and Dee White of Mile High Sports AM 1340 had to take pause from the elation of the wild finish to give credit to some players who flew under the radar. White specifically pointed out the play of Shaquil Barrett and Sylvester Williams. Barrett, says White had big flashes again...
  Broncos linebacker and most outstanding player throughout the preseason, Shaquil Barrett joined the BSN Denver Sports Desk to discuss his camp, preseason, regular season and of course the Rocky Mountain Showdown. Here's your audio!
Like many of you, I was hoping that the Pittsburgh Steelers would sign Colorado State outside linebacker Shaquil Barrett as undrafted free agent, but unfortunately that didn't happen. Barrett wound up signing with the Denver Broncos, but in a recent interview, he did say that the Steelers were interested in his services. "[The Broncos] were […] Broncos Undrafted LB Shaquil Barrett...
MORE STORIES >>
Broncos News

Delivered to your inbox

You'll also receive Yardbarker's daily Top 10, featuring the best sports stories from around the web. Customize your newsletter to get articles on your favorite sports and teams. And the best part? It's free!