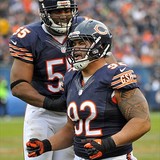 Washington Redskins defensive lineman Stephen Paea is from New Zealand. Paea has been known to perform the Haka before games--a traditional dance performed by Maori warriors in New Zealand prior to heading in to battle. He was known to do it prior to games in Chicago and fans have wondered if he plans on continue to do it in Washington.If this clip from Redskins Media Day is any...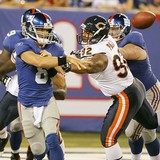 Brian Kersey/Getty Images Newly acquired defensive end Stephen Paea is hoping to bring a J.J. Watt-like attack to the Washington Redskins' defense this year. Wouldn't that be nice? I wonder how he plans to do that. The former Chicago Bears mauling pass rusher had to be double-teamed by opposing offensive fronts all the time when he played in the Windy City. "You know. I look at...
Players are known for having all sorts of pregame traditions. Some like to pray before a game. Others have to go to the bathroom. For some it's a particular pregame meal. For new Washington Redskins defensive lineman Stephen Paea it has been a pregame Haka. The Haka is a traditional warrior dance from his homeland of New Zealand; something the nation's sports teams have been doing...
View image | gettyimages.com One of the Washington Redskins top priorities this off-season is upgrading their defensive line. New defensive coordinator Joe Barry remains committed to the 3-4 defense, but will shift their core focus to a one-gap scheme. That is where Stephen Paea comes in. Paea, a second-round pick of the Chicago Bears in 2011, is a ideal for the one-gap scheme...
As expected, the Washington Redskins have signed former Chicago Bears' defensive tackle Stephen Paea.  Paea agreed to a four year deal that will reportedly pay him $5 million per season.  Paea is the first new signee for the club in the new NFL season that began today. Paea was acquired by Chicago via the 2011 NFL Draft as a second round pick.  Ironically, that second round selection...
Redskins Sign Defensive Tackle Stephen Paea The Washington Redskins opened the 2015 NFL free-agency period by signing former Chicago Bears defensive tackle Stephen Paea. Paea (6-1, 300 lbs) is coming off his best season as a pro, the 26 year-old had six sacks and two forced fumbles while starting all 16 games for the first […]
Coming of a career year in Chicago, Stephen Paea is best known for his prowess at the NFL combine. How about 49 reps of 225 pounds in the bench press? A four-year deal is reportedly in place and can become official when the clock strikes midnight. Paea has targeted Washington and has apparently informed his teammates that the Redskins are indeed his destination. Here are some links...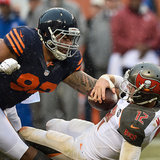 Chicago Bears defensive tackle Stephen Paea is having the best season of his career, and he feels he is not getting the recognition he deserves. On Tuesday, the 86 players who made the Pro Bowl were announced. Paea didn't make the cut, nor has he been named as an alternate for the all-star game. The 26-year-old is not pleased. Paea has six sacks, two forced fumbles and 30 tackles...
The Chicago Bears and the Brian Piccolo Cancer Research Fund announced Stephen Paea and Nick Roachas the 2011 Brian Piccolo Award winners. The honor has been given to a Bears rookie since 1970 and was expanded in 1992 to include a veteran winner. Bears players vote for the rookie and veteran who best exemplify the courage, loyalty, teamwork, dedication and [...]
Paea will be counted on to make big plays like this with the Bears By Columnist Bryan Dietzler The Bears released former Pro Bowler Tommie Harris just before the NFL's lockout began leaving somewhat of a hole in the defensive line. It was thought that the Bears would make a move in the draft to help solidify their defensive line and they did that by taking Oregon State defensive...
MORE STORIES >>
Cowboys News

Delivered to your inbox

You'll also receive Yardbarker's daily Top 10, featuring the best sports stories from around the web. Customize your newsletter to get articles on your favorite sports and teams. And the best part? It's free!