Pittsburgh Steelers head coach Mike Tomlin delivered a positive update Tuesday on defensive end Stephon Tuitt during his weekly press conference and now we'll wait and see if hes ultimately able to play Sunday in the team's Week 3 road game against the Chicago Bears. Tuesday night, Tuitt was a...
While a player is always most optimistic about injuries and their return, there is optimism surrounding Stephon Tuitt's availability this weekend. Tuitt told NFL Network's Aditi Kinkabwala he is hopeful to play this Sunday against the Chicago Bears. #Steelers DE Stephon Tuitt (bicep) said "the goal" is to return this...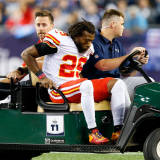 NFL Week 1 featured plenty of prominent injuries. The following slideshow features updates on the most prominent player injuries heading into Week 2.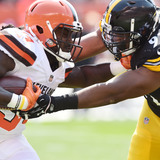 The Pittsburgh Steelers may have dodged a major bullet when it comes to recently-extended star defensive tackle Stephon Tuitt. The veteran exited Sunday's win over the Cleveland Browns with what many feared to be torn biceps, which would have effectively ended his season. Fortunately for Pittsburgh, it looks like Tuitt avoided the serious injury and might be able to go Week 2 against...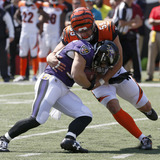 The NFL is a war of attrition, and that was certainly the case in Week 1. The following slideshow features the most prominent injuries from Week 1, as of Sunday night.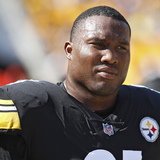 The Pittsburgh Steelers paid Stephon Tuitt a boatload of money on an extension on Saturday. One day later his season might be over.According to ESPN's Adam Schefter, the Steelers fear Tuitt tore his biceps Sunday against the Cleveland Browns. If that's the case, his season would be over.Tuitt, a 2014 second-round pick out of Notre Dame, emerged the past two years as a top defensive...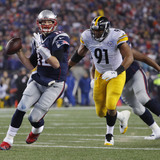 The Pittsburgh Steelers are taking care of one of their defensive stalwarts, signing Stephon Tuitt to a five-year extension, per ESPN's Adam Schefter. Ian Rapoport of NFL Media reports the deal is worth $60 million, which averages out to $12 million per season. Though, per Rapoport the money is heavily front loaded. It's a massive deal for a player Pittsburgh hopes will be a...
Rookies are to be seen and not heard during training camp and that's exactly what appears to be happening with the Pittsburgh Steelers second-round draft pick, defensive end Stephon Tuitt. While he hasn't received too much attention from the media so far at Latrobe, the Notre Dame product has quietly put together several nice practices, […] Quietly, Steelers Rookie DE Stephon...
We're just a few weeks away from the Pittsburgh Steelers reporting to training camp. Training camp is the third piece of the offseason puzzle. With the conclusion of OTAs and min-camp comes training camp. Where you could say, the real football begins. Training camp isn't "football in shorts," as head coach Mike Tomlin would say. The Steelers will report to camp on July 25...
The Pittsburgh Steelers now have all nine of their draft picks under contract as defensive end Stephon Tuitt signed his four-year rookie deal on Wednesday. Tuitt, who was selected by the Steelers in the second-round of the 2014 NFL Draft out of Notre Dame, likely signed a contract that will total out at around $4.6 […] Steelers Sign Rookie DE Stephon Tuitt is a post from: Steelers...
MORE STORIES >>
Steelers News

Delivered to your inbox

You'll also receive Yardbarker's daily Top 10, featuring the best sports stories from around the web. Customize your newsletter to get articles on your favorite sports and teams. And the best part? It's free!